Effect of Gamma Rays on Man-in-the-Moon Marigolds (The) (Blu-ray) [Blu-ray]
Blu-ray B - United Kingdom - Powerhouse Films
Review written by and copyright: Rick Curzon (2nd May 2018).
The Film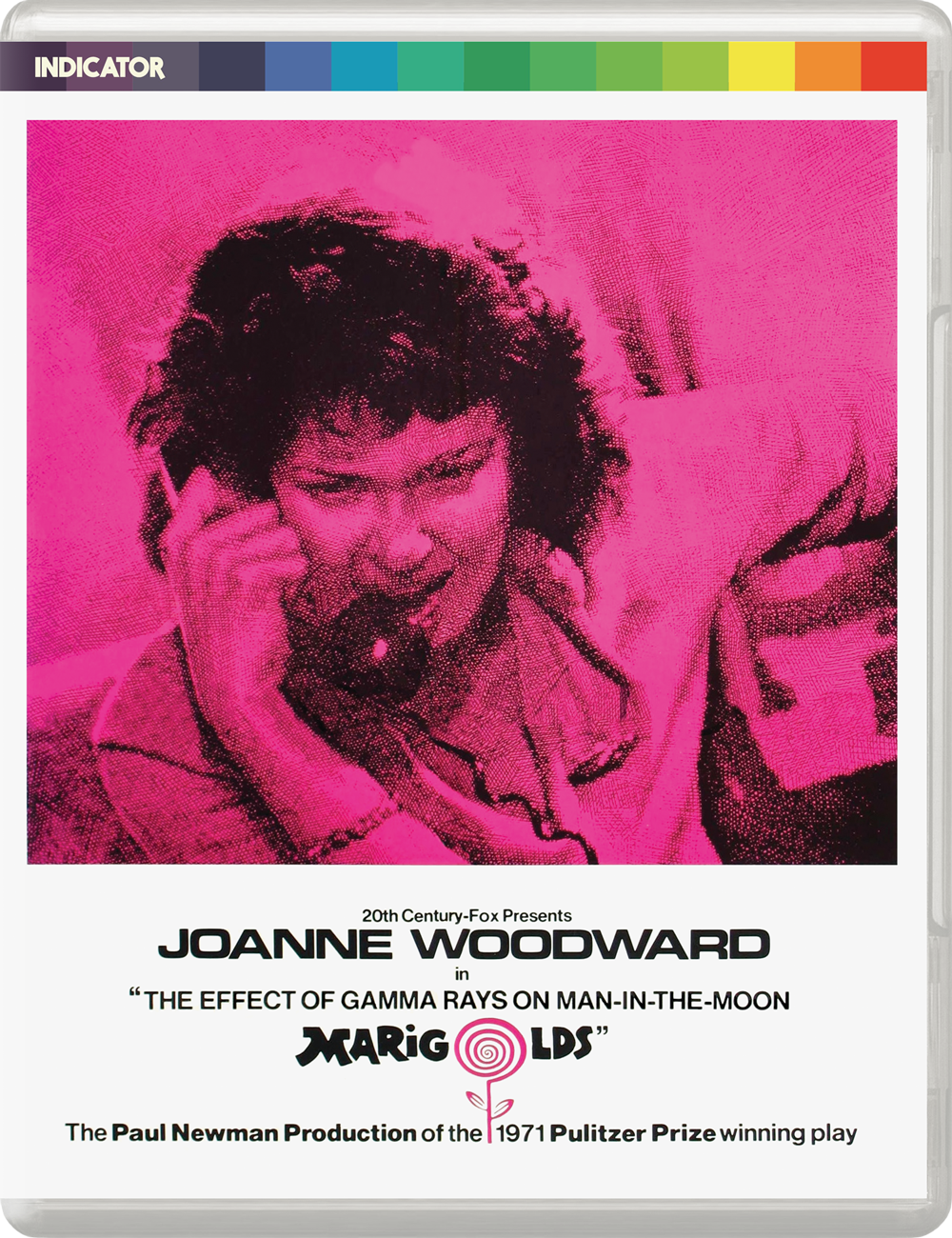 Based on the Pulitzer Prize-winning play by Paul Zindel, Paul Newman's second film as director stars his wife Joanne Woodward (Three Faces of Eve, Sybil) as an abusive, over-bearing mother raising her two daughters (Nell Potts and Roberta Wallach) in an atmosphere of bitterness and hatred. The Effect of Gamma Rays on Man-in-the-Moon Marigolds is a powerful, searingly unsentimental and ultimately transformative drama, with a trio of towering performances from the three female leads at its core.

Video


The transfer is based on a new 4k restoration from the OCN and as such is about as good as we can hope for in these dying days of the hard copy format. There are no signs of print damage at all that I could see and the film has been afforded a BD50 and a sizeable bitrate which means the already topnotch transfer is allowed plenty of breathing space.

Colours are pitched at a more naturalistic level and are fairly mater of fact in their presentation; lighting is straightforward so don't expect a hyped up image of the kind seen in more fantastic projects; this is a hard hitting drama based on a pretty heavy stage play and as such this approach is pretty standard.

Black levels are rich and deep with plenty of detail present and no signs of crush that I could see. The image is delicate and richly layered and the contrast is supportive with no signs of blown out whites. The image is not as bright and well defined as a modern digitally shot film but the heavy film like appearance is very pleasing and desirable to those who can appreciate it.

Detail is ever present and satisfying in closeups, medium and long shots. Grain is fairly consistent and heavy especially in shots in which opticals have been done (credits and fades) but generally manifests itself as a fine layer. The encode by David Mackenzie is peerless and is without clumping or holes in the grain field. There has been no digital manipulation such as DNR and no signs of artefacts like mosquito noise, aliasing etc.

In short, a superb presentation of a film that has a memorable title but is rarely shown despite the high powered talent involved.

1080/24p / MPEG-4 AVC / 1.85:1 / 100:46

Audio


English LPCM 1.0
Subtitles: English HoH

A mono track typical of the era and of fairly limited range and occasionally shrill but gets the job done very well. Dialogue is always clear and music and and effects don't overwhelm things. There's the odd slight issue with sibilants but it's very rare and down to ADR.

Subtitles are welcome and vital for such a verbose pie e as this.

Extras


Audio commentary with Adrian Martin

Measured, detailed commentary by the very listenable Martin who is very academic in his approach. He starts off by mentioning Paul Newman as a director and focusing on his directing career; a subject he comes back to several times. His relationship with wife and star Joanne Woodward and why he used her in five of his six directorial jobs. He posits the theory that the the three lewd characters (mother & two daughters) are all different sides of the same character. Covered also is what Martin believes were Newman's under rated talents as director and his style or lack of perceived style.

"The John Player Lecture with Paul Newman: Conducted by Joan Bakewell at the National Film Theatre, London on 19 December 1972" plays as an audio track over the film (85:57)

Plenty of detail on the characterisation and performances. Newman covers his theatre work as well as film and TV roles. His liking for competitive driving and racing is also touched upon and it was interesting to hear that he'd drop acting-directing in a second if he felt he could be good at racing. He also considered politics but felt he lacked the credentials for it and that it's a "medieval" profession. Sound is occasionally tinny here with a few of the questions getting lost in the recording. Luckily it's pretty easy to tell from Newman's response what was asked. Hitchcock and directors in general are touched on and allusions are made to the quality of the script having to be good and Torn Curtain (1966) wasn't.

"The Guardian Interview with Joanne Woodward: Conducted by Tony Bilbow at the National Film Theatre, London on 13 May 1984" plays as an audio track over the film (64:51)

The sound quality is much better here but it's a younger recording so not surprising. Her career is covered in detail, working with actors, directors and directing herself specifically working with Henry Fonda. Theatre work is discussed especially at the time of the recording; Woodward had recently started treading the boards again.

"The Effects of Gamma Rays on Man-in-the-Moon Marigolds: Excerpts from the Cannes Film Festival Press Conferance May 1973" featurette (1:58)

1.33:1 B&W clip from a report from the 1973 Canne film festival with French voiceover translating. The narration really gets in the way of listening to Newman and Woodward so it's best to shut the sound off and use the subtitles.

Isolated Music & Effects Track in LPCM 2.0 Mono

Maurice Jarre's lowkey score isolated with the films sound effects in LPCM 1.0.

TV Spot (:57)

Short add focusing on Newman directing and Woodward and her character.

The Effect of Gamma Rays on Man-in-the-Moon Marigolds Image Gallery: Original Promotional Material (34 images)

Short gallery of high quality images from the production.

40-page liner notes booklet with new essays by Johnny Mains and Bethan Roberts, a profile of writer Paul Zindel, an overview of contemporary critical responses, and film credits

Typically detailed and fascinating collection of articles on the film. The booklets done by Powerhouse Films for their Indicator releases are the best of their kind and this is no exception. I was most interested in reading about the fad of Atomic Farming done in the film by the character of Mathilda.

Overall


Another candidate for a Blu-ray if the year as Powerhouse brings to us another well received but largely obscure film from what is arguably the last great decade of American cinema.

Picture and sound are as good as can be and the extras package is stacked with great stuff including a new, fascinating commentary and two vintage screen talks with the two principle talents involved.

Film buffs will lap this disc up.
| | | | | |
| --- | --- | --- | --- | --- |
| | Video: A+ | Audio: A | Extras: A+ | Overall: A+ |

---
DVD Compare is a participant in the Amazon Services LLC Associates Program and the Amazon Europe S.a.r.l. Associates Programme, an affiliate advertising program designed to provide a means for sites to earn advertising fees by advertising and linking to amazon.co.uk, amazon.com, amazon.ca, amazon.fr, and amazon.de.