The Film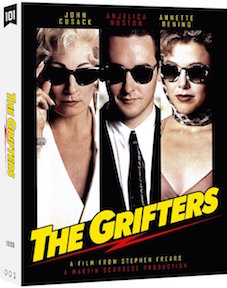 The Grifters is a neo-noir crime drama, based on the book by Jim Thompson, about three con artists, Roy Dillon (John Cusack) - a small-time grifter who uses sleight-of-hand, his girlfriend Myra Langtry (Annette Bening) - a grifter who uses her sexuality to get what she wants, and his mother Lilly Dillon (Anjelica Huston) - a grifter who works for a bookie by placing large amounts of bets to change the odds. Over the course of the film, the relationships and interactions between Roy and Myra, Myra and Lilly, and Lilly and Roy are altered, leading to a shocking conclusion.

The events of the film are triggered by Roy getting caught (and punished) during one of his grifts, resulting in him needing medical attention and reuniting him after many years with his estranged mother. Having visited him in the hospital, his mother leaves too late to place her bets, landing her in a lot of trouble with her violent boss, Bobo - a man who she has been silently conning out of money. Eventually the characters begin to turn on each other, with devastating results.

Nominated for four Oscars, yet cruelly receiving none, the film is a very entertaining and well done story about the destructive relationships between three people who trick and deceive for a living.

Video


101 Films present the film in 1080p, at an aspect ratio of 1.78:1 and using the AVC MPEG-4 codec. The image is strong, with a similar level of detail to the previous UK release by Optimum. Comparing the two, the Optimum release has a warmer and darker hue, whilst this new 101 release is brighter and slightly colder. In a few scenes, including one of the opening scenes with a car windscreen, the 101 release seems to display details (in this case, windscreen dirt) that the Optimum release does not, which makes me wonder if the Optimum had a bit more filtering applied to it. In others, such as in a dimly lit bedroom, the 101 release appears to have outlines that are clearer to see.

In general, other than the slight change in the image, the detail on both is about the same. Both look like they come from an older HD master, but one that is very good. I don't know which is more accurate, but whilst there are merits to both I think I favour the 101 Films image.

As to the aspect ratio, whilst there isn't a huge difference the 1.78:1 transfer opens up a fraction more of the image on the top and the bottom. I believe 1.85:1 is the theatrical ratio, but I am happy with the slightly opened out picture here. Slightly curiously, the opening titles on the 101 release are presented in 1.66:1 with a noticeably greater amount of picture on the top and the bottom.

Audio


There's only one audio track provided for this release, an uncompressed LPCM 2.0 stereo track, which is perfectly adequate. It's clean, there don't appear to be any issues with it, and it works well for this movie. I sampled the 5.1 track on the previous Optimum blu-ray, and didn't find any great difference between the two; it appears the 5.1 track is an upmix of an original stereo track, although I cannot be sure. It isn't a big loss for this film in any case.

Optional English HoH subtitles are provided for the main feature.

Extras


In terms of extras, there's good news and bad news. The good news is that 101 Films have invested in a feature-length behind-the-scenes documentary "Seduction, Betrayal, Murder: The Making of The Grifters" (1.78:1 HD 25fps, 71:35) that is very good. Revolving around interviews with the director, Stephen Frears, producers Barbara De Fina and Peggy Rajski, cinematographer Oliver Stapleton and Mick Audsley, the film's editor, the documentary reveals a lot of interesting background as to how the low-budget production came about. There is a wide variety of topics discussed, from details relating to how the cast came about (and casting possibilities that didn't come to fruition) to a selection of challenges the filming presented, both technically - such as using split-screen filming without digital touch-ups or how symbolic imagery could be created with the camera - and artistically - such as scenes that were tough to shoot emotionally. Despite its length, the documentary never outstays its welcome, smoothly transitioning between areas of focus. Well worth watching - and past the end credits there's a bonus clip. The documentary is produced in collaboration between 441 Films and 101 Films, who it looks like we might see more of with regard to 101 Films' new Black Label series. Based on this effort, I look forward to what comes next!

The documentary also comes with optional English HoH subtitles, which is fantastic - especially as sometimes Stephen Frears' drawl isn't the easiest to make out. There are, however, a few typos - although amusingly, given I was using the subtitles to work out what was being said a couple of times, they are all phonetic mistakes (e.g., "split-scream", correctly spelt later on; "protectionist" instead of projectionist). Most of these raise a smile rather than annoy, especially when Frears mentions a "homage to..." and the HoH subtitles claim there's "[foreign dialogue]". There was only one instance I think was unfortunate - subtitling "Hallman" instead of Hornung for the costume designer. However, this is nit-picking and I think I've exhausted all the typos in this paragraph. I hope 101 Films continues to provide subtitles on their extras where they can; something is almost certainly better than nothing.

The bad news is that the previously available extras (although not on the Optimum UK blu-ray) are not ported across here. Consisting of roughly half an hour of featurettes and an audio commentary from some of the main cast and crew, it's a shame none of these extras have made it onto this release. I imagine 101 were unable to license these, so instead opted for a new feature-length documentary instead.

Packaging


No packaging was provided for this review, although the final product is the first in 101 Films' new 'Black Label' series and is set to come in a limited edition slipcase with a DVD copy and a booklet that includes the essay "Jim Thompson, Noir, and the Popular Front" by David Cochran, on the American author's societal influences, and "Elmer Bernstein: Grit not Grift", a review of the legendary composer's career by Charlie Brigden.

Overall


This new release from 101 Films to kick off their 'Black Label' series is an excellent choice. The film is excellent, the A/V is good and whilst the commentary and featurettes from previous releases are not present, these are made up for with an excellent in-depth feature-long documentary. Recommended.
| | | | | |
| --- | --- | --- | --- | --- |
| The Film: A- | Video: B+ | Audio: B+ | Extras: B- | Overall: B+ |