The Film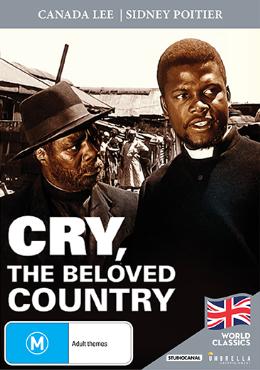 "Cry, the Beloved Country" (1951)

The minister of a small parish in the rural South African town of Ndotsheni, Reverend Stephen Kumalo (played by Canada Lee) receives a letter from a fellow minister in Johannesburg, with a message stating Kumalo's sister Gertrude (played by Ribbon Dhlamini) has fallen ill and pleads for him to come to the city. He is weary of traveling as people in his family as well as people of town that had moved to Johannesburg never return or even write a letter back to their hometown. Reverend Kumalo's son Absalom (played by Lionel Ngakane) has also moved to Johannesburg and not been heard of, and it becomes his mission to seek his children. His first quest is to find Reverend Msimangu (played by Sidney Poitier) who wrote the letter.

Msimangu must tell Kumalo of the news that Gertrude became a prostitute to make ends meet as her husband had disappeared and she was left alone to take care of her young son. They also visit Kumalo's younger brother John (played by Edric Connor) who says he offered Gertrude help but she refused, and that he also lost contact with his own son Matthew (played by Cyril Kwaza) as well as Absolom. With John's information of Absolom's last known workplace, the two Reverends travel around the city from factories to shantytowns, with Kumalo seeing firsthand the struggles the blacks are facing with class segregation in the city, living in substandard conditions.

Things turn ugly when a white activist for racial equality Arthur Jarvis (played by Arthur Blumenhall is shot dead in his own home a group of blacks. When it is revealed that two of the men involved in the shooting were Absolom and Matthew, Kumalo's journey to find his family returning them to safety turns impossible.

South African author and anti-apartheid activist Alan Paton's novel "Cry, the Beloved Country" was written in 1946 and first published in 1948, chronicling the racial divide of South African black oppression and white supremacy with a terrible system of wealth, power, and politics while also dealing with hopes, dreams, and ideology towards racial justice. Characters reflect with open eyes to the unjust conditions - from both white and black characters, and that change was yet to come. No one could predict the conditions would get any worse, but only four months after the publication of the book, the far right National Party took political control of the country and legislated apartheid laws giving a clear separation of black and white in the country that would last nearly half a century.

The filmed adaptation would be undertaken by director Zoltan Korda in 1951, with Paton adapting his novel as a screenplay. The production would entirely be shot on location in South Africa which was a highly risky move as apartheid laws were in full effect. Many native South African actors were used for the production while bringing two from Hollywood and London for the leads - acclaimed stage and film actor Canada Lee, up-and-coming 24 year old actor Sidney Poitier in one of his earliest film roles, as well as veteran English actor Charles Carson as the mourning James Jarvis. The actors make their roles come to life, with Lee performing as an elder Reverend losing his faith in humanity while Poitier plays his character who comes to realize there is no way to change the outcome but only having faith to give others comfort. The film like the book touches on the same social issues with the source of all the injustice coming from the racial divide. The story itself is very simple in its execution. The way the conflicts are presented, how each character reacts, how minds can be changed, but the reacting to actual change in politics and culture took a longer time that expected. Like "Mississippi Burning" (1988) with FBI agents coming into a community and seeing their world from outside views, or "Hardcore" (1979) where a fundamentalist father who searches for his daughter in the city uncovers the dirty underside of society, "Cry, the Beloved Country" uncovered to the world what was happening in South Africa to the rest of the world. While the world's response was not entirely a form of a boycotted uprising or pressure with sanctions, the story was a significant one in the literary realm and an acclaimed film. The book became a staple in educational curriculum, and the book was also adapted into a musical, television production, and a second film adaptation in 1995 after the fall of apartheid and the election of President Nelson Mandela. For the 1951 film it was well acclaimed, winning the UN Award at the BAFTAs, the Bronze Berlin Bear at the Berlin Film Festival, and playing in competition at Cannes.

Note this is a region 0 PAL DVD which can play back on any DVD or Blu-ray player with PAL capability

Video


Umbrella Entertainment presents the film in the 1.33:1 aspect ratio (non-anamorphic) in the PAL format. Licensed from a transfer by Studio Canal which was used for the UK 2010 DVD, the transfer is fair though imperfect. Certain scenes have visible damage such as specs and scratches but most have been digitally removed leaving a fairly clean picture. Grey levels are fairly good though some dark portions lack fine detail. There is some minor picture wobble in some shots seemingly like badly spliced editing which was not corrected. It is absolutely on the watchable side but in the days of HD and 4K, it does lack the depth and crispness in digital transfers we are used to.

The film's runtime is 103:44.


Audio


English Dolby Digital 2.0 mono
The original English track is in standard 2.0 mono. The track has been remastered, with very little damage but considering the original source from 1951, there are limitations with fidelity and depth. The audio is fairly easy to understand in most situations but there were some situation where ADR would have significantly helped due to bad recording. On the brighter side, there are no hisses or pops in the remastered track.

There are no subtitles offered.

Extras


There are no extras. There is no menu so the film starts when the disc is played and when the film ends the disc stops. Here is an excerpt from the film, courtesy of Umbrella Entertainment:



Packaging


The package incorrectly states it is a region 4 only disc, but it is in fact region 0.

Overall


"Cry, the Beloved Country" is a classic novel of the twentieth century and the 1951 film adaptation brings its power especially with its two main leads. The Umbrella Entertainment DVD features a fair transfer but sadly lacks extras.
| | | | | |
| --- | --- | --- | --- | --- |
| The Film: A- | Video: B | Audio: B | Extras: F- | Overall: C |