Space Truckers [Blu-ray]
Blu-ray B - United Kingdom - Second Sight
Review written by and copyright: Eric Cotenas (5th May 2018).
The Film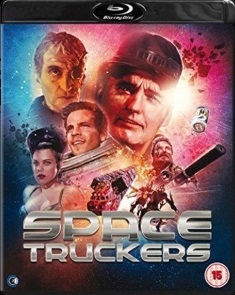 When grizzled space trucker John Canyon (Blue Velvet's Dennis Hopper) delivers a shipment of genetically-modified square pigs to the InterPork space hub two days late, boss Keller (Cheers' George Wendt) tries to cheat him out of his pay by making away with the shipment while he is paying his respects along with his fellow truckers to one of their own whose load was jacked by space pirates lead by the mysterious Captain Macanudo. John has been carrying a flirtation with canteen waitress Cindy (Empire Records' Debi Mazar) and offers to ferry her to Earth to visit her mother in the hospital if she agrees to marry him. After a brawl in which the hub becomes depressurized and Keller is sucked out into space ass first, John and Cindy flee with brash new trucker Mike Pucci (The Power of One's Stephen Dorff) who not only was given John's shipment by Keller but is also attracted to Cindy. Desperate to escape the hub and get to Earth, John agrees to take on a shady shipment from Mr. Zesty (The Crying Game's Birdy Sweeney) supposedly containing five thousand sex dolls to be delivered to Earth within two days. Fleeing the law into a black ice asteroid field, the ship is damaged and John discovers in his attempt to detach the freight in order to allow the ship to cool off that whatever they are carrying is guarded by an advanced laser defense mechanism. Unfortunately, they are rescued by Macanudo's ship where they are captured by his second-in-command Mr. Cutt (The Road Warrior's Vernon Wells). Peg-legged Macanudo turns out to be Dr. Nabel (Alien 3's Charles Dance), a scientist who rebuilt his blasted apart body in the lab, including a pull-start motorized sex organ which he plans to use on Cindy; however, he discovers upon infiltrating the cargo hold that is carries his genetically-enhanced mass disintegration super soldiers who had been turned against him by unscrupulous E.J. Saggs (The Spy Who Loved Me's Shane Rimmer) of "The Company" who still has plans to use the soldiers to take over the Earth. When Nabel's plans to reprogram them back to his command go awry and result in a massacre, John, Mike, and Cindy must find a way to destroy the soldiers who are reviving in increasing numbers before they reach the Earth.

Not so much a scattershot satire like the following year's Starship Troopers, Space Truckers is a more conventional sci-fi comedy that has more in common with director Stuart Gordon's previous film Fortress than his gory horror films for Empire Pictures or even his prior sci-fi effort Robot Jox (two films that did see him expanding not only from the horror genre but into higher budget filmmaking). While the cartoonish eccentrics and garish production design are in line with a certain strain of mainstream nineties science fiction, the film's plot actually feels much more small scale than the ambition of its production design and visual effects, suggesting that in the three years of involuntary inactivity between the hit Fortress and this film that Gordon had envisioned something smaller and easier to produce upon which was ultimately built more than the plot could really sustain. Given a PG-13 rating in the United States and a 12 certificate in the UK (bumped up to a 15 for its Blu-ray release without any difference in content), the film's violence against man or robot lacks much in the way of visceral impact due as much to the staging as the film's early digital effects which clash with the live action and miniature elements. Hopper is as engaging in a paycheck role as then lesser-known leads Dorff and Mazar with solid support from Dance in a role that affords him opportunities for villainous humor not seen since his turn as The Phantom of the Opera. Gordon's wife Carolyn Purdy-Gordon (Dolls) turns up in a more benevolent than usual cameo along with Barbara Crampton – co-star of Gordon's Re-Animator, From Beyond, and Castle Freak – while a then-unknown Jason O'Mara (Agents of S.H.I.E.L.D.) is quickly obliterated in the pre-credits sequence.

Video


Reluctantly bypassing a US theatrical release for a premiere on HBO, Space Truckers came to DVD in the United States from Sterling Entertainment as part of their "Millennium Series" which an audio commentary by Gordon on a non-anamorphic letterboxed transfer while the film was unavailable in the UK after its Entertainment Film Distributors theatrical release outside of a cropped VHS edition. Second Sight's 1080p24 MPEG-4 AVC 2.35:1 widescreen Blu-ray debuts the film in high definition and in 16:9 (the two German DVDs were fullscreen and non-anamorphic 1.75:1). The image is as colorful and reasonably sharp but somehow does not seem to lend itself to high definition and scope as it did to the more modest, cropped standard definition VHS and DVD in which the distortions of the saturated colors and the resolution better helped to hide some of the productions shortcomings despite the best efforts of veteran exploitation cinematographer Mac Ahlberg (Hell Night). Here, the embarrassing CGI frequently looks flat against the live action elements, especially when the digital parts are up front like a zero gravity sequence where blood and a tooth spray out from a punched man's mouth, while the starfields are more apparent as painted backdrops not far enough away from the action to disguise it, and wires are definitely visible in at least one of the zero gravity sequences.

Audio


The sole audio option is an LPCM 2.0 stereo encoding of the Dolby Stereo mix which has plenty of directional activity and clear dialogue while the scoring is more supportive than epic. Optional English HoH subtitles are included.

Extras


Second Sight has not carried over the US DVD commentary but has included a trio of new interviews. In "Space Trucking with Stuart Gordon" (22:53), director Gordon recalls his initial idea of blue collar works in space and developing the idea with Ted Mann (Homeland) and how their foreign sales agent on Fortress managed to raise $27 million in pre-sales for the film to be shot in Ireland at Ardmore Studios (he also notes that the producer did not like the Space Truckers so the film was listed in the trade publications during shooting as Untitled Irish Space Movie). He proudly discusse the contributions of conceptual artist Yasushi Nirasawa (Vampire Hunter D) while conceding that the digital effects are not great and that they attempted to work around the zero gravity sequences so as not to have to bother with wire removal (pointing out the bit in which the wires are most apparent). He also recalls sadly that the Irish producer turned down Universal's interest in distributing the film in the United States which lead to its cable premiere. In "The Art of Space Truckers" (8:03), art director Simon Lamont (Casino Royale) - nephew of production designer Peter Lamont (Titanic) discusses the realization of the Nirasawa's concepts within the confines of the film's budget as well as the elements that required cooperation between the art department and the visual effects department while composer Colin Towns (Rawhead Rex) only briefly touches upon the film in "Scoring Space Truckers" (12:22) while otherwise discussing his career, noting his preference in comedy to underscore the characters rather than the humor.

Overall




---
DVD Compare is a participant in the Amazon Services LLC Associates Program and the Amazon Europe S.a.r.l. Associates Programme, an affiliate advertising program designed to provide a means for sites to earn advertising fees by advertising and linking to amazon.co.uk, amazon.com, amazon.ca, amazon.fr, and amazon.de.