Grizzly (Blu-ray) [Blu-ray]
Blu-ray B - United Kingdom - 88 Films
Review written by and copyright: Rick Curzon (5th May 2018).
The Film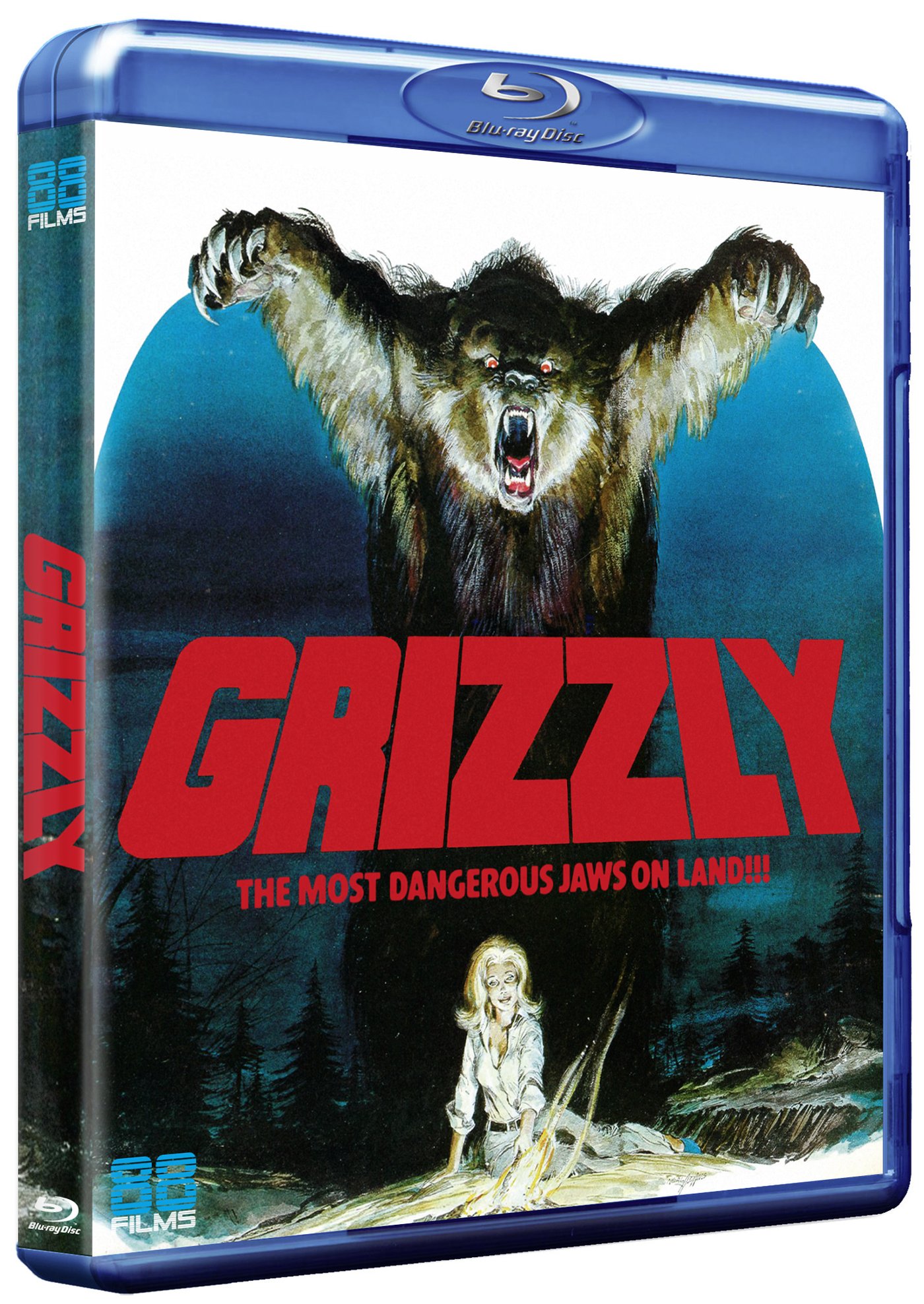 Following the worldwide impact of JAWS in 1975 directors and producers were fast to cash-in on the success of the Steven Spielberg terror-trendsetter and to instigate a short-lived sub-genre of killer animal movies. Perhaps the most successful of all was 1976's GRIZZLY which took in mega-money upon its release and had audiences glued to their seats and avoiding natural parks for the foreseeable future! Starring the Great Christopher George (CITY OF THE LIVING DEAD) and directed by the genius exploitation master William Girdler (DAY OF THE ANIMALS), GRIZZLY traces the bloody rampage of the titular animal who is chomping, tearing and terrorising innocent campers and showcasing a case of insatiable hunger. If JAWS is the ultimate killer shark flick then GRIZZLY is the world's greatest marauding-mammal movie and, thanks to 88 Films, this all time classic horror film is finally available to UK audiences in gloriously gruesome HD!

Video


William Girdler's extremely entertaining Jaws ripoff has a monster bear eating it's way through the cast peppered with great character actors and surprising amount of gore. Girdler had a double success with this and Day of the Animals (1976) both made virtually back to back.

Good cheesy fun with cash strapped bear attacks being the only real caveat. This has one foot in the drive-in / Grindhouse exploitation wagon with this PG version having an attractive park ranger going for a dip in her underwear under a waterfall when she's supposed to be looking for a killer bear. In the lost R-rated version she's apparently naked.

88 Films have licensed the same master used by Code Red in the US and it's a flawed master probably taken from a decent 35mm print. The Code Red disc offered a filtered (ie DNRed) version and an unfiltered version. 88 Films however have gone with the unfiltered and it's got plenty of of fleeting moments of damage but nothing that's ever going to mar your viewing pleasure unless you're an anal picture nut.

Colours are natural and ever so slightly muted but are satisfying especially in daytime sequences. Grain is ever present and the whole thing has a very filmic feel. Being from a print this has a slight Grindhouse feel to it. Black levels are deep and rich with no sign of significant crush in daylight and interior scenes which is surprising considering the source, budget and era this was lensed. Obviously night scenes are affected somewhat but I don't think much is being lost in the generational step down or two from the OCN.

Contrast is even allowing detail to come through to pleasing levels; this is a major upgrade on the old R1 Shreikshow DVD from April 2006. The encoding handles the problematic material very well and 88 Films continues to improve in this area. Short of the OCN being found and given a full 4K restoration this os the best we can hope for and 88 Films has done a bang up job bringing it us.

1080/24p / MPEG-4 / 2.35:1 / 91:07

Audio


English LPCM 2.0 Mono
Subtitles: English HoH

The stereo track is surprisingly effective if crude which again is to be expected given the budget and era this was made. In fact a stereophonic track for a bigger budget B-movie must be a rarity. Either that or this is a very good bump from mono.

There is some slight distortion and minor bleed into the surround channels but for the most part this is a front centric experience. Occasionally the score overwhelms the dialogue in action moments but for the most part this is an involving and effective soundtrack.

Subtitles are always a must.

Extras


"What a Guy .... David Del Valle Remembers Christopher George" featurette (23:43)

Superb little biographical piece about the much missed Christopher George who died very young in 1983. Del Valle knew the guy (and his lovely, talented wife Lynda Day) and the interview warmly reflects that. His whole career (including posing for Playgirl) is covered.

Theatrical Trailer (1:09)

A great, vintage cheesy trailer.

Reversible sleeve

Two choices of artwork. If purchased directly from 88 Films a collectible card sleeve is included.

4-page liner notes leaflet "When Beasts Attack!" By Callum Waddell

Excellent short essay on the film and it's young director William Girdler who's career was sadly cut short.

Overall


Another great, appropriately priced Blu-ray of a fondly remembered B-movie classic with decent image and fine sound. The extras are limited but very, very choice. Still, it's a shame the commentary and 37-minute retrospective "Jaws with Claws: A Look Back at Grizzly" haven't - or couldn't have - been ported over from the 2006 Shreikshow DVD. Nonetheless, this is a great release well worth any horror buff's hard earned.
| | | | | |
| --- | --- | --- | --- | --- |
| The Film: B- | Video: B- | Audio: B+ | Extras: B- | Overall: B |

---
DVD Compare is a participant in the Amazon Services LLC Associates Program and the Amazon Europe S.a.r.l. Associates Programme, an affiliate advertising program designed to provide a means for sites to earn advertising fees by advertising and linking to amazon.co.uk, amazon.com, amazon.ca, amazon.fr, and amazon.de.