The Film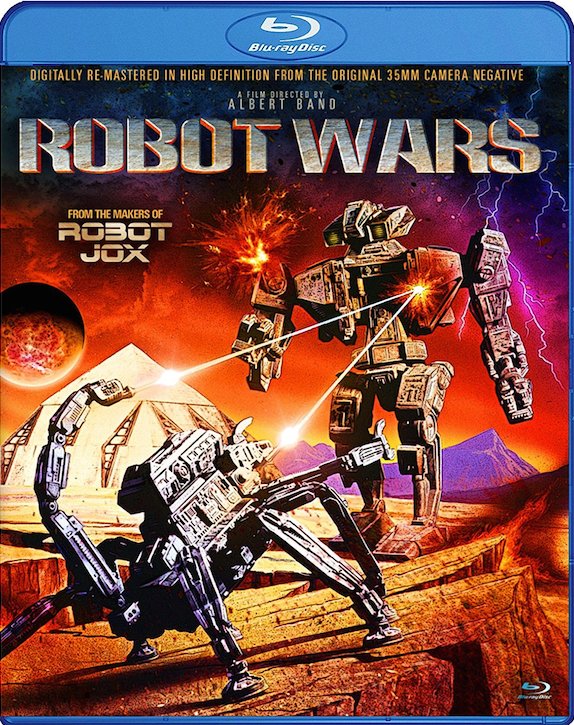 Because the mid-90's were the time when my VHS renting was at its peak, there is a tendency for me to view objectively bad films with a crappy pair of rose-tinted glasses – and there exists a real soft spot for the output of Full Moon Features during this period. I can vividly recall trudging down to Video City on a Saturday afternoon and grabbing a handful of tapes that frequently had something from Charles Band's infamous low-budget studio contained within. Full Moon pumped out original ideas and sequels with equal frequency, but you might think Band would be averse to following up something like "Robot Jox" (1990) since that film bombed horribly in part due to the collapse of Empire Pictures a few years before Full Moon got off the ground. But no, ol' Charlie sallied forth with "Robot Wars" (1993), with his old man, Albert Band, taking over directorial duties from Stuart Gordon.

This "sequel" doesn't follow the events of "Robot Jox", nor does it carry over any characters, but it has giant robots, huge corporations, and a desert setting so… close enough. The two films should have switched titles, though, because "Robot Wars" should have dropped the "s" – there is exactly one robot war and it ends almost as soon as it begins.

After the a toxic gas scare in 1993 left much of the United States uninhabitable, the remaining states were divided up into two divisions: North Hemi and Eastern Alliance. In between the two, hordes of scavengers known as "Centros" patrol the arid wasteland and attack all who enter. The huge robots once used for warfare have now been recommissioned as transportation, shuttling tourists to points of interest. When a routine tourist trip finds the MRAS-2 scorpion robot under attack, pilot Drake (Don Michael Paul) and his co-pilot, Stumpy (James Staley), fight back, win, and recover the weapons being used by the Centros. Drake brings the tech to his boss, Rooney (Peter Haskell), and tells him it looks like Eastern Alliance weaponry… this despite a recent visit from the Eastern Alliance head, Wa-Lee (Danny Kamekona), who has pledged his support to Rooney.

On the low down, archaeologist Leda (Barbara Crampton) and her journalist friend, Annie (Lisa Rinna), have begun their own sleuthing after Leda gets a lead on some old robot tech. The two hop aboard a transport to Crystal Vista, a preserved 20th century town, where Leda finds components used for the old MEGA-1 fighting robot. Wa-Lee eventually shows his hand and attempts to take over the region, piloting the MRAS-2 and taking all tourists hostage in the process. Drake and Stumpy are going to have to un-retire and find a way to get the old MEGA-1 moving if North Hemi stands a chance.

So, yea, despite the implication provided by the title there's only one real robot war here and it starts, continues, and ends unspectacularly. To be fair, the stop-motion animation is a total joy to watch on screen and the robot designs are fantastic. I love the scorpion style of MRAS-2, and the MEGA-1 look like a precursor to the Jaegers in "Pacific Rim" (2013). Outside of the opening skirmish, when the Centros (who are woefully underdeveloped and underused) attack MRAS-2, the only battle comes at the very end of the film. There are sporadic shots of MRAS-2 transporting passengers around the desert, which allows the film to show off a bit more of the stop-motion work, and that's about it. Much of the film takes place on sets, with talking heads and fancy electronic consoles.

This is, thankfully, not the worst thing in the world because the cast is actually not too bad. Barbara Crampton and Lisa Rinna are a fun and capable team of women who operate independently and don't rely on Drake, the dashing leading man, to propel their story. Drake and Stumpy work on their own for much of the film, only meeting up with Leda and Annie near the end to activate MEGA-1. Don Michael Paul and James Staley make an equally watchable duo as the hotshot pilot and his stable, trusty sidekick. I love how Stumpy, unable to figure out how to get an enemy's attention, says to himself "what would John Wayne do?" before shouting "remember the Alamo!"

"Robot Wars" left me wanting to see, you know, some legit robot warring but the scant melee action is at least partially recouped by the competent cast and that ever-present campiness emblematic of Full Moon Features. I'm actually a little amazed Band didn't just make a whole series of robot battle films, especially when you consider the stop-motion is far more forgiving when the subject is literally a robot.

Video


The 1.78:1 1080p 24/fps AVC MPEG-4 encoded image has been sourced from original 35mm elements and the results exceeded my modest expectations. Clarity is strong, occasionally stunning, and the level of definition and fine detail never drops below the minimum HD standard. Dirt, white flecks, and damage have all been minimized, too, leaving the picture to look more modern than its vintage would suggest. Rear projection and optical effects shots take a hit with film grain spiking, but that's to be expected. For the majority of the runtime grain appears natural and moves fluidly. Contrast is stable, though it helps virtually none of the film takes place in darkness. The arid desert environment looks appropriately barren and dry.

Audio


Despite being another lossy offering, the English Dolby Digital 5.1 surround sound track packs a decent punch. The finesse of a lossless track is clearly lost but the presence and prioritization heard here proves a lossy option can still provide a robust experience. Myriad effects populate the rear speakers, immersing viewers in the beehive of activity seen in North Hemi's headquarters. Dialogue is well balanced and always easy to understand. When the MRAS-2 is in action, there is decent low-end support. A fight with the Centros early on yields some powerful laser blast moments. The finale is a bit underwhelming, with minimal bass response and little weight to the proceedings. There are no subtitles.

Extras


"Videozone" (SD) is a featurette that runs for 28 minutes and 44 seconds, after Charles Band introduces viewers to the upcoming Full Moon slate, the piece becomes a look at the production, with cast & crew interviews and b-roll footage.

"Wizard of Wars" (1080p) is an interview that runs for 11 minutes and 21 seconds, Charles Band has a sit-down chat in which he recalls the contributions of David Allen, the late stop-motion animator who worked on many of his pictures.

"Vintage promo" (SD) is a featurette that runs for 5 minutes and 14 seconds, this is a reel of praise for Band and his legacy of features.

The original "Robot Wars" theatrical trailer runs for 1 minute and 23 seconds.

Bonus trailers (1080p) are included for the following:

- "Castle Freak" runs for 2 minutes and 14 seconds.
- "Dark Angel" runs for 1 minute and 24 seconds.
- "Trancers 2" runs for 2 minutes and 41 seconds.
- "Puppet Master 3" runs for 2 minutes and 16 seconds.
- "Head of the Family" runs for 1 minute and 48 seconds.
- "Specters" runs for 1 minute and 30 seconds.

Packaging


The single BD-25 comes housed in a standard Blu-ray keep case.

Overall


Even though the film doesn't live up to the promise given by its title, "Robot Wars" reminds me of those halcyon days when a fistful of Full Moon Features would help me get through a weekend. Since the action here is relatively light, this would make for a great double feature with Gordon's "original", where the activity is far greater.
| | | | | |
| --- | --- | --- | --- | --- |
| The Film: C+ | Video: B+ | Audio: B | Extras: C+ | Overall: B- |