St. Valentine's Day Massacre (The) (Blu-ray) [Blu-ray]
Blu-ray B - United Kingdom - Powerhouse Films
Review written by and copyright: Rick Curzon (8th May 2018).
The Film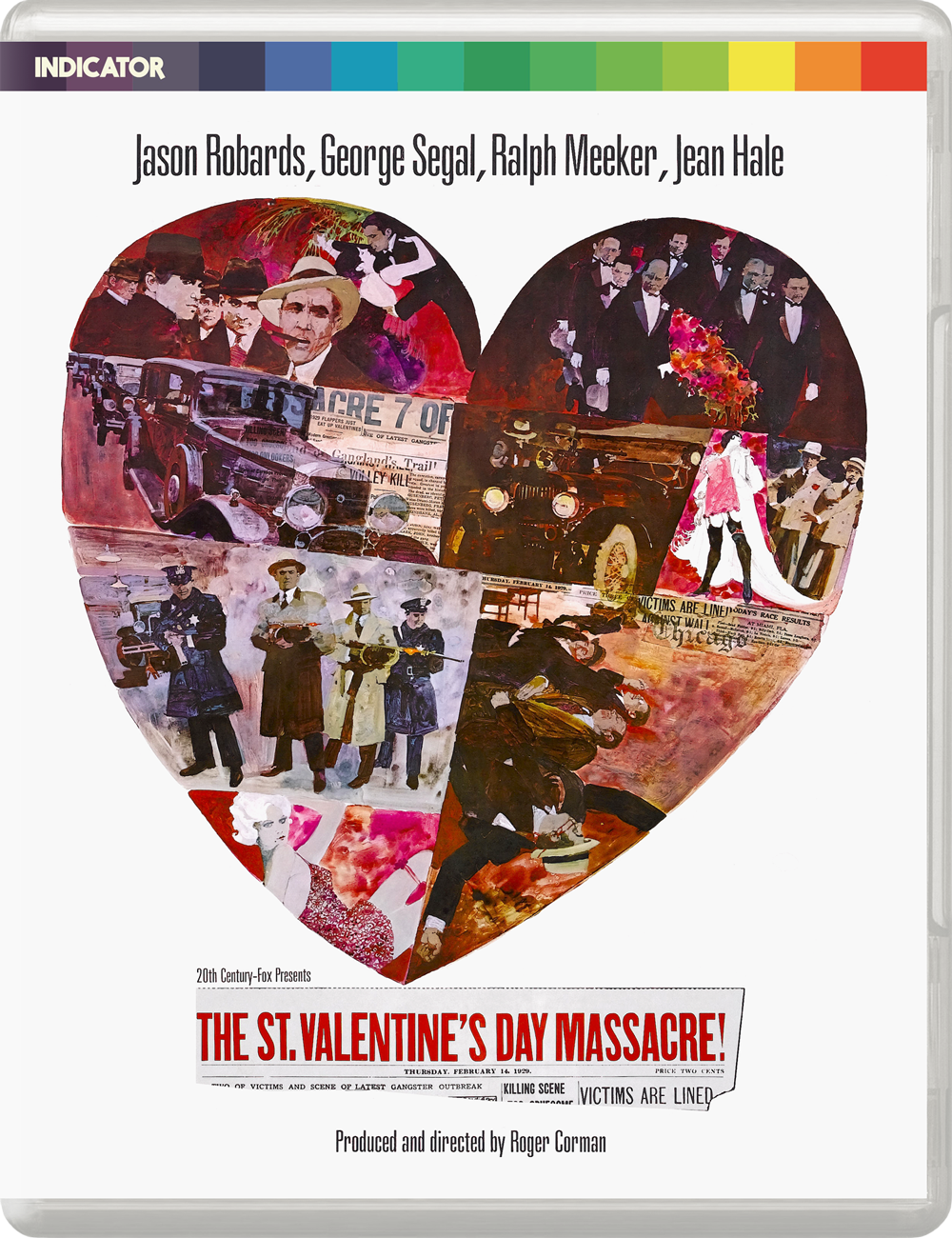 Roger Cormanís most ambitious and expensive production Ė his only film for a major studio Ė is a violent and lurid account of the events leading up to one of the most infamous events in American crime history. Detailing the bitter and brutal rivalry between feuding Chicago mob bosses Al Capone and ĎBugsí Moran, Cormanís vividly realised film features terrific performances from Jason Robards, Ralph Meeker and George Segal, and remains one of Cormanís best films.

Video


Jason Robards chews the scenery with abandon as Al Capone; Ralph Meeker is more restrained as his rival in this colourful, matter of fact gangster epic. One of the foremost American voice actors of the 20th century - Paul Frees - narrates throughout informing us drama-documentary style of who characters are.

A Panavision film made on a budget of $1-$2 million this was lavish by the standards of Roger Corman; his first film for a major studio and he brought it in $400K under budget. Due to the anamorphic lens used there is the customary mild curvature on the extreme edges of the frame but this is nothing to get worried about. There is a fine layer of grain throughout the film only becoming courser in some darker exterior shots.

Colours are mostly rich with the red credits standing out nicely against the background detail. Flesh tones are natural and the overall outdoor palette is muted but is as it should be; interiors are richer and more velvety. Black levels are satisfyingly deep with no crush issues or milkiness. Contrast is also fairly muted allowing detail to flourish; fabrics display a great amount of texture and detail in faces is pleasing. Overall the image has a modest amount of depth.

The encode is well up to the usual high standards weíve come to expect from Powerhouse with no grain issues like clumping or blotchiness. The print is clean with no signs of damage or wear and tear; itís obviously been well looked after. There has been no egregious digital manipulation such as edge enhancement or DNR. The disc is a BD50 and a high bitrate has been given over the main feature.

Another winner from Powerhouse Films.

1080/24p / MPEG-4 AVC / 2.35:1 / 99:53

Audio


English LPCM 1.0
Subtitles: English HoH

A solid mono track that typically lacks range by todayís standards but serves the film very well the soundtrack can be noisy at times but handles the effects well. Dialogue is always clear and easy to follow; Paul Freeís narration is very loud but seemingly by design. Lionel Newmanís score never interferes and doesnít suffer from any distortions of any kind. An excellent track.

Extras


"Roger Corman Remembers: The St. Valentine's Day Massacre" featurette (3:31)

Short piece with Corman who is a great raconteur discussing the biggest budget of his life (at that time) and how he managed to use mostly standing sets. He discusses many aspects of the production but most interesting for me was the using of four different cameras to capture the famous massacre scene in one take.

"Scenes of the Crime: Barry Forshaw on The St. Valentine's Day Massacre" featurette (13:15)

This concentrates on Cormanís thrift and intelligence in approaching film making. His use if ideas to elevate his films by including ideas and themes that made them a cut above other films of a similar ilk being made at the time. Forshaw also covers the directorís penchant for gangster movies. The voiceover by Frees is also likened to a 1940s style and the censorship of the time. Robards is discussed with emphasis on his operatic performance and that he physically didnít resemble the real Capone.

"The Man of a Thousand Voices: Ben Ohmart on Paul Frees" featurette (11:05)

A very interesting piece on one of the most recognisable voice actors of 20th century American cinema by Ohmart who wrote Welcome Foolish Mortals: The Life & Voices of Paul Frees.

Super 8 Version (7:46)

Panned and scanned early home video version; great for a comparison with the restored version. The whole story is condensed from 100 minutes down to 8.

Original Theatrical Trailer (2:32)

Trailers from Hell with Roger Corman on The St. Vallentine's Day Massacre (2:58)

Corman introduces the trailer and discusses the film; if you known the excellent Trailers from Hell website then you know what to expect.

The St. Valentine's Day Massacre Image Gallery: Original Promotional Material (55 images)

Excellent gallery of HD images.

40-page liner notes booklet with a new essay by Neil Sinyard, archival interviews with Roger Corman, contemporary critical responses, and film credits

Sinyard focuses on the film and the history, accuracy etc. An excerpt from Cormanís 1990 biography follows with a 1969 interview with Corman excerpted next. An interesting piece excerpted from a 1967 article by Philip French comparing and commenting on the new Hollywood and the relaxation of censorship in the wake of Bonnie and Clyde. Tim Milneís contemporary review rounds out yet another excellent booklet.

Overall


Cormanís gangster epic has been a popular title down the years and is probably the definitive telling of the infamous massacre. Itís been given the deluxe treatment from Powerhouse with a topnotch transfer boasting excellent picture and sound quality. Disc extras are not quite as meaty as on other some Powerhouse releases but the quality is very good and the booklet is up to the usual high standards. Another must buy.
| | | | | |
| --- | --- | --- | --- | --- |
| The Film: B- | Video: A+ | Audio: A+ | Extras: A | Overall: A |

---
DVD Compare is a participant in the Amazon Services LLC Associates Program and the Amazon Europe S.a.r.l. Associates Programme, an affiliate advertising program designed to provide a means for sites to earn advertising fees by advertising and linking to amazon.co.uk, amazon.com, amazon.ca, amazon.fr, and amazon.de.