The Film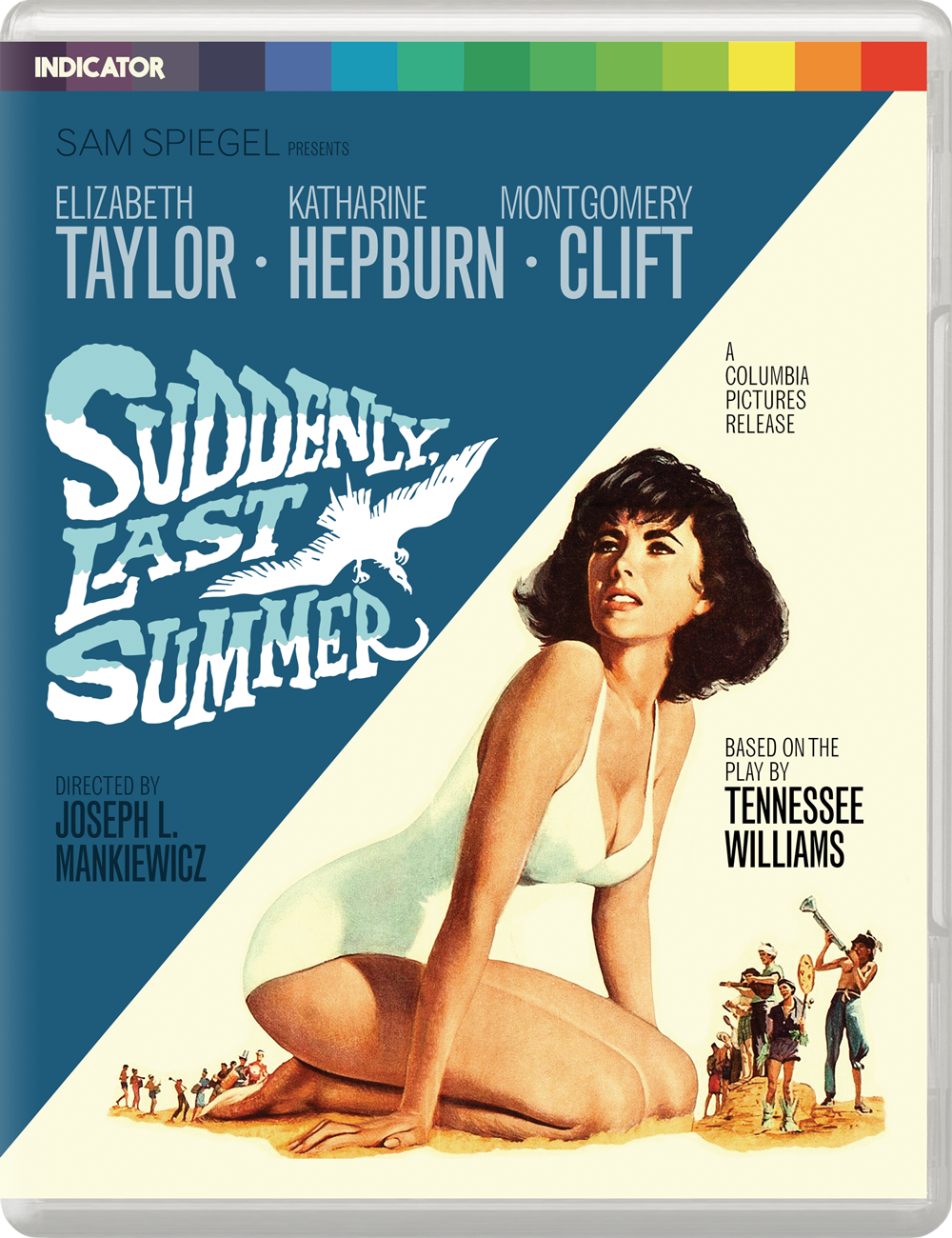 Directed by Joseph L Mankiewicz (Dragonwyck, All About Eve, Cleopatra) from the play by Tennessee Williams (A Streetcar Named Desire, Cat on a Hot Tin Roof) and brilliantly adapted for the screen by Gore Vidal (Ben-Hur, Myra Breckinridge), Suddenly, Last Summer casts three of Hollywood's most iconic talents (Elizabeth Taylor, Katharine Hepburn, Montgomery Clift) in a daring and often delirious mix of lurid drama and Gothic horror. Sensational and wildly controversial at the time of its release, Suddenly, Last Summer now stands as a classic – and stills packs a provocative punch.

Video


Typically overblown southern gothic melodrama that Tennessee Williams felt was far too realistic and adaptation spoiled by Mankiewicz's hand. I found this to be a little too broad for my taste. However ....

This is a stunning transfer.

The B&W image is stable, and filled with natural film grain with no signs of digital manipulation evident and no signs of crush; plenty of detail in dark areas The encode is as good as can be, handled by the steady hand of David MacKenzie. Contrast is always agreeable with no blown out highlights and - again - plenty of detail; texture comes through very nicely. As for detail in general, this is a stunner with facial textures in closeups and fabrics in medium shot both amazingly sharp.

There is plenty of grain to be seen but it's generally very even, handled well by the encoding wizardry of David Mackensie. No clumping, no holes in the grain; obviously, any scenes of optical work like opening and closing credits also show a drop in quality and have harsher grain fields.

Shot non-anamorphic 1.85:1 the film has a splendid greyscale look with a generally sharp image untouched by any digital artefacts. A cracking disc that is very much a must for fans of '50s cinema and great acting. Powerhouse have done fans proud taking an off the shelf master a presenting it about as well as it's possible to do so short of a 4K release.

1080/24p / MPEG-4 AVC / 1.85:1 / 114:17

Audio


English LPCM 1.0
Subtitles: English HoH

A very supportive soundtrack that matches the excellence of the visuals with a fairly decent range considering it's mono and it's age. This is a dialogue heavy stage adaptation as such the dialogue is most important and I happy to say it's always clear and central in the track. The score never interferes.

Subtitles are welcome and essential.

Extras


"An Interview with Joseph L. Mankiewicz for Cinémas Cinémas" featurette (9:51)

Technically challenged vintage clip from A French TV show in which we get a potted career overview for Mankiewicz in French with subtitles before we get to the interview proper (in muddy colour). Mankiewicz discusses his approach to cinema and how he likes to make films about people and how he can't resist having his own opinion be expressed by one of the characters on screen. He discusses his sympathy for the character of journeyman film director Harry Dawes in his film of The Barefoot Contessa (1954) and how he'd like to write a novel about his life.

"Elizabeth Taylor Pays Tribute to Montgomery Clift" featurette (1:50)

Very short interview clip again from French TV (1966) in which the late actress remembers Clift who had died recently.

"Gary Raymond on Suddenly, Last Summer" featurette (6:14)

Warm, pleasant, humerous little interview with the genial Raymond. He talks about Mankiewicz, Hepburn, Clift and Taylor. He also mentions Mercedes McCambridge and producer Sam Spiegel. An amusing story about Spiegel getting Brando for Lawrence of Arabia, and when that fell through it was Albert Finney and then finally O'Toole.

"About Last Summer: Second Assistant Editor John Crome on Suddenly, Last Summer" featurette (15:36)

Crome opens this piece with how editors liked studios based on how good and how close the canteen was to the editing suites. He also goes into how many of the old school editors were not interested in movies and didn't go to see them and thinking him a "twerp" for being into cinema. A very conversational interview with plenty of anecdotes about the craft and the nature of the roles played by assistants.

"Remembering Last Summer: Continuity Supervisor Elaine Schreyeck Recalls Suddenly, Last Summer" featurette (3:02)

The writing comes first for all the big directors according to Schreyeck. Mankiewicz sounds like a tough old school director who didn't suffer fools. An amusing tale about Hepburn being put in her place by Mankiewicz when she didn't like a line and apparently Clift was a "dear".

"The Predator and the Prey by Michel Ciment" featurette (25:36)

An effective distillation and examination of the film's themes with optional (though they default to on) subtitles. Interspersed with clips and stills.

Isolated Music and Effects track

Exactly what you'd expect; music and sound effects sans dialogue.

Trailers from Hell with Dan Ireland on Suddenly, Last Summer (3:04)

The late producer - who worked on several Ken Russell films - waxes lyrical about the film and of the traumatic elements of it's production and his childhood memories of seeing it.

Suddenly, Last Summer Image Gallery: Original Promotional Material (37 images)

A nice HD still gallery of promo stills and posters.

40-page liner notes booklet with a new essay by Samm Deighan, a set report from Films and Filming magazine, a profile of production designer Oliver Messel, Tennessee Williams on Suddenly, Last Summer, a statement by producer Sam Spiegel, contemporary reviews and film credits

Typically chunky and meticulous booklet covers all the bases you'd expect. Deighan discusses in detail the southern gothic and stage origins of the film, the key cast and crew as well as it's troubled production. The piece focussing on Williams' conflicting views on the film version was interesting as was the roundup of mixed critical contemporary critical responses.

Overall


If the film is to your taste, go for it! The transfer is as good as can be shy of a 4K release with both picture and sound being a knockout. Powerhouse knock yet another one out of the park with their Indicator Series release which is very reasonably price considering the packaging. Extras are very choice with plenty of background on the production and it's controversial reception; the booklet is the crown jewel here.

If you're remotely interested in this one get it bought before the booklet goes; a knockout of a release.
| | | | | |
| --- | --- | --- | --- | --- |
| | Video: A+ | Audio: A+ | Extras: A+ | Overall: A+ |