The Film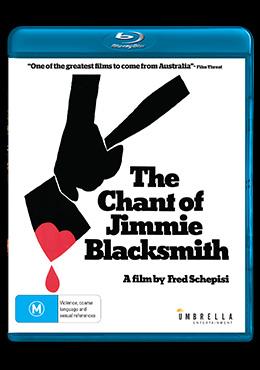 "The Chant of Jimmie Blacksmith" (1978)

Taking place in the late 1800s in New South Wales, Australia, Jimmie (played by Tommy Lewis) is a half white half Aboriginal raised by a white couple - Reverend Neville (played by Jack Thompson) and his wife Martha (played by Julie Dawson) with Christian values and western culture. As he approaches adulthood his foster parents have taught him well enough to become part of the new white Australia, though being obviously born with darker skin and native blood, opportunities would prove to be hard. He does get recommendations to work from his foster parents and work comes slowly but steadily by building fences, other labor work, and policing.

Life is on a positive streak for Jimmie even if some hardships come day by day. He marries Gilda (played by Angela Punch), a white girl who later gives birth to a child - though obviously not Jimmie's as the baby is completely white. Embarrassment and harassment are an inescapable part of his life, and even with his level of tolerance, eventually there is a tipping point...

Based on the novel by Thomas Keneally of the same name and published in 1972, "The Chant of Jimmie Blacksmith" is a tale of race relations, intolerance, and vengeance. Told through the eyes of a half-caste Aboriginal who went through countless hardships in life due to white empowerment over the country in the late 1800s. Considering at the time when Australian natives were not considered "people" but property, even with the blood of white within Jimmie could not help him get passed the racist overtones of society in the period. Following the critical success of his directorial debut feature film "The Devil's Playground" in 1976, Fred Schepisi took to adapting the book into a screeplay and independently financing the film, with personal credit, money from the Australian Film Commission and the Victorian Film Corporation, as well as from other financiers, the $1.2 million raised was one of the most expensive independent Australian productions of its time, and with full directorial control by Schepisi who took to make a very faithful adaptation of the source material. The book was based on the true story of Jimmy Governor with the hardships he went through in life which eventually led to bloody vengeance and eventually the death penalty. The film version would not take the easy road through exploitation but a buildup of environment and character development to reach its ultimate goal.

For the lead role of Jimmie, Tommy Lewis was cast. The 20 year old with no prior acting experience was by chance spotted at an airport by Schepisi and his wife and as fate had it would be the right choice. Lewis plays the difficult lead with extreme likeability with experiencing extreme hardships in a variety of situations throughout. From child to husband to father, to eventually a killer and somehow stays sympathetic to audiences. While the film was filled with veteran actors such as Ray Barrett, Jack Thompson, and Peter Sumner among others, the Aboriginal actors received center stage. Steve Dodd was an experienced screen actor though Freddy Reynolds who played Jimmie's half brother Mort would also be a newcomer performing in his first and only film role. With the theme of the clash of cultures, the film does not play the racist overtones to the extremes but closer to nonchalant standards as they probably were at the time. The whites do not feel that they are being racist and that is the danger that envelops the picture as well as the nation at the time. Sadly there still are uncomfortable racist tones in modern Australian society and the difficulties faced by Jimmie and many others at the time still have issues more than a century later.

The most talked about moment of the film was the axe murder of the Newby family shown in graphic bloody detail, shocking music, and without prejudice. The violent turn caused controversy in its original run with fairly negative reviews by some of the Australian press, and even having the film banned in the UK for a short time as it was on the list of confiscated video nasties by the government. The violence in the film is a very slow buildup to explosion and when it hits, the impact is hard. Schepisi has even stated that walkouts were frequent once the violent scenes screened. While some may have disagreed with the overly violent outcomes and how they were shown on screen - or even off screen as when the infant was killed by shotgun, the violence was in context with the work with an extremely loud voice of vengeance comprised of years and years tension from not just one character but a people collectively.

"The Chant of Jimmie Blacksmith" may have had some mixed reception from extremely positive to very negative in Australia in its original run, and did not make its money back in sales, though it was highly lauded at the AFI Awards with a staggering 12 nominations and winning 3, for Best Actress, Best Supporting Actor, and Best Original Music Score. The film was screened at Cannes and nominated for the Palm D'Or and received higher praise from critics outside Australia that saw the perspective in a different light. Disillusioned, Schepisi would later make a name with a fairly successful career in filmmaking in Hollywood as well as a return to Australia years later with films such as "Barbarosa" (1982), "Roxanne" (1987), "Evil Angels", and "Mr. Baseball". Lewis would continue a career in entertainment with numerous television, film, and stage work as well as a career as a musician, and even ran with the Olympic torch for the 2003 Melbourne Olympics. Unfortunately on May 11th 2018, Tommy Lewis passed away from a heart attack at the age of 59.

40 years later, "The Chant of Jimmie Blacksmith" is a film that still resonates with audiences and being lauded as one of the most important and best Australian films of the era. Schepisi claims that most of the credit should be reserved for the original source novel, though it is certain that it was his heart and effort that he put into the production independently that deserves much credit to bringing it to life on screen.

Note this is a region ALL Blu-ray which can be played back on any Blu-ray player worldwide

Video


Umbrella Entertainment presents the film in the 2.35:1 theatrical aspect ratio in 1080p in the AVC MPEG-4 codec. This is a very good transfer from original elements, though it has some imperfections. Colors are thick and well preserved, with good detail in closeups and in the occasional vista shots. Browns and grays come off consistently well, though do not expect any bright and bold colors as the film has a very subdued palate. There are some moments of softness and some visible damage if looked carefully but it shouldn't have any bothersome effect on viewing. Overall it is a satisfying transfer for the film.

The film's runtime is 121:52.

Audio


English DTS-HD Master Audio 2.0 mono
The original mono track is presented in lossless 2.0. Dialogue comes in fine with little distortion or errors, though there are some instances of mumbling or slang which can be difficult to catch. Music is also well defined, and so are sound effects such as gunshots. Overall another satisfying score with the audio track.

There are optional English HoH subtitles for the film. As stated before about the mumbling or unintelligible wordplay, sometimes mixing slang and/or native tongues, the subtitles sometimes say [mumbles] in midsentence. It seems even the captioners could not understand the complete dialogue at times. There are no issues with spelling or grammar in the subtitles.

Extras


Audio commentary with Fred Schepisi
In this solo audio commentary, the director talks about various topics such as the adaptation from book to screen, the casting process, the fairly large budget and where it went, compromises made with the producers, technical aspects of the production, the reception, and much more. Luckily Schepisi recalls greatly about the production and there was no need for a moderator or an additional person in the recording booth which is great. This audio commentary was previously featured on the Umbrella Entertainment DVD edition.
in English Dolby Digital 2.0 with no subtitles

Introduction by Fred Schepisi (0:25)
Schepisi introduces the film for the 40th anniversary Blu-ray edition.
in 1080p AVC MPEG-4, in 1.78:1, in English Dolby Digital 2.0 with no subtitles

A Conversation with Fred Schepisi & Ian Baker (64:01)
In filmed interviews from October 2017, Fred Schepisi and Ian Baker are filmed separately with each recalling not just about the production of the film, but much more. Schepisi discusses about his early career in advertising, assistant directing, Baker talks about how he met Schepisi and their relationship behind the scenes of productions, and more. There are also some vintage interviews from the 1978 premiere of the film, which can be seen in full in the following extra.
in 1080p AVC MPEG-4, in 1.78:1, in English Dolby Digital 2.0 with no subtitles

Melbourne Premiere from "Willesee at Seven" June 1978 (6:00)
In this vintage news segment, there are some clips of the film followed by interviews with critics, politicians, and actors giving their positive views of the film post screening. The footage is from a standard definition source with videotaped segments in studio while premiere footage was shot on film then transferred to video, so do not expect high quality in the video.
in 720p AVC MPEG-4, in 1.33:1, in English Dolby Digital 2.0 with no subtitles

"Celluloid Gypsies: Making The Chant of Jimmie Blacksmith" documentary (36:21)
In this retrospective documentary featuring Fred Schepisi, Tommy Lewis, Brian Kavanagh, and Ian Baker, the cast and crew talk about the production of the film, all filmed separately and edited together. From the book, the casting of Lewis after Schepisi spotted him at the airport, the $1.2 million budget raised by Schepisi mostly with his own money, difficulties in the production, and much more. There are some audio issues with this featurette seemingly due to the originally recorded materials. Kavanagh's interview is especially distorted in sound compared to the others. This was originally featured on the Umbrella DVD edition.
in 720p AVC MPEG-4, in 1.33:1, in English Dolby Digital 2.0 with no subtitles

"The Chant of Tom Lewis" interview with Tommy Lewis (25:33)
In this extended interview with the actor taken from the same interview session from the documentary listed above, he talks about his early life, how his debut film changed his life, about his family, about his later career and more. This was originally featured on the Umbrella DVD edition.
in 1080p AVC MPEG-4, in 1.78:1, in English Dolby Digital 2.0 with no subtitles

2008 Melbourne International Film Festival Q&A with Fred Schepisi & Geoffrey Rush (34:05)
Actor Geoffrey Rush introduces the film at the 30th anniversary screening where he was a moderator for a half hour Q&A with Schepisi for the film. Not much new in terms of talked about material if the other extras were delved into, but Rush gives some valuable insight on what Australian cinema was like at the time and perceived by other countries including reactions in Europe where he was living for some time in the 1970s. The sound is good in this Q&A as the audio comes directly from the microphones, but the video is especially weak.
in 720p AVC MPEG-4, in 1.78:1, in English Dolby Digital 2.0 with no subtitles

"Making Us Blacksmiths" featurette (10:23)
In this vintage featurette, there are interviews with the cast and crew on set, as they discuss the behind the scenes process, helping the new actors perform comfortably, plus film clips. This was originally featured on the Umbrella DVD edition.
in 720p AVC MPEG-4, in 2.35:1, in English Dolby Digital 2.0 with no subtitles

Stills Gallery (14:28)
A silent auto running slideshow of color and black and white stills, poster art, and more. This was originally featured on the Umbrella DVD edition.
in 720p AVC MPEG-4, in 1.78:1

Theatrical Trailer (2:20)
The original Australian trailer is offered. This was originally featured on the Umbrella DVD edition.
in 720p AVC MPEG-4, in 2.35:1, in English Dolby Digital 2.0 with no subtitles

The theatrical trailer, courtesy of Umbrella Entertainment:


Packaging


The simplistic cover featuring the three-color image with the hand and the bloody axe was one of the original posters for the film. The cover is reversible, with the other side being identical except for the "M" rating logo removed from the front.

Overall


"The Chant of Jimmie Blacksmith" is often labeled in the "Ozploitation" genre but it is much more than simply that. It's a serious look at race relations, hardships, relationships, and eventually a buildup to a bloody violent climax that is impossible to forget. The Umbrella Entertainment Blu-ray features good video and audio with an excellent selection of extras making this highly recommended.
| | | | | |
| --- | --- | --- | --- | --- |
| The Film: A | Video: B+ | Audio: B+ | Extras: A | Overall: A- |