The Film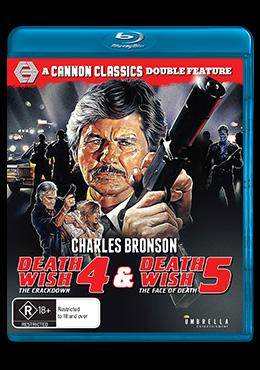 "Death Wish 4: The Crackdown" (1987) / "Death Wish 5: The Face of Death" (1994)

In 1974, cinema audiences were introduced to family man and architect Paul Kersey (played by Charles Bronson) who turns into a one man invincible vigilante by night to who becomes a vigilante after the murder of his wife and assault on his daughter. "Death Wish" was brutal and unflinching and became a mainstream classic in the tail end of the Vietnam/Nixon era. Director Michael Winner let an undeniable stamp on the production and would lead to controversy over its violent content while still gaining praise from certain critics. It would be another eight years until audiences would see the character of Kersey return in "Death Wish 2". With the rights to the series moving from Paramount to the infamous Cannon Films, Bronson would return as the lead with Winner in the director's chair. "Death Wish 3" would only come three years later in 1985 with the same team returning for more. With the subsequent sequels they had their own troubles with the violent content and over the top antics, and the critical fare was left to the poorer side as the substance and originality swapped for exploitation and cost cutting cheapness. Regardless of the negative points, the first two sequels gained a cult following with edited for TV broadcasts and video rentals and sales over the many years. It would only be a matter of time for Bronson to return for another run... or two.

"Death Wish 4: The Crackdown" sees Paul (played by Charles Bronson) finding stability in life again. He is in a relationship with Karen (played by Kay Lenz), a journalist with a teenage daughter Erika (played by Dana Barron) and the three have a fairly well settled relationship, even if Paul is unsure of moving things toward marriage as he is still traumatized by his past. Things turn dark for them when Erika suddenly dies from a crack cocaine overdose, in which she was given a strong set from her dealer. While Paul and Karen mourn for her loss, a mysterious call from a man who claims to know about Paul's past vigilante skills gives him an opportunity for vengeance. "Mr. White" (played by John P. Ryan says he also lost a daughter to the crack epidemic and it's time to fight back - the dealers and the suppliers must be stopped at all costs. With Paul's learned skills in weaponry and White's informative sources, the plan is set - for Paul to infiltrate the two rival drug groups and have them fight against each other until no one is left standing.

"Death Wish 4" is another film in a long list of works that take the basic story of Akira Kurosawa's "Yojimbo" of the loner that uses his wits and violent skills to make two rival clans battle it out while the loner looks from a distance. The crack epidemic of the mid 1980s shot out as a cheaper alternative to cocaine, which from the Wall Street fatcats to the poor underprivileged were part of the dangerous and deadly drug issue, and the film exploited the current social issue for its basic storyline. Paul's use of weapons and his instincts were built-up in the earlier films but for his character in "4" to suddenly become a ninja-like infiltrator by taking on jobs such as a butler or a wine salesman with utter ease seems almost too good to be true. Paul was never a character to easily blend in and for him to suddenly acquire skills of an "actor" seems far fetched, though admittedly fun to watch. For him to blast away the suited goons of Ed Zacharias (played by Perry Lopez) the goons from the other gang of brothers Jack Romero (played by Mike Moroff) and Tony Romero (played by Dan Ferro), but it's not only the gangs on Paul's tail but the detectives Reiner (played by George Dickerson) and Nozaki (played by Soon-Tek Oh) are also suspicious of Paul from clues left behind. It's not a cat and mouse game at all but all sides playing against each other, filled with double crossers, twists and turns, and surprising allegiances.

Directed by veteran TV and film director J. Lee Thompson from a script by Gail Morgan Hickman, the film is a wild ride with some absurd moments of violence with electrocutions, rocket launchers, car crashes, with some shoddy dialogue with silly one liners galore. But by the end, audiences may not care much for the original purpose. The character of Karen is underused as a subplot of her infiltrating the drug world with her journalist skills was partly shown but mostly deleted from the final cut. The death of Erika came and went so quickly as the audience barely gets to know anything about her. The goons are well, goons. Cut and paste from templates with not much to set one apart from another. "Death Wish 4" is not a classic but it's a highly enjoyable run with the series - better than the overly violent and sadistic second film, better than the gunman against cheap thugs third film, and obviously cannot hold a candle to the first. The $5 million budget film only grossed $6.9 million theatrically but that was not the end for Paul Kersey.

"Death Wish 5: The Face of Death" again has Paul (played by Charles Bronson) seeing happiness years after the events of the previous film. He is in a relationship with successful fashion designer Olivia (played by Lesley-Anne Down) who has a teenage daughter (played by Erika Lancaster) though things become tense when Olivia's former husband Tommy O'Shea (played by Michael Parks) returns to the fold. A boss that doesn't like to play clean, he and his goons seriously threaten Olivia with physical violence and try to get Paul out of the way, things do not go accordingly as the vigilante returns to the scene to run down the men who threatened the woman he loves and for the safety of her young daughter.

With "Death Wish 5" the story tread on familiar territory. Paul Kersey may by in his seventies, but the story of a woman and a teenage daughter has been told not once or twice yet another time, and the idea of the vigilante justice against a crime boss was already seen in the fourth entry, though in the fifth film it was a one way ladder to the top rather than the two syndicates and corrupt police fighting in the fourth film. The fifth entry in the series was closer to a "greatest hits" while playing things on the safer side. Sure people get run down and gunned down. Paul's wits and marksmanship gets him through thick and thin. Goons are dumb. But the previous entries dealing with vengeance against rape, murder, or drugs, the fifth film doesn't seem to have much in power in terms of a heavy set reason and goes more for the action and gunplay throughout rather than character or plot. On the positive side, Michael Parks as Tommy is a great choice for the sick boss and the way he handles himself as a "taking no shit from nobody" maniac is wonderful to watch. The fifth entry is not a horrendous film at all. The action and fun are all there and the fairly well paced nature is an excellent watch. But for Oscars, emotional depth, plot, and consistency, those points should be looked elsewhere.

The rights to the series moved from Cannon to 21st Century Film Corporation and distributed by Trimark. Like the previous film the $5 million budget was small, but the theatrical gross was even smaller $1.7 million. Poor distribution with only a fraction of the theaters the previous film was screened at and a non-existent marketing campaign, the film came and went and sadly was Charles Bronson's last feature to be screened theatrically as his later films were direct to video or television productions. "Death Wish 5" nailed the coffin to the series that continued sporadically over a 20 year period from 1974 to 1994. The series would finally get the reboot treatment in 2018 with "Death Wish" starring Bruce Willis, directed by Eli Roth and scripted by Joe Carnaham, but it didn't set the world on fire as Bronson did more than 40 years ago with a certain charm plus extreme violence that the sequels or the reboot couldn't quite balance.

Note this is a region ALL Blu-ray which can be played back on any Blu-ray player worldwide.

Video


Umbrella Entertainment presents both films in the 1.85:1 theatrical aspect ratio in 1080p in the AVC MPEG-4 codec. The HD transfers from MGM look fairly good considering their age and budgets. Colors can look bright and bold, detail can look sharp, and damage is on the minimal side, with "can" meaning "not always". Some scenes are on the softer side, dark scenes lose some of the darker black levels, and occasional specs on the image can be seen. Framing seems correct with no issues of stability, no examples of artificial sharpening, and overall a pleasing visual presentation for both films.

The runtime for "Death Wish 4: The Crackdown" is 99:36 and the runtime for "Death Wish 5: The Face of Death" is 95:09.

Audio


English DTS-HD Master Audio 1.0 for "Death Wish 4: The Crackdown"
English DTS-HD Master Audio 2.0 stereo for "Death Wish 5: The Face of Death"

The original mono track for "4" and the stereo track for "5" are presented in lossless audio. The fourth film may be in mono but things can get serious once the guns start blazing and the explosions are set off. The dialogue is clean and well balanced with the music and effects, with no issues of damage to the audio track, giving an authentic original sound to the film.

The stereo track for "5" is a fairly active one using the stereo separation for the effects and music to full effect, though it may be a bit on the louder side compared to the dialogue track. On the plus side the track like the fourth film is free of damage giving a clean and clear audio track.

There are optional English HoH subtitles in a white font for both films. They are well timed and placed underneath the characters when lines are spoken. For some of the faster paced dialogue the subtitles omit words or shorten sentences which is an unusual choice, and so these cannot be considered "full" subtitles. On the plus side they are easy to read and have no spelling or grammar issues.

Extras


This is a single disc Blu-ray housing both films and all extras on the same disc. The following bonus materials are featured:


"Death Wish 4" extras

Audio commentary by Paul Talbot
Paul Talbot, the author of Bronson's Loose! The Making of the Death Wish Films previously gave a commentary track on the US Shout! Factory Blu-ray of "Death Wish 2". For this commentary track, he leaves no stone left unturned, providing information on the production, scene specific trivia, cast and crew biographies, the reception the film received, and even flaws the movie has. It's packed with information and one of the finest commentary tracks in recent memory.
in English Dolby Digital 2.0 with no subtitles

Theatrical Trailer (1:33)
The original US trailer is presented here with slightly shaky picture and average audio.
in 720p AVC MPEG-4, in 1.85:1, in English Dolby Digital 2.0 with no subtitles

TV Spot (0:30)
A very blurry TV spot from a very low quality pixelated source,
in 1080i 60hz AVC MPEG-4, in 1.33:1, in English Dolby Digital 2.0 with no subtitles

TV Broadcast Promo (0:30)
"Thursday Night at 8 on Channel 11!" It is not clear which Channel 11 this was broadcast on, but like the previous TV spot, it is very pixelated and blurred.
in 720p AVC MPEG-4, in 1.33:1, in English Dolby Digital 2.0 with no subtitles

VHS Preview (0:20)Get ready to turn the volume knob down a little for this trailer that ran on various Cannon VHS tapes.
in 720p AVC MPEG-4, in 1.33:1, in English Dolby Digital 2.0 with no subtitles


"Death Wish 5" extras

Audio commentary by Paul Talbot
Talbot put in a lot of information on the commentary for the fourth movie and the fifth is no different. It is packed with trivia, biographies, background information, both positive and negative thoughts of the film, and much more. There is no slouching around and this commentary is on par with the excellent commentary for the fourth movie.
in English Dolby Digital 2.0 with no subtitles

Theatrical Trailer (1:38)
The original trailer has the title without the number "5" attached just calling itself "Death Wish: The Face of Death". There is some macro blocking in colors with slightly weak audio here.
in 1080p AVC MPEG-4, in 1.33:1, in English Dolby Digital 2.0 with no subtitles

VHS Preview (0:56)
The number "5" is seen in the title on this one. The sound is better than in the previous trailer but the visuals are heavily pixelated coming from a low definition source.
in 1080i 60hz AVC MPEG-4, in 1.33:1, in English Dolby Digital 2.0 with no subtitles


Image Gallery (62:01)
An automated slideshow gallery which can also be navigated with the remote. Included are posters, VHS and Laserdisc covers, publicity photos, behind the scenes stills, EPK synopsis and cast/crew notes for both films.
in 1080p AVC MPEG-4


Both films are currently available in other countries on DVD and some on Blu-ray, though none offer any substantial extras. On paper, this set from Umbrella may only have a few extras in terms of video-based bonuses, but the two commentaries are such excellent pieces they make up for any loss for featurettes or interviews.

Packaging


The package mistakenly states region B only as this is a region ALL Blu-ray playable worldwide. The artwork is reversible with the only difference being the Australian classification logo removed from the front cover.

Overall


"Death Wish 4: The Crackdown" is a wild and fun ride of violence, mayhem, and double-crossing, and "Death Wish 5: The Face of Death" is a wacky best-of that never finds a truly original voice. Neither are Oscar worthy and have their flaws written all over, but to see Bronson blast away goons and thugs in his inexplicable way is always highly enjoyable in these final two entries in the Bronson "Death Wish" saga. The Umbrella Entertainment Blu-ray features very good video and audio and excellent commentaries for bonus films among other extras. Very recommended.
| | | | | |
| --- | --- | --- | --- | --- |
| The Film: B- | Video: B+ | Audio: A- | Extras: B | Overall: B |