The Revival
R1 - America - Breaking Glass Pictures
Review written by and copyright: Eric Cotenas (29th May 2018).
The Film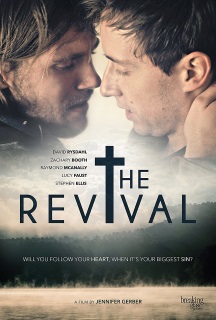 Living in his larger-than-life Baptist preacher father's shadow - as well as the stigma of his mother's not-so-secret alcoholism - Pastor Eli (That's Not Us' David Rysdahl) wants desperately to take his father's small-town Arkansas Baptist Church in a new progressive direction ("Forward"). Although badgered by fervent volunteer Trevor (Compliance's Raymond McAnally) towards the more theatrical and God-fearing stance of competing church's Brother Aaron (who bellows out sermons throughout the week on local radio), he holds to his ideals with the support of pregnant wife June (Mudbound's Lucy Faust) until he meets handsome drifter Daniel (Keep the Lights On's Zachary Booth), a drifter and meth addict who interprets Eli's kindness as interest. Giving into his repressed desires, Eli starts to question the closedmindedness of his congregation even as he feels guilt over betraying his wife and a God who he has come to believe people have made "their own personal God" in self-justifying their own life choices for the better or worse. The Revival is not all that original in terms of plotting but what makes it compelling viewing is its characterization. A cliché scene of a prayer meeting in which June is surrounded by catty housewives and widows - with the expected gossip about unfaithful husbands and gay sons - finds her feeling under pressure to "get her house in order" even before her suspicions are concrete. When Daniel calls Eli on his ability to "forgive" him as a pastor but while condemning him in private, it seems believably motivated by hurt and not just calling him out on his hypocrisy on behalf of the audience. The two most explosively violent characters in the film – Trevor and Jimmy (Hail Caesar!'s Stephen Ellis) who comes to Eli looking for guidance about his incestuous attraction to his cousin – are made more sympathetic by the sense that they fell that they desperately "need" God to keep them from sinning, and still looking for guidance in the form of a pastor they know has sinned. Our identification and sympathy for Eli slips throughout the film as it starts to become more likely, as Daniel tells June late in the film, that his relationship with God is more important than with either wife or lover.

Video


Breaking Glass' progressive, anamorphic encode does their usual serviceable job with an HD-lensed low-budget film in which deleted scenes reveal that its moody low-lit look is a joint effort of the original photography and some post-production adjustments.

Audio


The Dolby Digital 5.1 track utilizes the rear channels mainly for music and some atmospheric effects.

Extras


The audio Commentary by director Jennifer Gerber, writer Samuel Brett Williams, and producer Sophie Finkelstein covers the project's origins as an Off Broadway play in 2011 (which also featured actor Rysdahl in the lead, although he would audition for both leads for the film), the last minute re-casting with actress Faust when the original actress was cast in a Tina Fey television project, the shoot (including the desperate need to find deer remains when one could not be supplied by a deer hunting range), and the ways in which they were working through their shared small-town religious backgrounds with the film. An alternate ending (3:25) is included that makes some slight adjustments to the finished version as well as some deleted scenes (4:58) which were wisely left out, along with the theatrical trailer (1:37).

Overall


The Revival is not all that original in terms of plotting but what makes it compelling viewing is its characterization.


---
DVD Compare is a participant in the Amazon Services LLC Associates Program and the Amazon Europe S.a.r.l. Associates Programme, an affiliate advertising program designed to provide a means for sites to earn advertising fees by advertising and linking to amazon.co.uk, amazon.com, amazon.ca, amazon.fr, and amazon.de.