Sebastian
R1 - America - Wolfe Video
Review written by and copyright: Eric Cotenas (29th May 2018).
The Film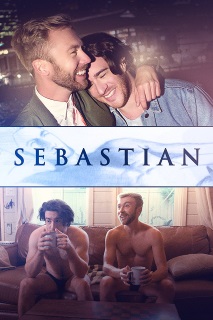 Part-time graphic artist/parttime coffee shop barista Alex (writer/director James Fanizza) is relieved when his boyfriend Nelson (Guifre Bantjes-Rafols) must leave town on a business trip since his own commitment phobia has been rearing its head as of late. It is also not at all a bother when Nelson asks him to show his visiting Argentinian cousin around town since Sebastian (Todd and the Book of Pure Evil's Alex House) is very attractive and on Grindr. Things heat up quickly with Alex just wanting to have a week of fun before Sebastian leaves, but even Sebastian's and Nelson's understanding aunt Leah (Leah Doz) can see that Sebastian is falling for Alex even though she does not know her nephew is seeing her other nephew's boyfriend. As the week nears its end, Alex is advised by various friends - including drag artist Xenia (Ru Paul's Drag Race's Katya Zamolodchikova) - to confront the incident that inhibited his ability to trust others by channeling it into his art while Sebastian must decide whether hurting his cousin and aunt (the rest of his family already more concerned with the opinions of others) by taking a chance on true love. Well-shot but rather clumsily written, Sebastian is rather run-of-the-mill in terms of its boy-meets-boy story with Alex's past trauma less meaningful than a convenient plot device. The film is at is best as the two are frequently on the verge of going too far in winding one another up by playing on each other's inhibitions about commitment. For a film that appears to be semi-autobiographical, Sebastian is a rather unambitious film resolves itself rather easily in the expected manner.

Video


Breaking Glass's mid-bitrate, progressive, anamorphic encode does an okay job with a film that was lensed in HD in a rather casual manner with night scenes looking a bit murky and occasionally noisy and bright daylight exteriors with sometimes harsh shadows and highlights that threaten to clip.

Audio


The Dolby Digital 5.1 track is rather basic with music getting the most spread. The optional English HoH subtitles cover the English dialogue while Spanish dialogue is translated with burnt-in subtitles (positioned a little higher on the screen for cases in which the English dialogue overlaps).

Extras


Extras are limited to an outtake reel (5:04) focusing on Zamolodchikova's flubs and the film's trailer (1:46). Trailers for other releases are also included.

Overall


For a film that appears to be semi-autobiographical, Sebastian is a rather unambitious film resolves itself rather easily in the expected manner.


---
DVD Compare is a participant in the Amazon Services LLC Associates Program and the Amazon Europe S.a.r.l. Associates Programme, an affiliate advertising program designed to provide a means for sites to earn advertising fees by advertising and linking to amazon.co.uk, amazon.com, amazon.ca, amazon.fr, and amazon.de.