Mastermind [Blu-ray]
Blu-ray A - America - Kino Lorber
Review written by and copyright: Eric Cotenas (29th May 2018).
The Film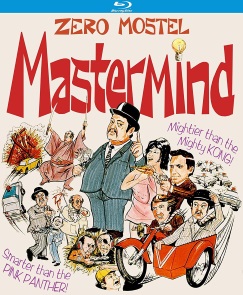 Called in to investigate a break-in at a hotel next to the nightclub of old flame Nikki Kono (The Twilight Samurai's Keiko Kishi) whose uncertain proximity to Tokyo's underworld unnerves him, Inspector Hoku Ichihara (A Funny Thing Happened on the Way to the Forum's Zero Mostel) - a detective with an inflated sense of his abilities and the belief that he was a skilled warrior in a past life - and his assistant Nigel Crouchback (The Raggedy Rawney's Gawn Grainger) are just as soon called away to investigate the murders of three guards by a paralyzing nerve gas at a seaside toy company where a German professor (Target's Herbert Berghof) has developed an advanced and intelligent robot named Schatzi (The Addams Family's Felix Silla), the non-working prototype of which had been stolen during the break-in. The head of security Captain Yamada (Mothra's Furankî Sakai) had been drawn away from the scene by a woman and seems bent on committing hara-kiri no matter how many times Ichihara stops him. Learning that hotel guest Max Engstrom (The Dukes of Hazzard's Sorrell Booke) had written a large check on the night of the break-in, Ichihara suspects him to have been behind the attempted robbery but resists Crouchback's attempts to also investigate Nikki who has a habit of turning up wherever they investigate with benign excuses. During his meditations, Ichihara imagines or flashes back to ancient times and his past life, and the visions not only seem to highlight his conflicted feelings for Nikki but to also offer preternatural cognition of developments in the case in need of being correctly interpreted, including the seeming romantic rivalry in a man (The Mephisto Waltz's Bradford Dillman) who turns out to be Central Security Service agent Jabez Link who reveals that Engstrom was a former SS agent (expelled for wearing women's clothing) who, along with seemingly everyone else involved in the case, is being surveilled by a pair of Israeli agents (On the Town's Jules Munshin and Rosemary's Baby's Phil Leeds). Whoever is really behind the attempts to get Schatzi and exploit his potentials as a weapon appears to also be always one step ahead of the investigation, and the evidence repeatedly points towards Nikki. Seemingly less an attempt at lampooning the likes of Inspector Moto, Mr. Wong, or Charlie Chan than launching an oriental Inspector Clouseau – the script by Ian McLellan Hunter (Roman Holiday) originated at least half a decade earlier in an earlier incarnation written by William Peter Blatty after A Shot in the Dark who had also written The Great Train Robbery for Mastermind producer Malcolm Stuart) – the film's belated 1976 release may indeed have been in response to Peters Sellers' Detective Sidney Wang in the film adaptation of Murder by Death; however, but Mostel's undisciplined characterization compares poorly even to the likes of Peter Unstinov in the later Charlie Chan and the Curse of the Dragon Queen that one ends up feeling sorry for just about anyone else involved, particularly those that play it straight like Dillman. If there ever was a straightforward plot, it has become hopelessly muddled to cram in anything for a desperate laugh, from undercranked fight scenes to undercranked car chases and the running joke of Yamada trying to commit suicide. It is no surprise that the film went unreleased upon completion in 1970 and had no video or DVD releases in the United States regardless of the question of political correctness in regards to Mostel's performance.

Video


Heretofore unreleased on DVD stateside after its Anchor Bay sell-through tape edition - with only a fullscreen DVD in the United Kingdom - Kino Lorber's 1080p24 MPEG-4 AVC 1.85:1 widescreen Blu-ray of Mastermind nevertheless comes from an aged HD master in which the already diffused seventies photography looks consistently flat and dull - in sharp contrast to what cinematographer Gerald Hirschfeld did emulating a period look with Young Frankenstein - with little evidence of texture in faces, costumes, or sets (while no one was chomping at the bit for a remaster of this film, it was hoped that its rarity would mean that there was a necessity to do a new scan).

Audio


The sole audio option is a DTS-HD Master Audio 2.0 mono track that is very inconsistent in volume, seemingly a fault either of the production or the mix for home video. Music and effects sound okay but become too loud when raising the volume to make the dialogue easier to understand (whereupon hiss is evident with the dialogue). There are no subtitles or captions.

Extras


There are no extras apart from trailer for four superior comedies.

Overall




---
DVD Compare is a participant in the Amazon Services LLC Associates Program and the Amazon Europe S.a.r.l. Associates Programme, an affiliate advertising program designed to provide a means for sites to earn advertising fees by advertising and linking to amazon.co.uk, amazon.com, amazon.ca, amazon.fr, and amazon.de.