The Film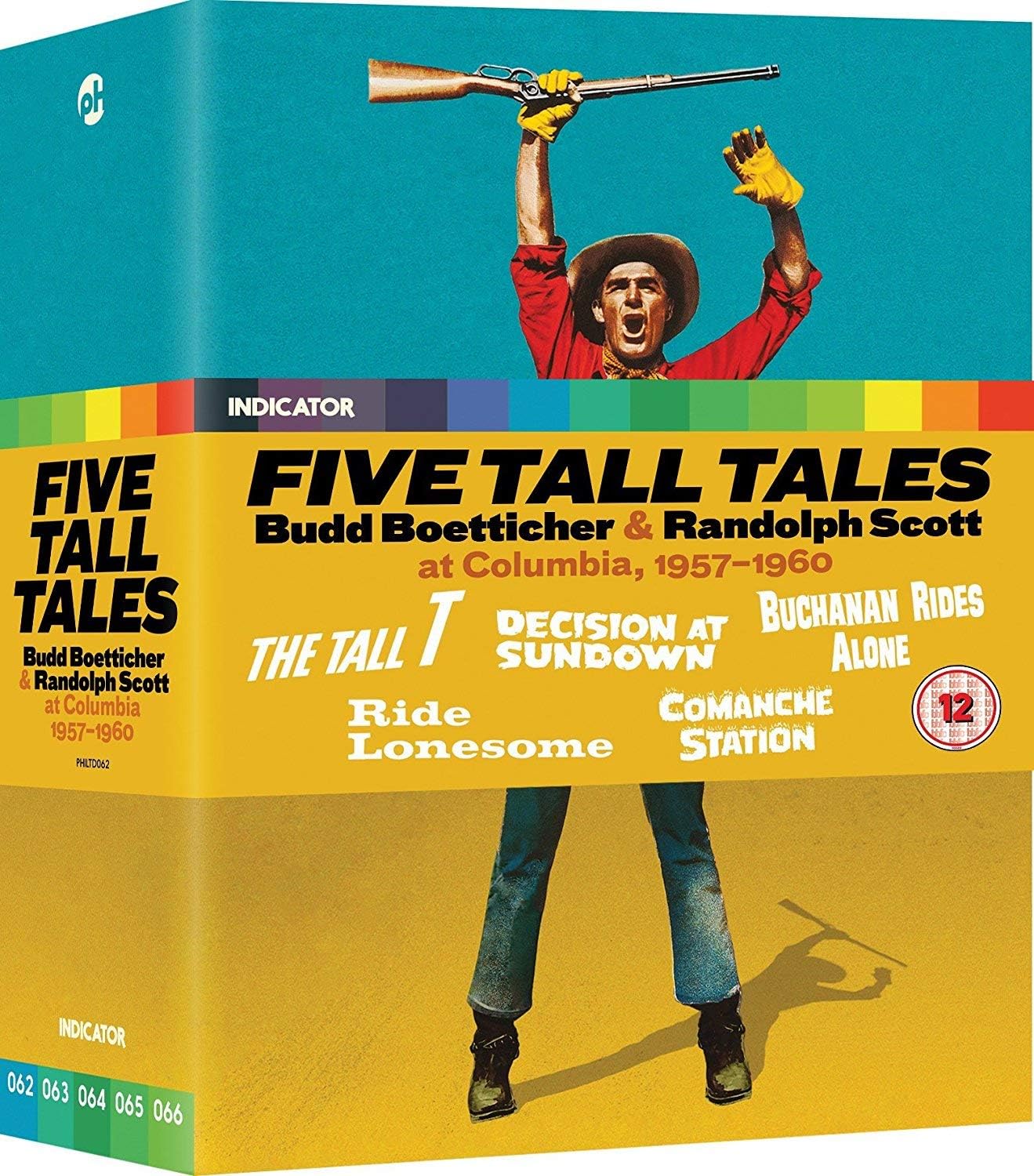 Five classic, iconic and slyly subversive westerns collected on Blu-ray for the very first time. Containing a wealth of new and archival extras – including extensive interviews with director Budd Boetticher, expert audio commentaries, appreciations by filmmakers Martin Scorsese and Clint Eastwood, and new critical analyses by film critics Christopher Fraying, Edward Buscombe and Kim Newman – this collectable five-disc box set also contains an 80-page book with newly commissioned essays, archival interviews and film credits, and is strictly limited to 6,000 numbered units.

Video


Bud Boetticher produced a series of well regarded, popular B-westerns in the '50s and '60s. All designed to fill out the lower half of double features with bigger, longer, more salubrious A- film entertainments.

The were guaranteed to have lots of lovely character moments and all were stunningly shot on mostly Californian locations with some amazing landscapes set against blue skies.

A very spare series of films that tell their stories with great economy and with not an ounce of fat or bloat; a lesson modern blockbusters could learn from.

The films contained in this much anticipated set are known as The Ranown Cycle; producer-star Randolph Scott and producer Harry Joe Brown cobbled their names together Ran-own into a company name.

All were shot in 35mm; three of the films were shot in the matted 1.85:1 aspect ratio and two in the anamorphic CinemaScope format with a ratio of 2.35:1. All have had been afforded a disc of their own (single layered) and are HD restorations with Ride Lonesome being a new 2K master. No doubt supervised by the great Grover Crisp who handles these things at Sony.

The three 1.85:1 films are are all similar in terms of their image. Colours are rich and velvety with no signs of bleed; they liked their colour values with a certain operatic splendour back then and three films - The Tall T, Decision at Sundown and Buchanan Rides Alone - all look splendid on that score with nice, warm colour palettes. Some reviewers on line have reported that they can detect a slight teal bias in Decision at Sundown, but I couldn't see it; judge for yourself folks.

Black levels are rich and deep with no sign of crush and the contrast levels are splendid with no signs of blowout or loss of detail in whites and highlights. There's plenty of detail in these splendid transfers in both closeups which pop off the screen and in medium and long shot; backgrounds are pleasing and I spent time pausing and admiring the set dressing and fabrics.

Grain is ever present, getting noticeably courser when shots have been optically printed (credits, fades, transitions etc) but that's just the nature of photochemical film. The three 1.85:1 films are sharp as a pleasingly grainy tack and beautifully encoded with no clumping or holes in said grain (telltale signs of weak encodes). No chance of that with maestro David MacKensizie and Fidelity in Motion doing their usual superlative work.

I could detect no signs of print damage throughout all five films (1.85:1 or 2.35:1), bar the odd moment of baked in dirt in some of the opticals.

Everything above also applies to the two CinemaScope films as well with the exception that the images are noticeably softer due to the anamorphic processes involved. With the usual mild (very mild) distortions appearing at the edges; again nothing to worry about. All comments on colour, grain, black levels, contrast and encoding apply.

1080/24p / MPEG-4 AVC
1.85:1 - 77:33 (The Tall T); 77:13 (Decision at Sundown); 79:29 (Buchanan Rides Alone) 2.35:1 - 72:39 (Ride Lonesome); 73:11 (Comanche Station)

Audio


English LPCM 1.0
Subtitles: English HoH

All five films have solid mono tracks. They're dialogue heavy and it's always the priority. The scores are used sparingly but judiciously, never interfering. Being of the age they are you'd expect some distortions but I heard none.

Extras


Audio commentary with Jeanine Basinger on The Tall T
Audio commentary with Jeremy Arnold on Ride Lonesome
Audio commentary with Taylor Hackford on Comanche Station

Basinger is an academic and her track is filled with analysis of the themes as well as facts about the film. If you've heard any of her other tracks down the years - I've heard her work on the Criterion Laserdisc of El Cid (1961) and DVD of Armageddon (1998) - you know what to expect. I'm not familiar with historian Arnold's work but his track is filled with trivia; nit a slack spot on this yaktrak. Hackford is a fellow director and although there are some fallow stretches his comments are pertinent and tinged with nostalgia.

"The Guardian Interview with Elmore Leonard: Conducted by Adrian Wootton at the National Film Theatre, London on 19 April 1997" plays as an audio track over the The Tall T (77:28)

Leonard was a mellow and garrulous man and this comes through at all times. Plenty of great stories about his career, and not just on the Boetticher films; I was happy to hear he liked The Tall T. Sound quality is generally excellent with only the odd moment where the limitations come through

"The John Player Lecture with Budd Boetticher: Conducted by Jim Kitses at the National Film Theatre, London in 1969" plays as an audio track over Buchanan Rides Alone (73:13)

Boetticher is a great raconteur and Kitses a great interviewer; they have a good raport which serves this piece well. All the whys and the wherefores are discussed and the films get discussed in a fair amount of detail. I was most interested in the discussion of the then in-production Two Mules for Sister Sara (1969) which was written by Boetticher and directed by the great Don Siegel; a favourite of mine staring Eastwood and Shirley MacLaine.

Sound quality is surprisingly decent considering it's age. Some of the questions by the audience are hard to hear, but that's not a problem because the answers given by Boetticher and Kitses are thorough.

"Martin Scorsese on The Tall T" featurette (6:58)
"Taylor Hackford on Decision at Sundown" featurette (5:52)
"Taylor Hackford on Buchanan Rides Alone" featurette (9:33)
"Martin Scorsese on Ride Lonesome" featurette (5:23)
"Clint Eastwood on Comanche Station" featurette (6:34)

Short pieces from the old US R1 DVD Boetticher set. All interesting; Scorsese could read the phone book and I'd listen and what he doesn't know about the films under discussion and cinema in general isn't worth a slice of pie. Hackford is more conventional in his comments but both he and Scorsese were also teens when these films hit cinemas and thus nostalgia tinges their comments. Eastwood was a jobbing actor at the time and his perspective is more practical; he very interestingly discusses the treatment of female characters.

"Visiting ... Budd Boetticher: Budd Boetticher on the Ranown Cycle" featurette (37:25)

A genial interview with the great man conducted a few years before his death in 2001. Covers everything anyone could want to know about his approach to film making. Apparently an excerpt from an unfinished documentary; bring in the complete beast!

"A Man Alone: Edward Buscombe on Randolph Scott" featurette (16:52)
"Kim Newman in the Ranown Cycle" featurette (28:34)
"Christopher Frayling on Budd Boetticher" featurette (19:33)

Three journalists and experts wax lyrical on the great men, Boetticher and Scott. Buscombe's book on western films is must reading for any self respecting fan and Newman and Frayling are icons of this business having clocked more man hours on commentaries and in documentaries than virtually any other. Having read books by both men, and being a fan of both (and having briefly met Frayling at a signing and screentalk) these are my favourite extras next to the booklet.

"The Guardian Interview with Budd Boetticher: Interviewed by David Meeker at the National Film Theatre, London - Sunday, 13 November 1994" featurette (SD) (95:00)

Another stunner of an extra; a feature-length Interview from 1994. Meeker does a great job getting info out of Boetticher. Picture quality is excellent for a videotaped production and the ratio is 1.33:1.

"Playing in the Open: Budd Boetticher's Ride Lonesome" featurette (14:16)

Cristina Álvarez López analyses what appears to be her Boetticher of choice; a new piece produced specifically for this set.

Isolated Music and Effects Tracks on all five films

What it says in the tin; the scores by Heinz Roemheld and Mischa Bakaleinikoff can be listened to sans dialogue but with sound effects.

The Tall T: Theatrical Trailer (2:07)
Decision at Sundown Theatrical Trailer (2:04)
Buchanan Rides Alone Theatrical Trailer (1:30)
Ride Lonesome Theatrical Trailer (2:03)
Comanche Station Theatrical Trailer (1:56)

Typically hyperbole filled promo trailer from the original theatrical run.

Trailers from Hell with John Sayles on Ride Lonesome (2:21)
Trailers from Hell with Sam Hamm on Comanche Station (2:28)

If you know the Trailers from Hell website then you know what to expect. Professional fans discuss the film via an intro and a commentary on the film. Always worth a view these shorts are fun; Sayles and Hamm are knowledgable and their passion infectious.

Comanche Station Super 8 Version (19:58)

One third of the while film in a grainy, panned and scanned Super 8 home projection print digest with faded colour and lacking in detail. Home video has come a long way since the days of renting prints like these or borrowing them from the library. Or, if you were well heeled, buying them.

The Tall T Image Gallery: Original Promotional Material (36 images)
Decision at Sundown Image Gallery: Original Promotional Material (30 images)
Buchanan Rides Alone Image Gallery: Original Promotional Material (18 images)
Ride Lonesome Image Gallery: Orignal Promotional Material (19 images)
Comanche Station Image Gallery: Original Promotional Material (39 images)

A splendid collection of HD images; promo stills, posters behind the scenes shots etc.

80-page liner notes book containing newly commissioned essays by Pamela Hutchinson, Glenn Kenny, James Oliver, Neil Sinyard and Farran Smith Nehme, archival interviews with director Budd Boetticher and screenwriter Burt Kennedy, a critical anthology, and full film credits

Each film gets a new essay, all of which are riveting reads filled with analysis, history and new perspectives. The usual collection of vintage interview snippets and critical reviews from the times of release. A typically meticulous and beautifully put together booklet from Powerhouse, the masters at assembling these things. Hopefully one day they'll publish a hardback book of these booklets.

Overall


Another stunning boxed set from Powerhouse Films in their beloved Indicator Series. If you've got their Ray Harryhausen or Hammer sets you know the score. Stunning presentations of classic and or cult films with top notch transfers beautifully encoded. I know that many have been anticipating this Beotticher set and their patience has been well rewarded with this effort.

Great picture and sound quality; as good as can be expected given the age of the materials and the nature of B-movie making in the '50s. The extras are both vintage and new and it's a great package. The booklet alone is worth the price.

Without a shadow of a doubt, this set is going to be making Blu-ray of the year lists. Get it whilst you can.
| | | | | |
| --- | --- | --- | --- | --- |
| The Film: A | Video: A+ | Audio: A+ | Extras: A+ | Overall: A+ |