Wes Craven Presents: Mind Ripper AKA Outpost (The) AKA Mind Ripper AKA The Hills Have Eyes III (Blu- [Blu-ray]
Blu-ray B - United Kingdom - 88 Films
Review written by and copyright: Rick Curzon (8th June 2018).
The Film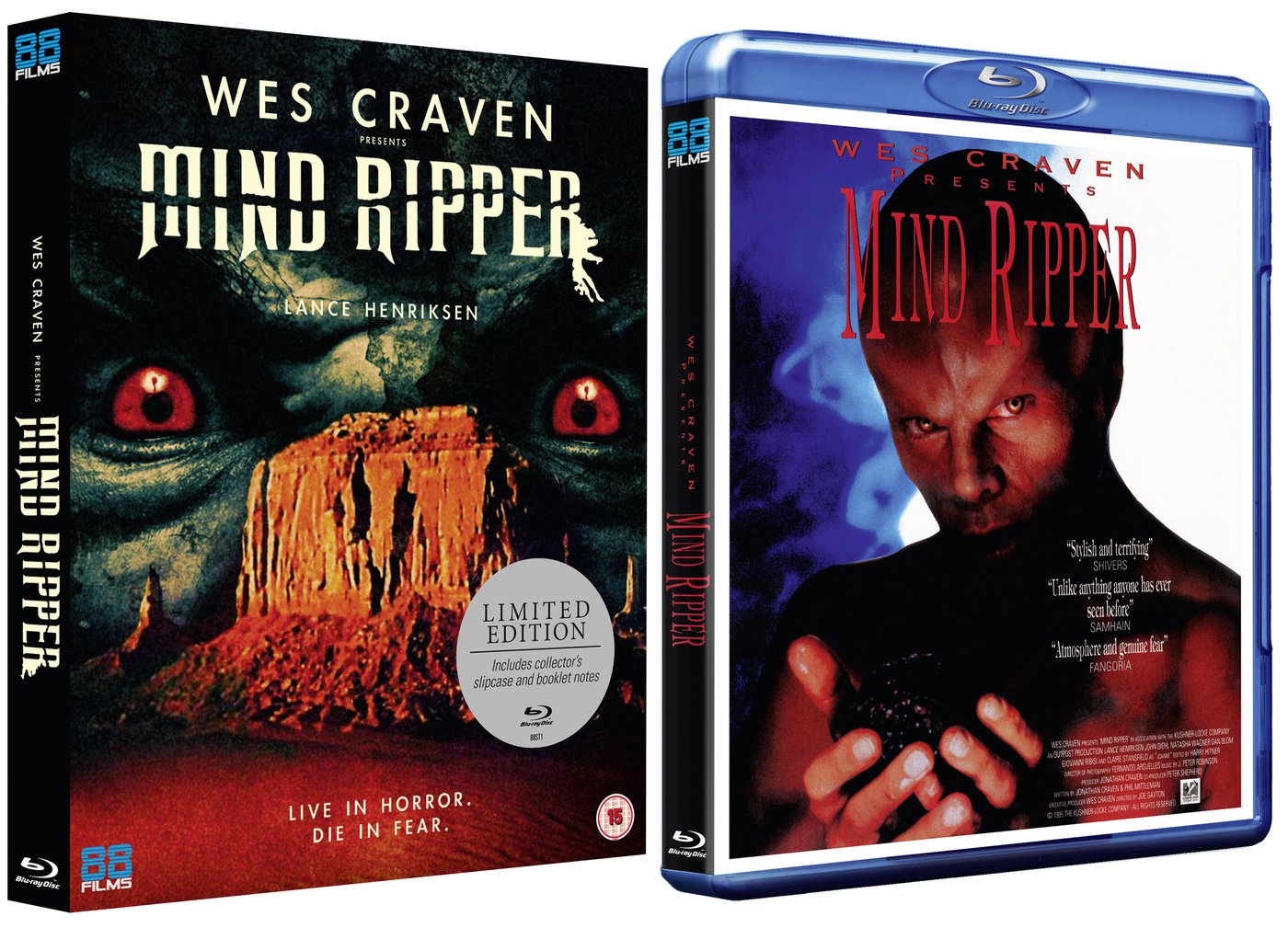 The late great Wes Craven (SCREAM) planned to produce the third in his classic THE HILLS HAVE EYES franchise and let his son Jonathan take the directorial reigns but a last minute title change gave us MIND RIPPER instead of THE HILLS HAVE EYES PART 3!! Starring the legendary Lance Henriksen (ALIENS) as a scientist who accidentally resurrects a fully blown brain-hungry cannibal during some re-animation experiments, 1995's MIND RIPPER is a more supernatural slant on the slasher formula than the demented desert terror of THE HILLS HAVE EYES. Even so, fans of slice and dice delirium can expect plenty of stalking, suspense and splatter theatrics in this all-time classic of video rental violence, now finally unleashed in HD from 88 Films!!!

Video


This is a competent, well made programmer; an efficient, well produced Alien (1979) clone with the cast hunting and being hunted by the brainsucker.

The cast all try hard and do stirling work. The only characters to benefit from some lasting character development are Henriksen and his family (Giovani Ribisi, Natatsha Gregson Wagner) and his daughter's boyfriend (Adam Solomon); all of whom become different individuals during the course of the story. In fairness there are some touching moments and they're largely a likeable bunch, at least from about the half way mark.

Shot in Bulgaria standing in for the US. This reminded me very much of Chano Urueta's Mexican cheesefest The Baron of Terror (1961 AKA The Brainiac).

The underlying scan of the film is very good with generally very good levels of detail and a fine grain field. Detail is excellent in closeups, good in medium shots and acceptable in long shots. Grain is never heavy or course. Colours are rich and vibrant within a naturalistic palette; don't expect Flash Gordon (1980) levels.

Where this release does come unstuck is in black levels and contrast. All location work has an over-lit, flat quality and black levels are never truly deep and dark, although crush is rare. With this being shot on 35mm and taken from the OCN that isn't surprising.

However, this hasn't been graded properly either on the film or on the digital master used to create the Blu-ray glass master. On my correctly setup TV (I regularly check my TV settings using the Joe Kane setup disc) my brightness level is set to 51/100 and contrast at 40/100. I found after some tinkering that inherent contrast is actually very good; no blowouts or loss of detail and there are no colour bias in the image that I could detect.

However, when I ticked my brightness down to 46 I found that the image quality improved hugely and was satisfying. Colours became richer, the flat location shots improved and the whole thing was much more pleasing.

Some would ask 88 Films for a disc recall, but I'm of the view that once the first pressing has sold out then correct it. The only control I had to alter was the brightness. It's a very similar issue on Japanese titles in particular and some Hong Kong transfers. Encoding generally makes a fine fist of it.

Once again, the quality isn't perfect but's a long way from being a disaster and the price is right (£12.99 to preorder).

1080/24p / MPEG-4 AVC / 1.78:1 / 95:41

Audio


English DTS-HD Master Audio 2.0 Stereo
Subtitles: English HoH

An excellent 2.0 stereo track with decent separation and balance betwixt dialogue and sound effects. No distortions and no speaker bleed. This track has a warmth and depth that was very pleasing, especially for a direct to video release like this.

Subtitles are very welcome.

Extras


"Stories from the Outpost: An Interview with Jonathan Craven" featurette (39:24)

Fascinating featurette about the film with Craven's son Jonathan that covers the films' genesis. It originally was going to be a full-blown scifi flick set on an alien planet with a brain sucking creature, but obviously it was relocated. Other subjects covered are the OJ Simpson connection, filming in Bulgaria and difficulties thereof, choosing a director, the casting process, interference due to the world cup being held, troubles with the local film crews, dissatisfaction with some casting choices, how some intended it to be a franchise. Jonathan seems to have been mostly concerned with just getting through the production; he wasn't entirely satisfied with the end result.

Original Trailer (2:26)

Ominous voiceover promotes the Craven connection but otherwise sets the film up well. Seems to be more of a theatrical release trailer.

4-page liner notes booklet "Rip 'Em Up" by Callum Waddell

Typically meticulous little essay from Waddell covers the films' production and history.

Reversible sleeve with choice of artworks

The original UK VHS rental artwork or a more Hills Have Eyes variant.

Card sleeve with original artwork

Collectable card slipcase uses the newer artwork.

Overall


A solid release from 88 Films. The video is mildly disappointing mainly due to poor brightness control, but luckily it's something that can be easily corrected by dropping the brightness on your TV approximately five notches largely corrects. Sound is very strong; robust and makes good use of the surrounds with a surprising amount of depth. Overall this is a solid release with some nice extras. Recommended, just be aware of how to correct the image issue.
| | | | | |
| --- | --- | --- | --- | --- |
| The Film: C+ | Video: B- | Audio: A | Extras: B | Overall: B |

---
DVD Compare is a participant in the Amazon Services LLC Associates Program and the Amazon Europe S.a.r.l. Associates Programme, an affiliate advertising program designed to provide a means for sites to earn advertising fees by advertising and linking to amazon.co.uk, amazon.com, amazon.ca, amazon.fr, and amazon.de.