The Film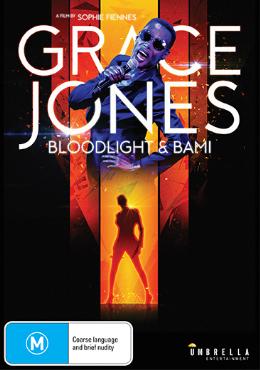 "Grace Jones: Bloodlight and Bami" (2017)

"Grace Jones: Bloodlight & Bami" is an electrifying journey through the performance, private and public worlds of pop cultural icon Grace Jones.

Larger than life, fierce and androgynous – Grace Jones plays all these parts. Yet here we discover her as lover, daughter, mother, sister and even grandmother, as she submits herself to our gaze and allows us to understand what constitutes her mask.

The film includes unique performances of her iconic hits "Slave to the Rhythm" and "Pull Up to the Bumper" as well as more recent autobiographical tracks, "Williams' Blood", "This Is" and "Hurricane". These personal songs link to the film's narrative that follows Grace on a holiday road trip across her native Jamaica.

This is a Grace we have not seen before, someone who reminds us of what it is to dare to be truly alive. In all her apparent contradictions, Grace Jones may appear an exception, but she is also a point of identification: she is the exception that proves the rule.

Director Sophie Fiennes creates a powerful cinematic experience, contrasting musical sequences with intimate personal footage and reaching beyond the iconic mask.

Shot over a twelve year period with Jones, a lot has happened during those years in her life. The passing of her father. Recording her first full length album after a 19 year gap. Reissues of her past albums. Collaborating with Chris Cunningham, Gorillaz, Brigitte Fontaine on various projects. Tours, concerts, benefits, and minor acting roles. But this film is not a chronology of her work. It is not a biography of her life. There is no particular narrative structure and there is no climactic moment for audiences. So what is it? "Bloodlight and Bami" is a compilation of footage of Jones's life. Her life on stage with various concert performances in her unusual and fashionable attires. Frustrations of the recording sessions not going as scheduled. Visiting her extended family in Jamaica and reminiscing about the past. It's the pop star at her rawest, cursing out people over the phone, talking to fans outside a concert hall, chatting with cab drivers, and discussing about life, love, career, and much more to the people around her.

The lack of structure to the film does have its pros and cons - with the pros being a freeform narrative that brings the unexpected and being able to see the superstar as a down to earth individual. But the cons are that the film is inconsistent of where the viewer is taken and where the film is going. While there are scenes of Jones in the recording studio there is no footage of the album release. The shoot cuts from Jamaica to Paris to America and wherever else the camera is brought. It is not in any chronological order, but since Jones is ageless and forever looks the same, the viewer may never notice that over a decade worth of time passes within the film. Hard to believe but Jones is 70 years old as of 2018.

The title "Bloodlight and Bami" does bring together two things extremely important in Jones life. "Bloodlight" refers to the red lamp in recording studios to signal recording is in progress. "Bami" is one of Jones' favorite food - a Jamaican bread that brings back memories of her childhood on the island. Decades on, Jones still continues to inspire as an artist in many artforms to future generations, and "Bloodlight and Bami" is a fascinating yet seemingly incomplete work into the mind of the star.

Note this is a region 0 NTSC DVD

Video


Umbrella Entertainment presents the film in the 1.85:1 aspect ratio with anamorphic enhancement in the NTSC format. Shot over a twelve year period with various cameras across continents, picture consistency should not be expected. The visuals of the stage performances are great with the use of sparse backdrops and bold colors, but unfortunately the transfer doesn't showcase the vibrancy as well as it should. The behind the scenes shots prove worse with inconsistent colors, lacking depth and having an overall softness. Overall it is a disappointing standard definition transfer.

The film's runtime is 120:11.


Audio


English/French Dolby Digital 5.1
The original 5.1 track really shines during the concert performances. The heavy rhythms "Slave to the Rhythm" and "Pull Up to the Bumper" plus covers of songs such as "Love is the Drug" by Roxy Music and a rendition of "Amazing Grace" (Is that supposed to be about her?) sound excellent with the surround setup. But for the most part it is a stereo affair with the behind the scenes footage. Dialogue sounds fair but due to the original recording there are some portions that may be harder to understand. The film is mostly in English, about 90% of the time with about 10% of the film being in French in the Paris segments.

There are burned-in English subtitles for the French portions and hard-to-hear English portions. The subtitles are white and easy to read with no errors in grammar or spelling.

Extras


Unfortunately there are no extras included. The theatrical trailer is embedded below, courtesy of Umbrella Entertainment.



Packaging


The packaging states it is a region 4 only disc, but it is in fact region 0.

Overall


"Grace Jones: Bloodlight and Bami" is a fascinating look into the icon's life in the last decade, and fans will absolutely become excited. The freeform narrative does not answer many questions or give a deep insight into Jones' life and career, so some may be turned off, but it is still a definite worthy look for music fans.
| | | | | |
| --- | --- | --- | --- | --- |
| The Film: B- | Video: B- | Audio: B+ | Extras: F- | Overall: C |