The Film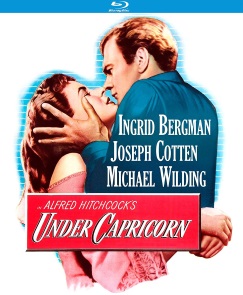 In 1831, Sydney, Australia is a prisoner's colony where British undesirables are sent to serve sentences either imprisoned or in servitude. The new governor Sir Richard (Indiscreet's Cecil Parker) arrives with his foppish nephew Charles Adare (Stage Fright's Michael Wilding) with the intent of seeking his fortune. Upon arrival, he is preyed on by banker Cedric Potter (Quo Vadis?'s John Ruddock) who finagles a meeting out of the young man during which he is disappointed to discover that Adare does not have a penny to his name. Adare becomes interested in Potter's other client Samuel Flusky (Citizen Kane's Joseph Cotten), a fellow Irishman whose name seems familiar but whose face he cannot place; but Potter advises him that it is a social faux-pas in Australia to ask about the pasts of emancipists once they have served their sentence. Flusky approaches Adare with a proposal to buy up some land and then sell it to him since Flusky has already purchased all the land allowed by the Crown. Despite whispered warnings to stay away from Flusky, Adare is motivated even more to entertain Flusky's company by the disapproval of his uncle. Adare gets another surprise when he shows up at Flusky's homestead for dinner and discovers that his hostess is Henrietta (Intermezzo: A Love Story's Ingrid Bergman), the once-best friend of his sister and the object of an adolescent crush when he met her fifteen years before. At present, she is "unwell" and prone to hallucinations, but Flusky sees in her more lucid moments the possibility that Adare – who is the only one with the courage to call her a drunk – might bring her around to her old spirited self with talks of the past. Adare encourages Henrietta to buy new clothes, take up riding again, and take more responsibilities around the household; however, housekeeper Milly (The Go-Between's Margaret Leighton) who is in love with Flusky and the power she wields over the other servants, resorts to underhanded methods to undermine Henrietta and enable her drinking. When Flusky's and Adare's land deal comes across Sir Richard's desk, he is incensed and reveals to Adare that Flusky was the stable boy who eloped with Henrietta and murdered her brother in cold blood; however, Adare insists that his uncle approve the deal which respects the letter of the law if not its spirit, causing Sir Richard to disown his nephew to moves into the Flusky household. Seeing Milly as a key to Henrietta's problems, Adare stands up to her, but Flusky is reluctant to fire her since holds her loyalty in high regard and share her resentment about the upper classes. When Adare forges an invitation to the Governor's ball for the Fluskys, Adare is able to convince Henrietta with Flusky's help to attend the ball but Flusky is reluctant to mix with high society and insists that Adare accompany her. As soon as they leave for the ball, Milly steps in and preys upon Flusky's insecurities and suspicious about Adare's intentions towards his wife and sets in motion a tragedy that will expose more dark secrets and shocking treachery.

A big three-strip Technicolor historical drama from Alfred Hitchcock (The 39 Steps) starring Ingrid Bergman, Under Capricorn received mixed reviews upon release and has not been well-regarded by Hitchcock and many of his critics apart from those of the auteur school. The sets of Thomas N. Morahan (The Paradine Case) and costumes by Roger K. Furse (The Roman Spring of Mrs. Stone) are gorgeous, and the photography of the great Jack Cardiff (Black Narcissus) lends more life to the lifeless script adapted from the Helen Simpson novel and its stage play by actor Hume Cronyn, who had previously collaborated with Hitchcock on Rope, and British dramatist James Bridie (Storm in a Tea Cup). There is some intriguing social criticism in the story what with Sir Richard seeming to take more offense at Henrietta eloping with a stable groom than in the subsequent murder, and his greater concern for appearances than the health and feelings of his nephew suggest that Flusky is right in detesting those of his wife's breeding even if it is ultimately his weakness as exploited by like-minded Milly; but it takes a back seat to a rather listless drama that only comes to life as a thriller for a few minutes with a sequence involving a shrunken head and a sleeping draught before a limp climax before scuttling its brief turn towards the Gothic with a resolution dependent on the interjection of humor into high drama. While even minor Hitchcock is never a waste of time for his fans, Under Capricorn put a lot of money onto the screen for a work that ultimately did not mark his triumphant return to British filmmaking.

Video


Released theatrically by Warner Bros., Under Capricorn had its television premiere in 1967 on CBS. A 1982 VHS release through VidAmerica came out to cash in on the early eighties issues of the Universal Hitchcocks but the title was largely forgotten amidst the later laserdisc and DVD restorations of the Universal, Paramount, and Warner titles. The rights went to television company King World in the eighties but came back to CBS when they and Viacom acquired the company in 2000, whereupon a serviceable barebones DVD followed in 2003 from Image Entertainment. Kino's 1080p24 MPEG-4 AVC 1.37:1 pillarboxed fullscreen Blu-ray does come from a new 4K restoration, but the results are far from pristine. The differential shrinkage of the negative strips has resulted in rather uneven color with reds and greens occasionally bleeding and causing skintones in a couple scenes to look pinker than they should be or at times sickly green (which might have been mistaken for a stylistic effect when it appears almost subliminally during Henrietta's flight from the ball). The instability of the elements have also lead to one or two shots that are actually hard on the eyes, with the shifting sharpness becoming a distraction during the scene in which Milly verbally gaslights Flusky. The overall resolution is quite good, and one can be thankful that the issues with the original elements settled down for that sequence late in the film in which Henrietta learns the truth. The Blu-ray looks better than what has come before, but it compare poorly to the other Hitchcock studio restorations.

Audio


The sole DTS-HD Master Audio 2.0 mono track is good for the most part, with only some loud orchestral passages during the titles and some dramatic moments straining at the high ends, while dialogue is always intelligible whether bellowed or whispered. Optional English SDH subtitles are providied.

Extras


Kino has commissioned a new audio commentary by film historian Kat Ellinger who had previously provided commentary on Kino releases of I'll Be Seeing You with co-Daughters of Darkness podcaster Samm Deighan, Intermezzo: A Love Story, and Topaze. She makes the case that the film may not have been well-regarded by Hitchcock but it is far from the disaster and actually does incorporate many of the themes common to his more Gothic works and drawing comparison to Hitchcock's Rebecca as well as the Bergman/Cotten version of Gaslight. She also notes that Hitchcock may have preferred Burt Lancaster to Cotton for the lead, but makes a case for Cotton's performance and contrasts its with his more sinister turn in Hitchcock's earlier Shadow of a Doubt. Kino has also included an audio excerpt on the film from "Hichcock/Truffaut: Icon Interviews Icon" (12:23) in which Hitchcock states that the film failed because he found himself more concerned with the externals than the internals of the film, being focused on his return to Britain as as ex-British filmmaker with star Bergman on his arm. He also disparages both Cronyn and Bridie and pinpoints the problems with the screenplay as common problems he observed in Bridie's stage plays. Ported from the German DVD is "Cinema of Signs: Claude Chabrol on Alfred Hitchcock" (26:42) in which Chabrol (Les Biches) discusses the attempt of himself and other Cahiers du Cinema "Hitchcockians" François Truffaut (The Bride Wore Black), Jacques Rivette (Celine and Julie Go Boating), and Éric Rohmer (The Marquise of O) to critically establish Hitchcock as "more than a suspense-maker" even though editor André Bazin did not understand him. The film's theatrical trailer (2:04) is included along with trailers for other Kino titles. The cover is reversible.

Overall


While even minor Hitchcock is never a waste of time for his fans, Under Capricorn put a lot of money onto the screen for a work that ultimately did not mark his triumphant return to British filmmaking.