The Film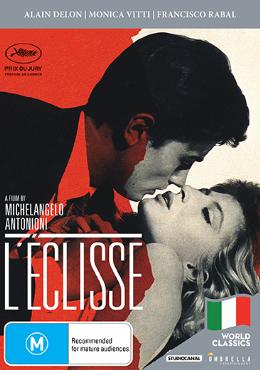 "L'eclisse" (1962)

Vittoria (played by Monica Vitti) is a young translator working with writer Riccardo (played by Francisco Rabal) who is also her older lover. But happiness is not one of the strengths in their relationship and Vittoria decides to call it off even though Riccardo begs and pleads for a second chance. As they say their goodbyes, Vittoria tries to lead to a new direction. She tries to converse with her mother (played by Lilla Brignone) but mother is more preoccupied with the stock market trade than anything else. She also tries discussing her feelings to her neighboring girl friends Anita (played by Rosanna Rory) and Marta (played by Mirella Ricciardi but the ladies are also in their own little worlds. But one person that catches Vittoria's attention and vice versa is the stock broker Piero (played by Alain Delon) - a young man who is working with Vittoria's mother's assets. But will these two fragmented figures find love in an increasingly modernized world of failed connections?

Filmmaker Michelangelo Antonioni received an international breakthrough with his 1960 film "L'avventura", noted for its long takes, poetic structure, and theme of a doomed love affair. While it also had its criticism for the same issues it was praised for by other critics, the film was an art house success worldwide, leading to the director's next film "La Notte" in 1961, exploring many of the same themes in a similar tone. The film also received high praise with awards worldwide. Both films starred his muse Monica Vitti and she would take the female lead once more in the director's next film "L'eclisse" which would be the third film in the thematic trilogy, though it could be argued that the director and actress' subsequent film "Red Desert" in 1964 could easily be a continuation of the sort.

"L'eclisse" has many things going yet with very little happening. The opening scene of Vittoria and Riccardo's breakup starts with no dialogue until a full five minutes into the start of the film. Long stretches of the film have no narrative dialogue with long takes. Some scenes like in the stock exchange or in the city are a barrage of conversations happening, but barely audible due to the condensed noise of the yelling and screaming. Not to say the film is completely of silence. Quite a lot is said, but the question is, how relevant are the words when the main character cannot fully express her own feelings? Monica Vitti in the lead role certainly steals the show with her gorgeous looks but it is her face showing unhappiness and despair with her life moving in a direction unknown that stands out. While she is desperate looking for a true emotional connection, Alain Delon's character of Piero is looking
for anything but that. The stock broker is looking for figures - both in currency and in body and has an emotional disconnect from the people around him. He may have the fast car and the charm, but he has no emotional connection to clients, his coworkers, or anyone else. Yet he finds something about Vittoria that is undeniable. Whether these two could lead to fulfilling each other's needs is an ambiguous one, but the journey there is what sets "L'eclisse"

The backdrop of the locations is another character of "L'eclisse", where large plains and parks make the humans and their petty ways nearly inconsequential and minuscule. The hustle and bustle of the city equally makes one individual seem just as inconsequential and minuscule. There have been many great Italian films that showcase the locations of the country as their productions since the Neo-realist movement of post-WWII, such as "The Bicycle Thieves", "Rome, Open City", "La Dolce Vita" and others. "L'eclisse" is no different in that regard.

"L'eclisse" premiered in April of 1962 in Italy and then screened at the Cannes Film Festival a few weeks later in May. The anticipation was overwhelming as well as the praise it eventually received. Nominated for the Palme d'or and winning the Jury Special Prize, the film yet again cemented Antonioni's status though there were some detractors as well. Some critics claimed that Antonioni was doomed to repeat himself like the characters of the film, with not as many surprises or innovations, but it would prove to be one of the director's most famous works for years to come. Sequentially, the director's next film "Red Desert" would be his first in color and would further explore alienation in a modern society. The themes of these four films would highly influence the works of others including "In the Mood for Love" (2000) and "Lost in Translation" (2003) among many others.

"L'eclisse" may have some slow momentum, and one looking for straightforward narrative with clear cut answers will be disappointed, but that is what life is like - a series of questions, a longing for connection, and sometimes not being heard when wanted. It's poetic in its structure and its visuals and long stands as one of the director's best works.

Note this is a region 0 NTSC DVD

Video


Umbrella Entertainment presents the film in 1.85:1 with anamorphic enhancement in the NTSC format. Opening with the modern Studio Canal logo, the source is fairly good, only to be weakened by the standard definition transfer. On the positive side, damage is almost non-existent with only a few scenes inhibiting specs or scratches. The black and white image has fairly good grey scale with its shades for faces and backgrounds, though the dark night scenes do seem a little weak. The image can sometimes wobble a little, leaving a slightly shaky image even in still scenes. Film grain is extremely minimal, possibly scrubbed a little too clean leaving a bit of a non-film like appearance. Overall it has its good and bad with the transfer, and is one that could benefit from a newer restoration.

The film's runtime is 125:47.


Audio


Italian Dolby Digital 2.0 mono
The original Italian audio mono track has its ups and downs as well. Note that the entire film was synchronized in post-production as Italian productions of the era did not use on set recording. Mouths may sometimes not match entirely, and in the case of Delon, as he was speaking French, his Italian dubbing won't match at all. The track is fairly clean with little or no damage to the audio track, though some sounds such as "s" "ch" or "sh" has some distortion in dialogue scenes. Music is fairly well balanced with the dialogue and effects for a fairly pleasing track.

There are optional English subtitles in a yellow font. They are easy to read and free of grammar or spelling errors.

Extras


The film has been issued in various countries on DVD and on Blu-ray in the past with a varying amount of extras. Sadly none have been ported over to the Umbrella Entertainment DVD.

Packaging


The package states "region 4" only but this is in fact region 0, playable anywhere.

Overall


"L'eclisse" proves even after fifty years that the themes of disconnect in a modern society is still a relevant, if not more relevant theme today. Antonioni's use of long takes, poetic structure, and indirect communication may off put the mainstreamers but is certainly a delight for the adventurous cinemagoer.
| | | | | |
| --- | --- | --- | --- | --- |
| The Film: A | Video: B | Audio: B+ | Extras: F- | Overall: C |