The Film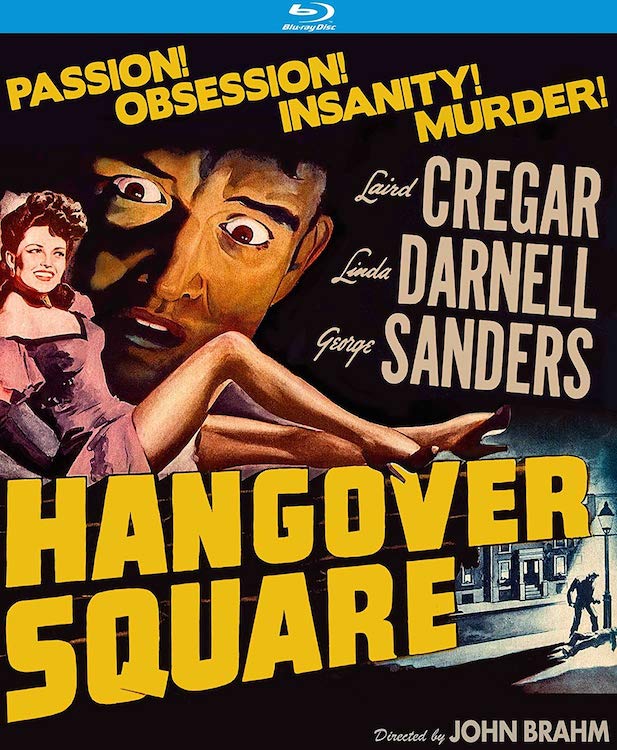 The central conceit of many film noirs is typically a mystery, but viewers should know they are in for something special and subversive when the killer is revealed within the first few minutes of a picture. What then remains? Something bizarre and atypical, that is exactly how to describe "Hangover Square" (1945), a film that featured just as much insanity and strife on screen as it did on set. Star Laird Cregar and director John Brahm famously did not get along when making this film, constantly clashing over the direction of the picture. Cregar's chief concern seemed to be getting typecast as a villain, though strangely he was the one who pushed Fox to buy the rights to the novel of the same name, with the intention of starring in it. Either way, the real problems likely stemmed from Cregar who employed a dangerous diet of amphetamines in order to achieve the right physical appearance for his character. This was the same regimen he used on his previous picture, "The Lodger" (1944), only this time the end result was severe: death. "Hangover Square" stands as his final outing, and what a way to go out.

A shopkeeper is attacked by a POV assailant, stabbed repeatedly before a fire consumes his shop in London. The year is 1903. The assailant is George Harvey Bone (Laird Cregar), a successful composer. George stumbles out onto the cobblestone streets, dazed and bloodied about the head. He eventually makes his way to 12 Hangover Square, his home, where he finds his girlfriend, Barbara (Faye Marlowe) and her father, Sir Henry Chapman (Alan Napier), waiting for him. Barbara is concerned to see George in such a state and he confides in her he has virtually no memory of the previous day. The next morning, George goes to see his physician, Dr. Middleton (George Sanders), who explains his condition is a peculiar one, brought out by stressors and being overworked, and it is triggered by jarring sounds.

Although George has a wonderful, doting girlfriend in Barbara his attention gravitates toward Netta (Linda Darnell), a sultry and scheming singer who only sees George as a potential payday. Their mutual acquaintance, Mickey (Michael Dyne), suggests Netta use the ailing George to write songs, which she can then steal and sell for a nice chunk. It isn't all too hard, either, since George quickly finds himself completely infatuated with Netta while she barely wants to give him the time of day. Caught between two women and breaking down mentally more and more each day, George finds himself in one particularly bad situation after the next, with his only bit of salvation found in his compositions.

It isn't too often a score can overshadow its film but special mention must be made of Bernard Herrmann's exquisite, atonal compositions that vacillate between diegetic and non-diegetic within the film. As fans of Herrmann's music may expect, the tonality of the work here is grim and ominous, adding a somber mood to the psychological terror being felt on screen. But when the big finale comes and George performs his most wanted final piece, the marriage of screen and score dovetails into a powerful moment that sends "Hangover Square" off on a tragic and poetic note.

Cregar, for his part, manages to make George a sympathetic character in at least one respect: his passion for composing music and the importance it plays in his life. George is hard to empathize with considering he's not only a brutal murderer but the man casually tosses aside a loving, caring girlfriend in favor of a fleecing floozy who clearly has no actual interest in him whatsoever. Cregar plays George as conflicted and concerned, imbuing a Jekyll-and-Hyde quality the character requires in order not to be seen as completely deranged.

Credit, too, belongs to cinematographer Joseph LaShelle who shoots the film using movements and angles that assist in selling George's condition. Noir requires a mood that borrows heavily from light and shadow and LaShelle provides both while also making the camera a more active participant in the proceedings. LaShelle won an Academy Award for a film he shot in the year prior to this, Otto Preminger's exquisite "Laura" (1944).

Video


Per Kino, "Hangover Square" was given a new 4K restoration and the resulting 1.37:1 1080p 24/fps AVC MPEG-4 encoded image manages to mostly prove it. Contrast is excellent, allowing for the necessary balance between light & dark. Shadow delineation performs nicely, too, allowing the image to remain visible in low-light locations. A few soft shots pop up intermittently, though on the whole this is a sharp and defined picture. Film grain is lively and appears fine throughout.

Audio


The English DTS-HD Master Audio 2.0 mono track handles well enough. Bernard Herrmann's score is the true treat to hear in lossless, and it soars with all the power that comes with it. Dialogue is rendered clear and clean, with no distortion or hissing present. A few instances of mild distortion crop up during action-heavy moments but they aren't anything worth concern. Subtitles are available in English.

Extras


There are two audio commentary tracks – the first, with screenwriter & film historian Steve Haberman and actor Faye Marlowe; the second track is with author & film historian Richard Schickel.

"The Tragic Mask: The Laird Cregar Story Featurette" (SD) runs for 19 minutes and 43 seconds, this featurette pieces together the short career and tragic end to one of Hollywood's leading men who died far too young.

"Hangover Square – Vintage Radio Show Performed by Vincent Price, Linda Darnell, and Faye Marlowe" is an audio-only radio program piece that runs for 29 minutes and 38 seconds. A wonderful treat for Price fans.

Bonus trailers (SD) are included for:

- "The Lodger" runs for 2 minutes and 16 seconds.
- "The Undying Monster" runs for 1 minutes and 4 seconds.
- "I Wake Up Screaming" runs for 2 minutes and 16 seconds.

Packaging


The single BD-25 comes housed in a standard Blu-ray keep case.

Overall


Superbly acted and powerfully scored, "Hangover Square" is a unique entry in the film noir pantheon and the 4K restoration and informative & entertaining extras make this disc a high recommendation.
| | | | | |
| --- | --- | --- | --- | --- |
| The Film: B+ | Video: A- | Audio: B+ | Extras: B | Overall: B |