The Film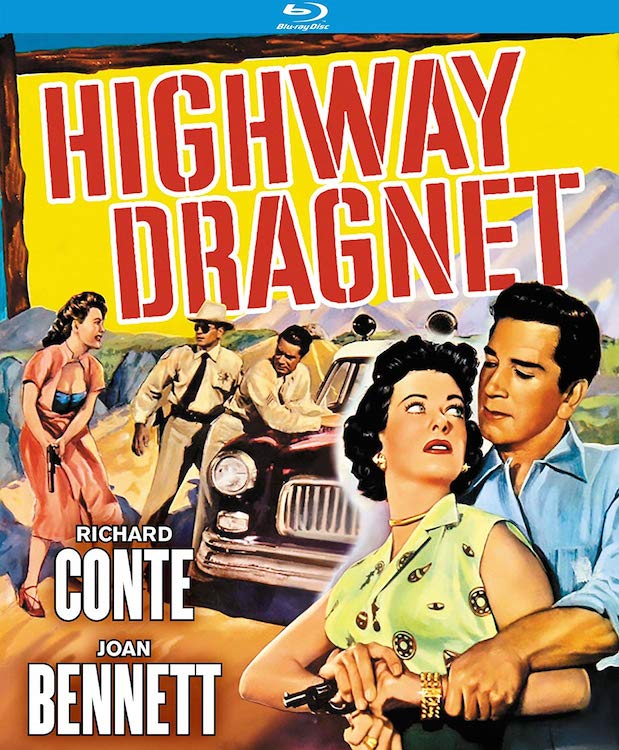 If you are seeking gritty film noir drama, then you have come to the right place. Todayís feature is the black and white thriller, "Highway Dragnet", written by Herb Meadow and Jerome Odlum. The Korean War is over and ex-marine, Jim Henry (Richard Conte) has come back to town to settle down. While visiting a pal (Frank Jenks) in Vegas, he hooks up for a one night stand with a model named Terry (Mary Beth Hughes). On the way out of town, he is picked up by the local police and told that he is wanted for the murder of Terry; she was found dead that morning and since Jim was the last person to see her alive, he is the natural suspect in the homicide. Struggling with the officer, Detective Lieutenant Joe White Eagle (Reed Hadley), Jim grabs the policemanís revolver and squad car and makes a break for it. While on the road, he abandons the patrol car and stops to help two women whose car has broken down by the side of the road. They are Mrs. Cummings (Joan Bennet) and her model, Susan Willis (Wanda Hendrix) and little do they know that Jim is a fugitive from the law. This being a film noir, fate intervenes and deals Jim a few cards from the bottom of the deck: it turns out that Terry was having a tryst with a married man; yes, it was Mr. Cummings, but donít worry, he killed himself in shame or so we are told by the photographer. Mrs. Cummings convinces her employee not to call the police and turn in Jim, but it is too late as another guest at the motel spots Jim and phones in a tip. Taking the two dames hostage, Jim goes on the lam again, with the cops in hot pursuit of him. Crashing through a barricade, Jim decides to take a shortcut through the desert, but the car gets stuck in the sand. By this time a romance has started between Jim and Susan, but Mrs. Cummings is a jealous shrew and she ends up with the gun. Susan pleads for Jimís life and Mrs. Cummings calls it off for the moment. But Jim is hardly out of the woods yet, and the cops are still on his trail.

What I liked about this film was that the majority of the film takes place outdoors in the desert under a blazing hot sun. Usually in film noir, all the action takes place in a rainy alleyway or a staircase of a rooming house, shadows abounding; not here, not this time. By subverting the settings, we are given a slightly different variation of the noir experience. The essence of the noir experience was based on men returning home from the war to a place that they didnít recognize and that certainly didnít recognize them as returning heroes. These men were often bitter, dysfunctional, suffering from PSTD, and their home towns, especially Los Angeles, often became the setting for many film noir features.

The film was obviously was shot on a low budget and originally was entitled ďHouse in the Sea.Ē Despite the low budget the filmmakers made excellent use of their assets to deliver a tightly packed film. The credit can go to the film's crew; "Highway Dragnet" was the first produced screenplay of infamous producer Roger Corman (who also has a story credit) and is tautly directed by John Fordís former art director Nathan Juran. Assistant director William Beaudine Jr. would later go on to produce a number of excellent films including "Invasion of the Body Snatchers" (1956) and a plethora of Walt Disney productions. The cinematography by John J. Martin is excellent with plenty of mountainous landscapes and desert shots looking majestic. Richard Conte is very good as Jim, the doomed hero of the film and the other cast members all bring a excellent sense of urgency to their roles. The script might not me 100 % original but it more than made up for any shortages by its excellent production values and use of interesting settings. The ending of the film features a house that is submerged by the incoming tides of the Salton Sea.

Video


Framed at 1.78.1 widescreen and presented in an AVC MPEG-4 encoded 1080p 24/fps high definition presentation taken from a new 4k restoration. For a film that's 64 years old it's looking pretty good, and Kino Lorber's restoration has presented the film in a way audiences probably haven't seen since the film originally came out. The Black and White image holds up well with decent hues and sharpness is decent.

Audio


The English DTS-HD Master Audio 2.0 mono soundtrack is excellent. Dialogue is crystal clear and centered; there is no distortion or excessive hiss. No alternative language tracks and no subtitles are included.

Extras


Sadly the only supplements we have on this disc are a collection of bonus trailers for:

- No Orchids for Miss Blandish" (2:05)
- "Cry of the City" (2:32)
- "The Spiral Staircase" (2:00)
- "He Ran All the Way" (2:12)
- "99 River Street" (2:12)
- "Shield for Murder" (1:45)

Packaging


This film comes packages in a standard Blu-ray keep case with artwork.

Overall


"Highway Dragnet" is an excellent unsung noir that is tersely directed by Nathan Juran and is now presented in a newly scanned 4K production by Kino Lorber.
| | | | | |
| --- | --- | --- | --- | --- |
| The Film: A | Video: A | Audio: A | Extras: D- | Overall: B- |