The Film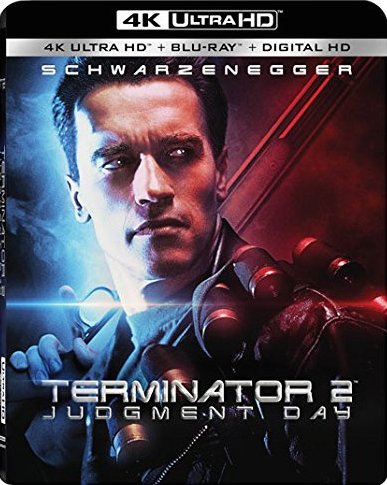 The summer of 1991 was one of the most memorable for me as a film fan. I was 13 years-old and the fan fare and marketing hoopla for James Cameron's sci-fi action extravaganza "Terminator 2: Judgement Day" was in full swing. Ads were in constant loop on television, Guns N' Roses' tie-in music video was on MTV, the toys were lining the shelves of Toys 'r' Us (an oddity at the time considering the film was 'R' rated, an action figure line was usually issued for movies rated 'G' or 'PG'). "T2" was everywhere, the film's star Arnold Schwarzenegger was dutifully making the talk show rounds and prompting the hell out of the film. July of that year would become, for all intents and purposes "Terminator" month. Upon release the film did as expected... it was a bona-fide blockbuster. Earning an incredible amount of money at the box office, daily newspaper ads were taken out informing the public of how much money the film was making (a fairly cocky move on the part of the studio), but the film connected with many people, broke ground with its special effects and introduced a whole new audience to "The Terminator" who added a collection of new catch phrases to the lexicon.

It took 7 years after the release of "The Terminator" (1984) to unleash the sequel, an uncommon length of time as studios tend to capitalize on box office hits almost immediately fast-tracking a sequel. In interviews both Cameron and Schwarzenegger talked openly that fans were screaming for a sequel, but rights issues held the production at bay for years until Carolco would pick up the rights in 1990 freeing the film from a tangled legal mess. The film's turnaround from that point was rather quick, considering the ambitious script, involving a series of complicated action set-pieces and special effects that introduced a whole new brand of "Terminator", with an all new liquid metal sheen. The production would rack up a massive budget (the highest at that time) but once the first frames rolled on opening day it was all worth it.

"Terminator 2: Judgement Day" follows the story of Sarah Connor (Linda Hamilton), years after her encounter with the deadly Terminator that hunted her down. Now locked away in an insane asylum. Meanwhile her son, John Connor (Edward Furlong) is living with his foster parents in suburban California and comes under threat. John is the future leader of the resistance, and the machines want him dead. Failing to take out his mother, they decide to send back an all new T-1000 model (Robert Patrick) back in time to kill John. This new Terminator is made of liquid metal and can take the form of anyone and can also form stabbing tools to kill his victims. The resistance learns of the machine's plan and reprograms a captured T-800 (Arnold Schwarzenegger) and send him back in time to locate and protect John from the deadly T-1000. This task is further complicated when John orders the T-800 to help free his mother, as they regroup and form a plan to change the future by taking out the company that would eventually establish the Skynet system which brings the world to its knees and human kind on the brink of extinction.

By all rights "T2" should have been a failure, the legal rights issue pushing plans for the film farther into the future, the short turnaround time to make and release the film, the complicated special effects and the risk of investing in a film which would claim to be the most expensive produced could have derailed this film. But Cameron's vision was second-to-none and his keen eye for crafting interesting stories matched with action provided the perfect balance this film needed. One major change made could have ruined the entire film, the choice to return Arnold's character as the "good guy" could have proved disastrous if the fans didn't approve. But even that was quickly forgotten amid the coolness of the overall film.

Cameron crafted one of the finest sequels in cinema history (and it wasn't the first time he accomplished such a task, just look at 1986's "Aliens"). "T2" combines a fast-paced story that, much like the first, unfolds as the action progresses. This style keeps viewers at attention throughout the film, and Schwarzenegger does what he does best, and lets his action speak louder than words... after all he had some 65 lines in the entire film ("Theatrical" version). It was apt of Cameron to play on his star's strengths in this case and the big man delivers a performance that stands as the most memorable of his career. Matching his big screen persona, is his counterpart in Robert Patrick, who brings a slick and often creepy turn as the T-1000. His movements are calculated and purposeful, Patrick transformed himself into the character so well that it was hard to see the actor play any other role, and this is career never really took off as expected. Linda Hamilton reprises her role as Sarah Connor, and can be considered Sarah 2.0, a stronger and more powerful presence than she was in the first film. Her character has evolved from the frightened on the run Sarah. She's a solid rock in this film and remains as one of cinema's most bad-ass female characters. The weak link among the cast is Furlong as the young John Connor, he's whiny and cock-sure to the point of annoyance, however this passes in time and over the course of repeated viewings.

"T2" marks the start of a new era of special effects in motion pictures, the film combined both practical and CGI effects (while films today would use, or overuse CGI including creating explosions), the film's action sequences used actual stunts and fire gags that created explosions and bullet hits as well as Stan Winston's animatronics and make-up effects, while CGI was primarily used to create the liquid metal T-1000, an effect that evolved from Cameron's previous film "The Abyss" (1989) where the magicians at ILM created the water tentacle that mimicked Mary Elizabeth Mastrantonio's face. The film's special effects would win the 'Best Visual Effects' Oscar, and deservedly so.

"T2" is an exciting and well made sequel in the "Terminator" cannon, it's a shame that studios went further with the franchise without Cameron's involvement, the first two films are the only ones worth the effort... even McG's "Terminator: Salvation" (2009) was a stinker, as was "Terminator Genisys" (2015) with many calling into question why these films even exists? The series pretty much died with "Terminator 3: Rise of the Machines" (2003) which was average compared to the first two. At least fans can truly appreciate what Cameron created before the franchise was bastardized by the studios. Perhaps there's some hope with Tim Miller's as yet untitled "Terminator" film set to be released in 2019, this time with Cameron back in the role of producer.

The film ranks among my all time favorites, and one of the all time greatest sci-fi action films. If you haven't seen a "Terminator" film then I suggest picking up the first and then "T2", you can pretty much stop there.

Video


Presented in a widescreen ratio of 2.40:1 in 4K 2160p 24/fps using HEVC codec. I've lost count as to how many times this film has been released on home video, from numerous VHS releases, numerous Laserdisc releases, numerous DVD releases, numerous Blu-ray releases and now 4K Blu-ray. The last time I watched this movie was Lionsgate's "Skynet Edition" blu-ray, which had an HD 1080p transfer using VC-1 compression (my original review can be read here). The problem with that transfer was that DNR was an issue, leading to waxy complexions and the removal of essential film grain. Purists hate this, I hate this. What's wrong with preserving a film the way it was shot? Messing with it, removing grain, smoothing, sharpening... yes it makes the film look more "modern" but it's really a detriment. Now, that was the Blu-ray. Now we have a new 4K transfer, which does feature some DNR and sadly the only version of the film presented in 4K is the original "Theatrical cut" version of the film. The "Extended" and "Special Edition" have not been given the luxury of 4K presentation. Knowing that, let's get into the nitty gritty.

Every new version of this film that's released seems to be an upgrade over previous, once again that trend hasn't been broken. This 4K transfer is certainly the best this film has looked, and to boot, we get a transfer that was "approved" by James Cameron. There's a lot of detail here, this 4K image really shows off everything, and I mean everything, right down to the textures of Arnold's leather jacket. The image is sharp, crisp, clean, and looks like it was shot recently. Skin tones look pretty natural in terms of color, but it's here where the digital noise reduction really takes effect. You start to notice it in the faces, you also notice it in the backgrounds as gain is illuminated things tend to look slightly sharper but wholly unnatural. Thankfully black levels look deep and bold. So, overall the image is very nice, but some flaws still prevent it from truly being awesome.

Audio


Four audio tracks are included in English DTS-HD Master Audio 5.1 surround, French DTS-HD Master Audio 5.1 surround, German DTS-HD Master Audio 7.1 surround, and English Audio Descriptive Dolby Digital 2.0 stereo. 5.1 seems so outdated now, especially now that we live in a world where 7.1 is a thing, even the previous Skynet Edition BLu-ray had a 6.1 surround track and now in 4K we get 5.1, what's up with that? Surely they could have done a 7.1 Dolby Atmos mix? I feel like fans are being short-changed here, but despite the downgrade to 5.1 surround, the track is still impressive. Firing on all 5.1 cylinders, dialogue is clear, surrounds are active, the score is immersive, there's nothing not to like about this track other than it's not 7.1 surround. Optional subtitles are included in English, French, and German.

Extras


Lionsgate has provided some extras, all of which are on the second disc.

DISC ONE: Blu-ray 4K:

This disc only features the original "Theatrical Cut" version of the film in 2160p 4K transfer, there are no supplements on this disc.

DISC TWO: Blu-ray:

Three version of the film are included in standard HD 1080p, the original "Theatrical Cut", the "Extended Cut", and the "Special Edition Cut". In addition to these edits we have the following supplements:

Audio commentary with director/writer/producer James Cameron and co-writer William Wisher Jr. who provide a chatty and excellent track, Cameron and Wisher take us through the story process, the development of the film and its production. They remain screen-specific and take fans through a host of production information. They seem very comfortable together and deliver an enjoyable track, this is sixth time I've listened to it (as it was previously available) and it doesn't disappoint.

The next feature-length audio commentary with 26 members of the cast and crew and hosted by DVD/Blu-ray disc producer Van Ling. This track is ported over from the "Ultimate Edition" and "Skynet Edition" DVD's and Blu-ray releases and features an incredible amount of information, almost every department is covered in this track from the demands of the script to production design to casting, stunts, effects, costumes, logistics, editing, music etc. It's all covered here in detail and the cast also feature in interview bits edited into the track and although it's very technical and dry but it's worth listening to.

"T2: Reprogramming the Terminator" is a 2017 documentary (54:07), pretty awesome making-of that covers virtually everything to do with the film's production and features new interviews with the director and principle cast.

"The Making of T2" is the original 1991 featurette (30:54) which was the promotional EPK used to market the film.

Next up are two deleted scenes:

- "T-1000's Search" which can be viewed with optional audio commentary by actor Robert Patrick and director James Cameron, the scene runs for 1 minute 27 seconds, this is an extended scene where the T-1000 is seen searching John's bedroom for clues about the boy.
- "Future Coda" also includes optional audio commentary by special effects guru Stan Winston, director James Cameron, and actress Linda Hamilton and runs for 1 minute 50 seconds. The scene shows an alternate ending with an old Sarah Connor. It's laughable and was suitably cut.

The disc also features a collection of theatrical trailers (with a 'play all' option) (6:21):

- "2017" theatrical trailer (1:20)
- "This time there are two" theatrical trailer (1:40)
- "Same make, new mission" theatrical trailer (2:04)
- "Building the perfect Arnold" theatrical trailer (1:15)

There's also a code to download a digital copy version of the "Theatrical Cut" edit.

Packaging


Packaged in a 2-disc black 4K Blu-ray keep case with artwork.

Overall


This new edition does feature a more enhanced transfer with some usual flaws that have sadly plagued previous releases. The Extras are ported over from previous releases other than the recently produced documentary. I just wish this where a more comprehensive release, with all edits of the film getting a 4K upgrade and all the previous supplements produced included as well... maybe one day we'll get that, but for now this will have to do.
| | | | | |
| --- | --- | --- | --- | --- |
| The Film: A+ | Video: B | Audio: A | Extras: A | Overall: A- |