Jane Austen's Mafia! [Blu-ray]
Blu-ray A - America - Kino Lorber
Review written by and copyright: Robert Segedy (2nd August 2018).
The Film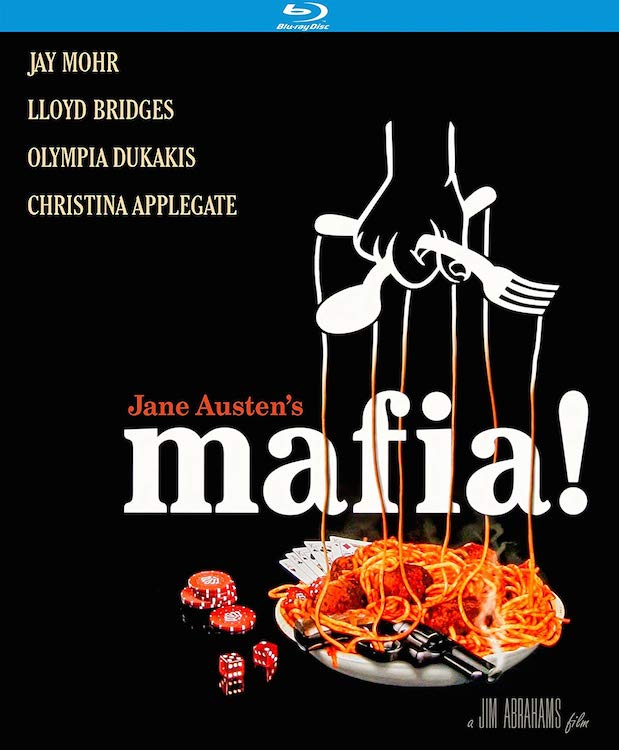 In this style of film, the gags are hit or miss and basically if you donít laugh at this one, there is another one following. Jim Abrahams, the madman behind the smash comedies, "The Naked Gun" series (1988-1994) and "Hot Shots!" (1991) is up to his usual brand of cinematic mischief again and the results are somewhat indifferent this time. The major problem is that the film feels somewhat repetitious and unoriginal; this is essentially a spoof of mob films and at first thought, you would think that there would be an abundant source of material to parody, but the jokes begin wearing thin quickly and the material no longer feels fresh or original.

The film opens on Tony Cortinoís (Jay Mohr) casino and the camera pans on the usual assortment of money losing options based upon a variety of childhood board games and this might seem funny the first time but by the third pass, we are no longer chuckling. Trying to switch time periods, the film jumps to old Italy, but this only allows for further madcap escapades that fall flat. Anthony acts as the narrator and his tale is one of how his father Vincenzo (Lloyd Bridges, in his final role) came to the new world from Semolina, Italy (Home of Warm Mayonnaise) and then there is the opening sequence that parodies Martin Scorseseís film "Casino" (1995) with Cortino being propelled into the air from a rigged car and we are off and running with the laughs simply not happening as we are bombarded with both visual gags, puns, and homages to anything that Frances Ford Coppola or Martin Scorsese directed. Vincenzoís two sons, the constantly angry Joey (Billy Burke) and his opposite Anthony are hampered with the script that thinks that anything mafia related is a scream and the film limps along with Christina Applegate portraying a Diane Keaton inspired role, Diane Steen and a variety of actors that would later be in "The Sopranos" (1999-2007) making an appearance.

The casting of the film is its strongest point with a well-rounded list of familiar faces and names: Olympia Dukakis, Tony Lo Bianco, Vincent Pastore, and a number of uncredited celebrity appearances: Don Cornelius, Sherman Hemsley and Isabel Sanford playing their iconic sitcom characters George and Louise Jefferson, even Alex Trebek, but even this cannot really save the film from being more than a running gag. The jokes are fast pitched with the philosophy being espoused that if you donít laugh at this one, the next one will get you, but unfortunately I wasnít guffawing at the on-screen antics. Viewers seeking "Airplane!" (1980) level laughs are warned to look elsewhere, but this type of low level madcap-ness may appeal to families with younger children looking for some mindless entertainment for the evening.

Video


Presented in a widescreen ratio of 1.78:1 HD 1080p 24/fps mastered using AVC MPEG-4 compression. It's hardly a dazzling presentation with some soft looking scenes with the color presentation being a bit off, sometimes skin tones are poorly reproduced and there is a graininess present in some shots. The wedding sequence though is rather vivid with some excellent detail throughout.

Audio


Two audio tracks are included in English DTS-HD Master Audio 5.1 surround and English DTS-HD Master Audio 2.0 stereo. The audio is a rather weak production overall but dialogue is clearly presented in the center channel; surround effects are minor and the film lacks a sonic oomph! Optional subtitles are included in English only.

Extras


Kino Lorber has included an audio commentary by director Jim Abrahams and co-screenwriters Michael McManus and Greg Norberg, it's a fairly decent track where they comment on the jokes and fun they had making the film.

The film's original theatrical trailer (2:17) is included.

There are bonus trailers for:

- "Big Business" (2:11)
- "Iím Gonna Git You Sucker" (2:10)
- "The Wrong Guy" (1:35)

Packaging


Packaged in a standard Blu-ray keep case.

Overall


"Mafia!" is watchable but ultimately a disappointing attempt to parody mafia films by the man behind "Airplane!" The laughs are hit or miss with most being miss. For diehard fans only.
| | | | | |
| --- | --- | --- | --- | --- |
| The Film: C- | Video: B+ | Audio: B- | Extras: B- | Overall: C |

---
DVD Compare is a participant in the Amazon Services LLC Associates Program and the Amazon Europe S.a.r.l. Associates Programme, an affiliate advertising program designed to provide a means for sites to earn advertising fees by advertising and linking to amazon.co.uk, amazon.com, amazon.ca, amazon.fr, and amazon.de.