Deadtime Stories AKA Freaky Fairytales (Blu-ray) [Blu-ray]
Blu-ray B - United Kingdom - 88 Films
Review written by and copyright: Rick Curzon (22nd August 2018).
The Film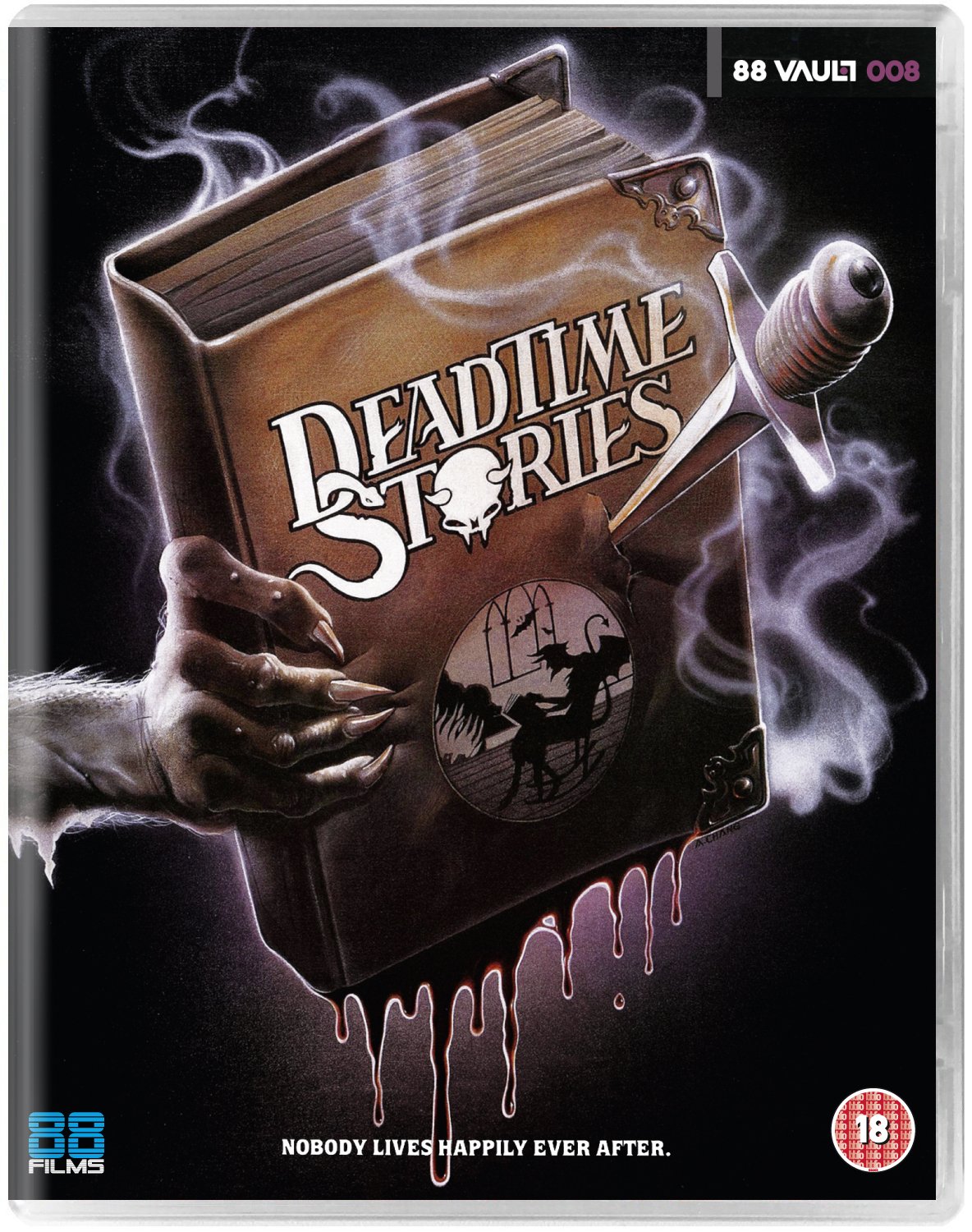 In the creepy compendium style of CREEPSHOW (1982) comes DEADTIME STORIES (1985) a collection of stories with teeth and torment that are sure to send chills down the spines of viewers even today! A sleazy and shocking pack of splatter fairy tales - this contemporary spin on the likes of "Little Red Riding Hood" has gore aplenty, a sick sense of humour and enough splattered limbs to make for essential late night viewing. Directed by genre veteran Jeffrey Delman and packed full of plastic fantastic charms, 88 Films is enthusiastic about keeping you up at night with this perfectly restored version of a VHS cult classic!

Video


Truly, truly terrible 3-part horror portmanteau with a terrible script, terrible performances, terrible direction. It tries to be funny and tongue in cheek but falls flat on itís face at every step with each story being worse than the last. Action scenes are very clunky. On the positive side the cinematography and SPFX arenít bad. But you canít polish a turd. Amateurish in the extreme despite the moderately slick look.
This is a pretty standard looking low budget Ď80s film with that pastel, hazy look weíve all come to know well when reviewing these discs. Colours are rich and full bodies and this reflects the cinematography which is probably the strongest feature of this film. In the red riding hood sequence (story two) the leads red jogging outfit looks particular good, and in closeups thereís plenty of detail in skin and fabrics despite the filtered look.

Black levels are mostly very satisfying with inly the occasional moments of crush in some darker scenes but again, this is down to the nature of the original production. Contrast is gentle and allows plenty of detail and textures in brighter, well lit surfaces to come through; no blowouts or whiteouts in evidence.

Thereís no print damage and no evidence of digital tinkering. 88 Filmís encode is very good with a pleasing grain field throughout and a decent film-like appearance. This essentially replicates the the US region ĎAí locked Shout! Factory special edition recently although I suspect the 88 Filmís encode will be an improvement. However, I donít have that disc to do a comparison and this I could be wrong in that score but Shout! track record for encodes is uneven.

All in all this is a great presentation of the film and fans should be pleased.

1080/24p / MPEG-2 ABC / 82:39

Audio


English DTS-HD Master Audio 2.0 Mono
Subtitles: English HoH

The soundtrack is a pretty standard mono track from the Ď80s; it has good fidelity and the base is also robust. The fine score never interferes with dialogue and has a couple of catchy, funny tunes. It a decent 2.0 mono track that gets the job done and serves the film well. Subtitles are welcome.

Extras


Audio Commentary by Jeffrey Delman

Straightforward commentary track covers all the bases; acknowledges borrowings from other things and influences. Most of the same material pops up from the interview but we get more significant expansions and elaborations. The soundtrack ks discussed at points throughout and apparently thereís a soundtrack album on the cards.

"I Like the Grotesque: A Conversation with Jef DelmanĒ featurette (15:42)

Genial conversation in which Delman talks about his film, how it got it going, the fact it was shot over several years (1982-85), the cast with special comment on Melissa Leo and her involvement. The score is discussed along with practically any other topic to do with the production of this low budget feature; itís quite thorough. Delmanís subsequent career in writing sings and jungles for .disney is also touched upon.

"The Black Forest" alternate short film version (29:49)

Delman appears in a :28 introduction talking about the first cut of The Black Forest story. This is an expanded version of the opening tale in standard definition and therefore doesnít look as good as the version in the feature. For some strange reason this has been encoded so that you canít jump to the end or fas forward through it.

Deleted Scenes (2:34)
A short selection of material removed from the final edit and with good reason.

3 Theatrical Trailers (3:14)

Standard theatrical trailers with ominous voiceovers.

Still Gallery (4:14)

Decent little still gallery with a nice assortment of pictures from the production.

Card Slipcover

Reversible sleeve

Features the new artwork and the original theatrical key art.

4-page liner notes booklet ďAn Assemblage of OutrageĒ by Calum Waddell

Good shirt essay from the reliable Waddell who must be able to write these kinds of essays in his sleep. Excellent!

Packaging


Thick, clear, Blu-ray, keepcase with a card slipcase.

Overall


I really didnít get to grips with the film itself, but the disc from 88 Films is a classy affair with fine presentation of this ultra low budget film with very good picture and sound quality. Extras are also very good and mostly ported over from the US disc with the exception of "A Band of Gypsies: The Making of Deadtime Stories" featurette (15:35), which bizarrely has been left off. Fans ought to be please with what they do get however and itís a reasonably priced entry in 88 Filmís Vault Series.
| | | | | |
| --- | --- | --- | --- | --- |
| The Film: E | Video: A | Audio: A | Extras: B- | Overall: B |

---
DVD Compare is a participant in the Amazon Services LLC Associates Program and the Amazon Europe S.a.r.l. Associates Programme, an affiliate advertising program designed to provide a means for sites to earn advertising fees by advertising and linking to amazon.co.uk, amazon.com, amazon.ca, amazon.fr, and amazon.de.