The Film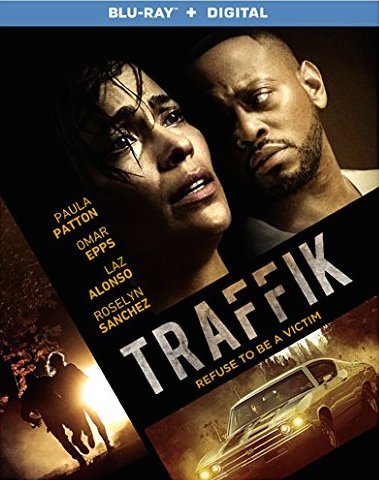 I dislike films that refuse to be what they obviously are, such as this one, "Traffik". This is a film that is clearly an exploitation picture that hides itself by trying to act as a serious film regarding the dangers of human trafficking. Instead of just being a horror film or a thriller, this film blatantly refuses to acknowledge its exploitative narrative and instead unsuccessfully tries to hide behind a warning in the first few minutes that it is based on actual events. Alongside the tacked on coda during the filmís conclusion that human trafficking is a serious and rising crime, this is supposed to ease the viewerís guilty conscience somehow. Sorry, but Iíll happily watch the original "I Spit on Your Grave" (1978) or even "Hostel" (2005) if I want cheap thrills; at least those films donít harbor any pretensions regarding what they really are or what their ultimate purpose was: filmmaking done on the cheap to make large amounts of cash through appealing to the audienceís basest desires. Filmmakers such as Roger Corman have happily produced countless films that did not need to insult the audienceís intelligence by claiming to be based on a true story; the filmís title, the posterís salacious artwork, the scantily clad female in danger, all these cast a point towards what the film is really about. But first the details of the plot must be examined.

The first half of "Traffik" is almost a love story of sorts; Brea (Paula Patton) is a reporter that gets fired for taking too long to file the story. Gasp! Who ever heard of that happening? Stop the presses indeed! And itís her birthday as well; insult added to injury. Good thing that her boyfriend John (Omar Epps) is such a caring guy; he tells her that he is planning on whisking her away to a gorgeous mountain retreat that his sport agent pal Darren (Laz Alonso) has the keys to. Darren immediately got on my nerves with his overbearing mannerisms and macho attitude. The couple are out on the town celebrating Breaís birthday with their pals, but there is a tension lurking in the background ; I donít believe that it was anything written into the script, it could just be that Darren is a tool. So after a night of rolling around in the bed, Brea awakes to find her partner missing. Turns out that John is a regular Mr. Goodwrench and he has a present for his girl: a rebuilt 1969 Chevelle. As the two drive into the mountains, they stop for gas and this is where the plot takes a sharp twist. We go from a romantic drive right into an American nightmare as John has a close encounter with some greasy white bikers. Meanwhile in the ladies room, Brea has her own encounter with a clearly abused skinny girl named Cara (Dawn Olivieri) who has an impatient biker boyfriend waiting for her. Oh, did I happen to mention that Brea and John are African Americans; yes, the race card is played and here is white America acting the bully towards these upwardly mobile handsome young black people. The bikers are big nasty individuals and they are led by a bald headed British dude named Red (Luke Goss) who is the mastermind in charge of these guys; human trafficking is their game and the game is afoot, pardon to Sherlock Holmes for the pun.

After John dodges one of the bikers, the couple makes their way to a gorgeous hide away home; romance rears its head again as John is planning on popping the question to Brea and he even has a ring but something tells me that this is not going to end well for the guy. Later that night they hear a vehicle pull up outside and the suspense level goes up a notch, but guess who it is? Yes, dumb ass Darren and his flavor of the moment Malia (Roselyn Sanchez) show up unexpectedly. Then the plot turns again as Brea finds a satellite phone in her bag; using a phrase that Cara cryptically said to Brea in the bathroom, they easily break the code and discover a cache of anemic looking women all posed in a similar position. Holy Moly Batman, smells like white slavery or something along those lines! Just then there is a knock on the door and it is abused skinny crack addict Cara and she is looking for her palís phone. Just return it and nothing will happen she assures them. Wrong; Cara is dispatched with a bullet to her empty head by Red when he sees that the phone has been unlocked. Now instead of having the foursome in the house work together and slay the bad guys, Director Deon Taylor decides to have Malia kidnapped while Darren tries to play the hero because he has a glock on him, only to have Darren stabbed repeatedly by the bikers. This leaves our original couple scrambling to get away but that only leads to John being mortally wounded while trying to do the right thing. Poor guy, he never did get a chance to ask Brea to marry him either. This leaves us with a bloodied but fighting mad Brea as the sole survivor. She has made a copy of some of the incriminating photos with her phone and her plan is to alert the authorities but in a self-serving and unsurprising reveal, it turns out that the Deputy Sally Marnes (Missi Pyle) is of course in on the entire ordeal. In the stunning conclusion, a drugged and bedraggled Brea makes her way to the gas station seen earlier in the film and desperately makes a call to the local station house only to have Deputy Marnes respond. Instead of ending on a gloomy downbeat note, which would have somewhat absolved Taylor of his sins, we have the cavalry rushing in with helicopters and cars a racing. Then the serious note about the alarming number of cases of human trafficking appears as the final credits roll. This reviewer yawns and reaches for the remote.

The film's director, Deon Taylor has a good eye for casting as all the main characters are on the money and he certainly knows how to direct a suspenseful car and motorcycle chase, but the problem of this film is that these moments are rather carelessly strung together, leaving the viewer pondering why he decided to take the shortcuts that he did. And instead of facing the problem of human trafficking head on and in a serious manner, Taylor simply uses the ruse of slavery to disguise his real intentions with a camera that unabashedly lingers on Pattonís curves and delights in capturing her bruised and damaged body in the final scenes. My advice to Taylor is if he wants to make a horror film, he certainly needs to study the genre more aptly and please take notes.

Video


Presented in the film's original theatrical ratio of 2.40:1 mastered in HD 1080p 24/fps using AVC MPEG-4 compression. The images are rather dark in some scenes, but overall the camerawork is fairly consistent for a film made by a major studio.

Audio


Two audio tracks are included in English DTS-HD Master Audio 5.1 surround and Spanish Dolby Digital 5.1 surround. The soundtrack is a tad sappy in parts but that is a matter of personal taste. Dialogue is clear and the addition of subtitles helps with understanding the clashing narratives. Subtitles are included in English for the hearing impaired and Spanish.

Extras


"Journey into the Depths: Making Traffik" featurette (16:09) is the usual mix of talking head interviews lauding the director and the rest of the cast with a job well done. Nothing surprising here.

"Deon & Dante: The Look of Traffik" featurette (8:28) is a more detailed behind the scenes interview featuring a piece on cinematographer Dante Spinotti and how he obtained the results that he did on the film.

Bonus trailer is included for:

- Love Beats Rhymes (2:10).

Also included is a code for a digital copy version of the film.

Packaging


Comes packaged in a standard keep case housed in a slip-case wraparound cover.

Overall


"Traffik" is a film that seemingly canít decide what it really wants to be.
| | | | | |
| --- | --- | --- | --- | --- |
| The Film: B | Video: A | Audio: A | Extras: B | Overall: B- |