The Soldier [Blu-ray]
Blu-ray A - America - Kino Lorber
Review written by and copyright: Robert Segedy (30th August 2018).
The Film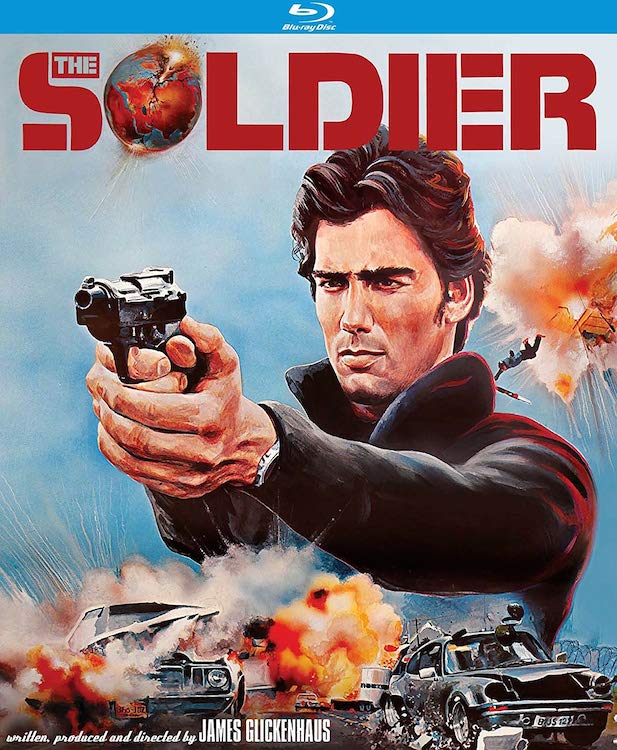 "The Soldier" is a film heavy on action but light on plot sensibility; a typical 80ís action film featuring numerous explosions, a turgid acting style, various characters being shot with a variety of weapons, and a dangerous Russian madman named Ivan (Jeremiah Sullivan). The soldier in question is portrayed by Ken Wahl, a former television actor who doesnít really emote very much and portrays a furtive CIA assassin tracking down stolen nuclear arms. Director James Glickenhaus obviously knows his way around a film set and there was enough money in the budget to do some globe hopping with scenes shot in Philadelphia, West Berlin, Israel, and Austria, and they even manage to squeeze Klaus Kinski in a cameo and give him five minutes of screen time as well, but otherwise this is a yawn inducing production. The cover on the film proclaims that this film was newly mastered in HD, but I was left wondering just exactly who was clambering for this tiresome effort and why Kino Lorber was wasting its money on this junk?

The plot is overly familiar: a gang of KGB operatives have stolen some plutonium from a top-secret facility in the states and then the nuclear device is turned over to uber bad guy Ivan and he has some dudes dressed as Arabs plant it in an oil refinery in Saudi Arabia. If the Israelis donít abandon the West Bank, blam, the whole works go up in a big explosion and with it two thirds of all the USí oil supply. The Israelis refuse to succumb to Ivanís demands and so the C.I.A. has but no choice to call in its best man: The Soldier (Ken Wahl) a nameless agent that is a trained killing machine and he and his pals have formed a covert operations group that is so secret that they only take orders from the head of the C.I.A. (Ron Harper). Wahl and his team known as The Soldier's Force played by Peter Hooten, Joaquim de Almeida, Alexander Spencer, and Steve James set out on their top secret mission which essentially involves traveling to some exotic locales and making several stunt men happy for the work.

The Soldier is instructed to fly to meet with a Russian double agent named Dracha (Klaus Kinski) on the Austrian ski slopes and poor Klaus isnít really given anything to do but pull a large lever that traps Wahl in a ski lift before an assassin shoots a bazooka at him. This leads us to the only notable sequence in the entire film: The Soldier and his pursuers take off down the slopes on skis while firing Uziís. The stuntmen truly earned their paychecks as the downhill chase is actually invigorating and the camera work capturing the scene is excellent. For fans of this type of mindless action, this scene is the high point of the film.

The film is only a mere 88 minutes long, but it is padded with plenty of scenes of military stock footage of planes taking off and landing. There are also some scenes where the stunt doubleís wig almost comes off revealing that the woman pushing a baby carriage at the beginning of the film is actually a man. Much of the film feels haphazardly arranged with actions sequences wedged in between long dialogue filled scenes that donít really advance the plot much. Glickenhaus should be given some credit for trying to create something exciting from a tired genre with a weak plot, but "The Soldier" really feels like it was an early HBO filler. I lamented the 88 minutes plus wasted on this lame film and truly want to tell Kino Lorber that not everything from the 80ís is worth saving and they should direct their efforts towards films that truly deserve saving and being remastered in HD.

Video


Presented in the film's original theatrical ratio of 1.85:1 widescreen mastered in HD 1080p 24/fps using AVC MPEG-4 compression. There's some disturbing negative damage was noted with the appearance of tiny pin holes during the majority of the film; very unfortunate for what is reputed to be a new master. Otherwise it's an ok transfer of a middling 80's action movie.

Audio


English DTS-HD Master Audio 2.0 Mono is the only audio option, the dialogue was clear but no subtitles were offered with this film. The score by Tangerine Dream is notable and helps move things along, but overall the audio was nothing incredible.

Extras


Kino Lorber has released this film with two audio commentaries and a collection of theatrical trailers. Below is a closer look.

The first audio commentary features writer/director James Glickenhaus, he offers some neat production trivia, but you really have to be a fan to sit through this movie again with this track playing.

The second audio commentary features film historian Jim Hemphill, same again here, some decent trivia about the film but once again you must be an even bigger fan to sit through a second commentary track!

The film's original theatrical trailer is included (1:49).

Bonus trailers are featured for:

- "The Taking of Beverly Hills" (1:56)
- "I, the Jury" (1:53)
- "When Eight Bells Toll" (2:48)
- "Gorky Park" (2:23)
- "The Park is Mine" (2:07)
- "The Package" (2:17)
- "Malone" (1:59)

Packaging


Packaged in a standard Blu-ray keep case.

Overall


Weíve seen it all previously and executed much better, it's an action film that never really hits the mark. Ken Wahl is as exciting as a piece of plywood and he doesnít really do much here. Klaus Kinski is literally wasted in a bit part and everyone else collects a paycheck.
| | | | | |
| --- | --- | --- | --- | --- |
| The Film: D | Video: B+ | Audio: A | Extras: B+ | Overall: C+ |

---
DVD Compare is a participant in the Amazon Services LLC Associates Program and the Amazon Europe S.a.r.l. Associates Programme, an affiliate advertising program designed to provide a means for sites to earn advertising fees by advertising and linking to amazon.co.uk, amazon.com, amazon.ca, amazon.fr, and amazon.de.