Miraculous Virgin [Blu-ray]
Blu-ray ALL - United Kingdom - Second Run
Review written by and copyright: Eric Cotenas (31st August 2018).
The Film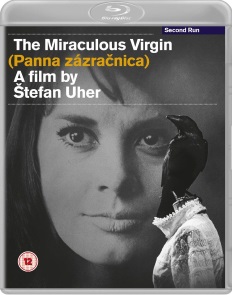 Director Stefan Uher's The Miraculous Virgin – based on a novel by Dominik Tatarka, who also scripted – is a massive departure from his Italian Neorealist-inspired and popular The Sun in a Net and his historically situated The Organ into Jean Cocteau-esque surrealistic cinema – with even less literary context – a genre then unpopular in Communist regime but then possible during the brief period of liberalization in the late sixties before the Soviet clamp-down. The beguiling Anabella (Knife in the Water's Jolanta Umecka) arrives in a foreign city unaccompanied and without papers ostensibly to enroll in a university and becomes all things to all of the men she meets. Is she a ghost? A muse? A vampire or succubus? She catches the eye of surrealist artist Tristan (The Assassination's Ladislav Mrkvicka) but she accepts the hospitality of a solicitous and lecherous government functionary; whatever becomes of that encounter, however, seems to be for the purposes of bringing her to the attention of stonemason Raven (Otakar Janda) who is working on a tributary statue for a government minister but also makes death masks at a local mortuary. He sees in Anabella the visage of a recent suicide – an impression ambiguously supported by the nonplussed funerary cosmetician (Marta Kmunícková) – and resolves to avenge her against those who have hurt her while also offering to marry her in order for her to have papers to move about the city but she kindly turns him down. Has she spared him or has the encounter awakened a rebellious streak in him about the constant compromises in his design of the statue towards propping up its commissioner's (who may or may not be the suicide's father) sense of self-importance. She reconnects with Tristan who woos her until he comes to believe that she is maliciously draining his inspiration and attempts suicide. Anabella's enrollment in the university through teasing seduction of a bureaucrat to bypass her lack of papers seems to be an alternate means of infiltrating Tristan's circle of artistic friends through a Freudian psychoanalyst who sees her as an embodiment of libido and nearly makes his own suicidal gesture of devotion. She embodies the virgin-whore dichotomy to a young poet, first inspiring his poetry to take a new direction before proving unworthy in the shadow of his domineering mother. All men fall at her feet, and a symbolic artistic attempt to burn her image in effigy spurs Raven to make good on his promise to avenge her with reproductions of her death mask (made by hand from memory) sent to haunt those who have rebuffed her dark designs or rejected her as their muse.

Video


Long unavailable for exhibition in its own country, The Miraculous Virgin first became available on DVD from the Slovak Film Institute with optional English subtitles, and Second Run's 1080p24 MPEG-4 AVC 1.33:1 pillarboxed Blu-ray is derived from a brand new 2K Slovak Film Institute restoration of what is presumably the same film materials. The monochrome image is clean with the glossiness of the film's French or Italian contemporaries, with seemingly higher contrast by design to create the deep blacks of the void into which Tristan crosses when diving through a mirror along with the funereal blacks of Anabella's dresses and veils while the highlights no longer blow out and the day exteriors look overcast rather than sunny.

Audio


The LPCM 2.0 Slovak mono audio track is clean, highlighting the film's dialogue as well as some sound effects that are more jolting than merely supportive, from the crashing of glass to the crackle of a sculpture set alight for effect. Optional English subtitles are provided.

Extras


Extras start off with "Marked by Darkness" (16:50), a short film by Stefan Uher documenting a school for the blind utilizing light and shadow to explore the sensory world of the blind characters. "The Story of The Miraculous Virgin" (24:06) is a documentary featurette exploring the career trajectory of Uher from his earlier two features to The Miraculous Virgin, including his and author Tatarka's interests in surrealism and the Slovak movement of "nadrealism" which drew from surrealism but asserted its independence from its precursors (symbolized in the film by surrealism asserting itself over the artists in the film whose artistic endeavors quest for originality at the rejection of what came before), and Uher realizing the book's need for the virgin to be different for each of the characters by seeking a foreign actress in Umecka. The disc also includes the vintage newsreel featurette "Looking for Anabella" (2:34) about the initial search for the lead among Slovakian actresses, as well as the film's theatrical trailer (2:44). More historical context for the film and analysis is provided in a sixteen-page booklet by Michal Michalovic enclosed with the disc.

Overall


A massive departure from his Italian Neorealist-inspired and popular The Sun in a Net and his historically situated The Organ into Cocteau-esque surrealistic cinema, a genre then unpopular in Communist regime but possible during the brief period of liberalization in the late sixties before the Soviet clamp-down, Stefan Uher's The Miraculous Virgin is ripe for rediscovery on Second Run's Blu-ray special edition.

---
DVD Compare is a participant in the Amazon Services LLC Associates Program and the Amazon Europe S.a.r.l. Associates Programme, an affiliate advertising program designed to provide a means for sites to earn advertising fees by advertising and linking to amazon.co.uk, amazon.com, amazon.ca, amazon.fr, and amazon.de.