The Film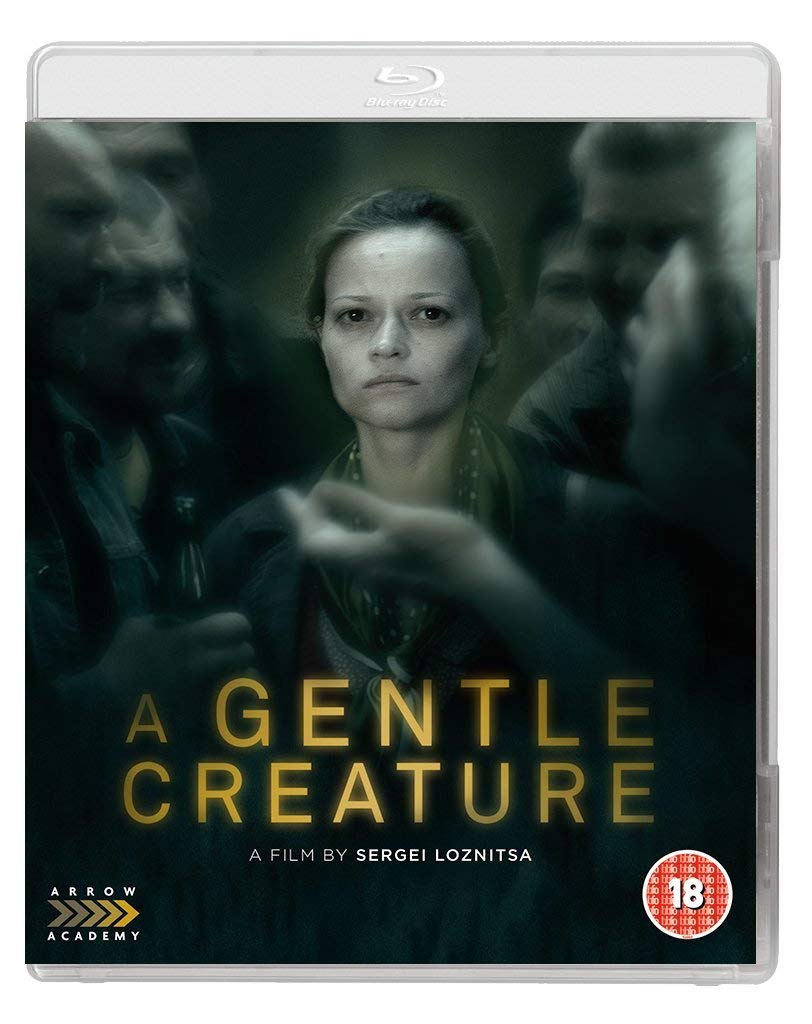 A Gentle Creature (Sergei Loznitsa, 2017)

An unnamed woman (Vasilini Makovtseva), who lives in an isolated house in the Russian countryside, is distraught to find that the parcel she sent to her husband, who is in prison for an unidentified crime, has been returned to her. Unsure why the parcel has been returned, the woman takes a break from her profoundly proletarian job (as a nightwatchman for a rural petrol station) and makes the long journey to the prison in order to hand over the parcel in person.

There, she is subjected to a humiliating body search before being told that her parcel cannot be passed on to her husband. She is not given an explanation as to why this should be the case, but she is told to 'file an enquiry' with an outside agency. Then her case may be investigated.

A local woman, Zdinka, offers the protagonist a place to stay, but when the protagonist arrives at Zdinka's place, she realises it is a brothel. However, Zdinka introduces the protagonist to a man who claims he may be able to help her to see her husband – but insinuates that he will only do this in exchange for sexual favours.

After being introduced to local underworld figure Pyotr Nikolovaech, the protagonist visits the agency where she was told to 'file an enquiry'. There, she is helped by a quiet, unassuming middle-aged woman who tells the protagonist that the agency – established to help people 'defend their rights' (in the words of the woman herself) – is the target of locals who accuse the employees of being Nazis and daub Swastikas on the walls of the building. The woman also warns the protagonist that by making a complaint about the prison, she may 'face some difficulties' (ie, reprisals).


The protagonist returns to the prison waiting room, where she is warned by an elderly woman not to fall asleep 'or they'll take you away'. However, the protagonist does indeed fall asleep, and she is woken by Zdinka who tells her that 'I've arranged everything' before ushering her outside, where the protagonist is led to a horse-drawn carriage. She is taken through a forest to a cabin, where after she is made to change her dress, she is led through a door into a bizarre dinner presentation during which various characters she has previously encountered, all dressed in white, deliver speeches about the prison and its layers of bureaucracy.

After working as a mathematician and in the Institute of Cybernetics, director Sergei Loznitsa began his filmmaking career as a documentary filmmaker before transitioning to fictional features with 2010's My Joy. Described in the extra features on this Blu-ray release as a response to Fyodor Dostoevsky's 1876 story 'A Gentle Creature' rather than an adaptation of it, A Gentle Creature is Loznitsa's third fictional feature film, not counting his work on the 2014 portmanteau picture Bridges of Sarajevo.

Loznitsa's previous fictional features have been mostly in the realist style, his sense of pace and focus on minute details inviting comparisons with the work of Robert Bresson. A Gentle Creature follows this trend but shifts into a realm of magical realism towards the end of the picture, when the film's protagonist is invited to a bizarre dinner at which those who have persecuted her throughout the picture deliver extended monologues. A Gentle Creature also carries on Loznitsa's fascination with Kafka-esque depictions of individuals trapped within nightmares of bureaucracy and abuses of power: this was an overriding theme within My Joy, which depicts truck driver Georgy's persecution by both ne'er-do-wells and figures of authority, and Loznitsa's second feature In the Fog (2012), which takes place during the German occupation of Belarus in the Second World War.


Here, in A Gentle Creature, the film's unnamed protagonist struggles against petty bureaucracy both in her home village (at the post office, where her parcel is returned without any explanation as to why it was not accepted at the prison) and at the prison itself, where she fails to get access to her husband, being turned down at every stage – again without any explanation. She is subjected to humiliating security checks and even a physical search, and she watches as other visitors at the prison have the gifts they have brought for their loved ones destroyed as the guards search for contraband – cutting food in half, poking holes in a block of cheese, pulling apart shoes, breaking the handles of razors. She is threatened by two police officers, who tell her simply that 'You don't have a husband while he's in prison. You understand?'

Loznitsa favours very long-takes and staging in depth. The film's opening scene depicts the a landscape broken by a road which bisects the scene; into this landscape a bus eventually arrives, stopping at an isolated rural stop. The film's protagonist alights and slowly heads off towards her equally isolated cottage. It's a shot that Loznitsa holds for a minute and a half, the frame empty for a number of seconds at the start of the shot (until the bus arrives) and empty for an equal number of seconds at the end of the shot (after the protagonist has exited the scene). (Some viewers may find this deliberate sense of pace alienating; it's also worth noting that the film's '18' certificate seems wholly due to a fairly disturbing rape scene which comes out of left-field towards the end of the picture.)

The story is picaresque, the protagonist encountering many different types of people on her journey to the prison and in her quest to see her husband. On her journey, the protagonist is mostly passive as she overhears the conversations of her fellow passengers on the bus and train, for example, or the people in the waiting room at the prison. These snatches of overheard conversations create an impression of a society filled with latent violence and iniquity. Near the start of the film, as she travels home via bus after collecting her parcel from the post office, she hears a conversation about a grisly murder which was discovered after body parts from the corpse were found by a local woman. She is offered a place to stay by a local woman, Zdinka, but when she arrives there she discovers the place is a brothel – and at one point during her stay she is forcible stripped during a game of 'spin the bottle'. The locals seem proud of the prison, which becomes a symbol of repressive bureaucracy and abuses of power; their pride in it becomes representative of their complicity in the repressive regime: the man to whom Zdinka introduces the protagonist promises to introduce her to Pyotr, a significant figure within the local underworld. 'You've come to a prison town', he tells the protagonist, 'A strategically important location. And every strategically important location has its bosses'.





Video


Taking up 38Gb of space on the Blu-ray disc, this 1080p presentation of A Gentle Creature uses the AVC codec. The film runs for 143:13 mins and is presented in its intended aspect ratio of c.2.6:1. The colour photography is represented nicely on this Blu-ray release. It's crisp and rich in fine detail. Contrast levels are very good, with a balanced shoulder, richly defined midtones, and gradation into the toe. Colours are naturalistic and consistent throughout.




Some full-sized screengrabs are included at the bottom of this review. Please click to enlarge them.


Audio


The disc includes the option of a DTS-HD Master Audio 5.1 track and a LPCM 2.0 stereo track. (Both are in Russian, with optional accompanying English subtitles.) Both tracks are rich and deep, though the LPCM track seems slightly more full-bodied. (On the other hand, the 5.1 track has some added sound separation: it's not a showy audio track, by any means, but there is some highly effective use of ambient sounds within the mix.) The English subtitles are easy to read and free from errors.


Extras



The disc includes:
- Interview with Sergei Loznitsa (22:24). This interview with Loznitsa, in Russian with optional English subtitles, was recorded in July 2017. Loznitsa discusses his approach towards filmmaking, stating that during preproduction he 'map[s] out the territory, marking the borders; then I place myself within this territory'. He talks about the benefits of working with the same crew on so many of his pictures, and he reflects on the relationships between his documentary work and his fictional features.

- Peter Hames on A Gentle Creature (27:43). Film historian Peter Hames places A Gentle Creature within context by reflecting on Loznitsa's role as the film's 'author'. He discusses Loznitsa's background prior to becoming a filmmaker and talks about the director's work in documentaries. Hames discusses Loznitsa's claims that his fictional features are inspired by his travels in Western Russia whilst making his documentaries, and Hames reflects specifically on My Joy and In the Fog. Hames talks about the vague relationship between Loznitsa's film and Dostoevsky's story 'A Gentle Creature': Hames describes Loznitsa's film as more of 'a response' to the Dostoevsky story than an adaptation of it.

- Trailer (1:29).


Overall



A Gentle Creature is a difficult film to write about, as the story is often nebulous, the picaresque plotting combined with a very deliberate sense of pace. Whilst Loznitsa's technique may be described as realist, for the most part, the story feels strongly allegorical, inviting strong parallels with Kafka's The Trial or The Castle, for example. In its final sequences, the film moves into the realm of magical realism; the protagonist's journey through the forest in a horse-drawn carriage comparable to Alice's journey down the rabbit hole in Alice's Adventures in Wonderland. What is striking about Loznitsa's feature is the extent to which the population around the prison are almost wholly complicit in the system of repression that is perpetuated by it, to the extent that the appeals agency is targeted by the locals, who label its workers as fascists.

Arrow's Blu-ray presentation of the film is perfectly fine, displaying the hallmarks of a solid HD presentation of a very recent film. It is accompanied by some good contextual material too (though, it has to be said, the interview with Peter Hames has a greater sense of clarity than the interview with Loznitsa).


Please click to enlarge: