The Film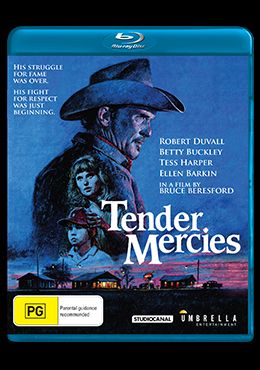 "Tender Mercies" (1983)

Mac Sledge (played by Robert Duvall) was a fairly known country singer back in his earlier years, but has become a drifting drunkard over time, losing his career and his family. Finding himself stranded at a rural Texas motel and gas station with no money in his pockets, he asks the owner Rosa Lee (played by Tess Harper) if he could pay his rent by helping to work. Macís helping hand turns for some time turns to romance with Rosa Lee, and her young boy Sonny (played by Allan Hubbard) approves having Mac being a stepfather.

Sobered up and living a quaint life, things start to change when a journalist comes to the motel saying he wants to do a story on Macís life from rise to fall. People start coming from afar to ask Mac to start playing music again which in some way delights him, but at the same time brings back old memories he would like to leave behind.

Writer Horton Foote had success writing for stage and on television, as well as winning an Oscar for the screenplay adaptation for "To Kill a Mockingbird", but it would be more than four decades into his career that he would write an original screenplay. The script for "Tender Mercies" was a simple drama about redemption and confrontation, but went through quite a struggle to get made. Robert Duvall was involved from early in the preproduction stages as he believed deeply in the script, and being the producer and casting himself as the main part of Mac Sledge, he worked on the character heavily with perfecting a Texas accent, practicing singing and playing the guitar. Finding a director proved to be a challenge as everyone in Hollywood passed on it. The one director who decided to give it a go was one from outside Hollywood - Bruce Beresford. Coming off the international success of "Breaker Morant" and other acclaimed dramas, Beresford was an unusual choice as he never worked outside his native Australia, but he was looking to expand his career and also work in America for the first time. Interestingly it was not the director but the actor/producer Robert Duvall who had the final cut approval over the film. With a fairly small budget of $4.5 million from EMI Films, production commenced in Texas with the principal cast and crew.

There were a few clashes between Beresford and Duvall on set, with even Beresford threatening to quit at one point mid production. The casting of Sledgeís former manager Harry with Wilford Brimley in the role was a choice by Duvall which Beresford disagreed with, the meticulously planned shooting with storyboards by Beresford was something that Duvall felt restrictive, and the lack of closeups in some scenes were also criticized. But eventually the film came together in one piece with more positive notes on the making-of than negatives. Duvallís performance as Mac Sledge is extraordinary. Heís not a violent drunkard down on his luck, but closer to Rick from Casablanca, who hides his darkened emotions inside, but starts to shine once again after finding love once more. Duvallís singing abilities which were done for real and not dubbed over also sound incredible in the few music portions of the film. Tess Harper also gives a wonderful subtle performance as the widowed mother, though she never really gets to show her more emotional moments like the character of Mac does. The other supporting characters of Brimley as Harry, Betty Buckley as Macís ex wife Dixie Scott, and Ellen Barkin as Macís estranged daughter Sue Anne also give fine performances even if their scenes are brief. The story is all about Macís struggle from being dumped at the bottom and working his way back up - not financially as before, but emotionally, as repairing his own heart is the first step to redeeming himself and eventually bringing back his soul into music again.

Tender Mercies is all about subtleties. Like a Yasujiro Ozu film itís about the little moments each character has. Whether it is Sonny asking simple questions about his father who died in Vietnam, Mac singing to himself, dinner scenes where no one is talking, or the little interactions between characters, the visuals never get in the way of the performances while still having a great visual style with the costumes, the colors, and the open landscape of rural Texas. But even with all the positives the film has going for it, it was finding an audience that was going against it. With a film that had country music, church, and rural Texas there were no distributors who were looking to touch it as marketing was difficult. Eventually Universal Pictures decided to distribute the film in the United States, but with poor test screening scores from audiences and no clear strategy on marketing, the film was dumped to three theaters on March 4th 1983 with no promotion. While it eventually expanded to 37 theaters, it never found an American audience in cinemas and was quickly sold off to the cable TV market. It came as a surprise to everyone when The Golden Globes and the Academy Awards nominated the film with five nominations each - with Best Song, Best Actor, Best Director, Best Picture overlapping, and Foote nominated for a screenplay Oscar and Harper for a Best Supporting Actor Golden Globe. Duvall won Best Actor at both ceremonies and Foote won Best Writing at the Academy Awards. With the awards giving interest in the film again, Universal tried to reissue it in theaters, but with cable TV promoting it heavily, the film became a ratings hit rather than a box office hit.

It was a slow journey for Tender Mercies to be produced and to find an audience, and should not go unnoticed as one of the best dramas of the 1980s. The film had a fair life on VHS and DVD, and now Umbrella Entertainment presents the film on a worthy Blu-ray edition in Australia.

Note this is a region ALL Blu-ray

Video


Umbrella Entertainment presents the film in the original theatrical 1.85:1 aspect ratio in 1080p in the MPEG-4 AVC codec. The film has been remastered and looks quite wonderful. Colors come off naturally with the browns, yellows of the landscape while the bolder vibrant greens, reds in the concert scenes and wardrobes look beautiful. The film is free of damage such as scratches and specs, while leaving a very healthy amount of film grain for a natural looking transfer. There is no noise reduction or digital artifacts present in the picture. Absolutely a fine transfer for the film.

The filmís runtime is 91:51.

Audio


English DTS-HD Master Audio 2.0 mono
The original mono track is presented in lossless mono and itís also a very good track. Dialogue, music, and effects are all well balanced with no issues of damage such as hisses or pops. Though there is one moment that seems to be an error. At around 27:26 iwhen Mac meets Harry outside the concert for the first time in the film, a few lines of dialogue are completely missing. The effects are present but the lines are completely missing. The lines are captioned in the subtitles yet not heard on the soundtrack.

There are optional English HoH subtitles in a white font for the film. The text is for some reason in ALL CAPS which makes it a bit hard to read. The song lyrics are also captioned.

Extras


Audio commentary by director Bruce Beresford
This commentary by the director seems to be a new exclusive as it hasnít appeared on any other home video release up to this point. With Beresford mentioning ďNo Country for Old MenĒ it must have been recorded within the last ten years. But was it really worth it? Beresford talks for roughly 30% of the runtime leaving dead spaces for much of the runtime, with most of the tidbits being already mentioned in the documentary on the disc. It would have been much better with a moderator or if they could have paired him with another person from the cast or crew.
in English Dolby Digital 2.0 with no subtitles

"Miracles and Mercies" documentary (33:19)
In this documentary produced by Blue Underground for the DVD release, it features interviews with Bruce Beresford, Robert Duvall, Horton Foote, Tess Harper, and Allan Hubbard along with clips from the film. Talked about are the trouble getting the production funded and distributed, the conflicts between Duvall and Bereford, the performances by the actors, the filming process, the grown up Hubbard on an unforgettable 10th birthday party, and much more. Itís an excellent documentary which doesnít shy away from the negative reactions and the behind the scenes troubles. The documentary has been upscaled from standard definition, most likely PAL master and so there is a bit of jerkiness to the picture.
in 720p AVC MPEG-4, in 1.75:1, in English Dolby Digital 2.0 with no subtitles

Theatrical Trailer (2:21)
The original American trailer is presented here.
in 720p AVC MPEG-4, in 1.75:1, in English Dolby Digital 2.0 with no subtitles


The film was previously released on Blu-ray in Scandinavia by Soul Media. Unfortunately it had no extras and it used a 25fps master for the transfer, which makes the Australian release the clear winner for the picture and extras.

Packaging


The cover art is reversible, with the opposite side being identical except the Australian PG rating logo removed from the other side. Also note the back of the case states region B, but is in fact a region ALL Blu-ray.

Overall


"Tender Mercies" is a wonderful drama of redemption with a mesmerizing performance by Duvall in the lead. It is a slow burning ride from start to finish yet it is an incredibly satisfying and pleasing work, and one of the best dramas of the decade. Umbrella Entertainmentís Blu-ray features a stellar picture, the excellent documentary, though the minor dialogue dropout and the barely-there audio commentary are questionable. Still comes as a recommended release, though hopefully Umbrella will fix the audio issue.
| | | | | |
| --- | --- | --- | --- | --- |
| The Film: A | Video: A | Audio: B+ | Extras: B- | Overall: B+ |