Venus
R1 - America - Wolfe Video
Review written by and copyright: Eric Cotenas (3rd September 2018).
The Film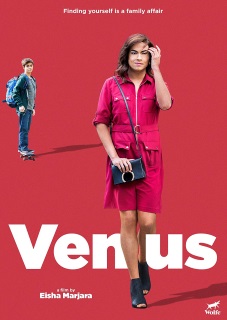 Although born in Canada, Hindi-Canadian Sid (Pottersville's Debargo Sanyal) nevertheless feels like an alien in his own skin ("My body is a costume I cannot take off"). Splitting his waking hours between living as a man at work and visiting his parents (Look Who's Talking's Zena Darawalla and My Beautiful Laundrette's Gordon Warnecke) – mamaji is still sure that his being gay is just a phase – and living as a woman at home and with married friends Sylvia (Judy Virago) and Mira (C.T. Thorne), Sid is about to start undergoing hormone treatments for a sex change operation when he is tracked down by fourteen year old Ralph (Game On's Jamie Mayers) who claims to be his son by high school friend Kirsten (Amber Goldfarb). Not getting along with his distant stepfather Max (The Five of Us' Peter Miller), Ralph thinks his father being transgender is "cool" and insinuates himself into his home and life. Sid's mother is upset when she discovers that her gay son plans to become a woman until she learns he has a son to carry on the family name and that Sid has gotten back together with handsome, clean-cut, and successful Daniel (Tom at the Farm's Pierre-Yves Cardinal) whereupon she cues "It's all so modern!" While not closeted from his family, Daniel is reluctant to transgender Sid to them, preferring to maintain a low-key relationship with him that is constantly disrupted by Ralph. When Daniel discovers that Ralph has actually not told his mother and stepfather about Sid and they have not been just putting off an official meeting, he brings Sid to the realization of the possible illegality of Sid's contact with his son and the devastation Sid's parents may face if Ralph's parents want him to have nothing to do with Sid.

Although this sort of Canadian take on Transamerica eschews that film's aggressive edginess in favor of light comedy and a greater sense of optimism about its contrived situation, Venus is at its most interesting in exploring the complexities and surface contradictions of Sid's developing sense of identity. While it may at first seem like an invented conflict to have Sid upset about his mother wanting to support financially and emotionally during his impending surgery, accusing her of only being able to accept him as a woman if gets the biological parts, his need to become a woman on a physical level is very much part of his own process and not to justify his identity to others; and it is to the credit of the film that this is not an issue between Sid and his semi-closeted boyfriend for all their other issues. While his son being cool with his transgender identity is the sort of acceptance he could use – from his own child even though he only just met him – the film does not depict Sid's annoyance at his mother's or co-workers' more fashionable acceptance play like a need to be on the outside but a realization that she might only be viewed positively as a representation of their "progressive" tolerance as transgender than as a woman without forgetting that others may identify as one, the other, or neither. Although helmed by documentarian Eisha Marjara (Desperately Seeking Helen) in her narrative feature debut, the film is not didactic in its exploration of transgender issues and has faith in its characterizations and performances to keep the audience interested in the story despite the overfamiliarity of some of its aspects while crediting the audience with the ability to interpret some of its more subtle events without direct comment; for instance, the disconcerting final scene which is disconcerting at first in an uncharacteristic action by a character who has been supportive which seems to have been done to nudge another character towards acceptance. In the niche of film festival-bound LGBT cinema, Venus skirts the mainstream without diluting its more serious concerns.

Video


Although the disc is virtually barebones, Wolfe affords this feature a high-bitrate, dual-layer encode that serves the clean digital photography nicely in both its bright exteriors and the lower lit interiors. The colors have a warm bias that is a stylistic choice and bursts of saturated color in the wardrobe.

Audio


Extras include a Dolby Digital 5.1 and 2.0 stereo mixes along with a descriptive audio track. The film's nature is such that the stereo track is not bad, although the 5.1 comes to life in some exteriors and a fantasy scene in which male Sid confronts his female self. As befitting an English-language film shot in Quebec, the disc not only offers English SDH subtitles but also a French track (both of which also translate some bits of Hindi).

Extras


Extras are surprisingly light, with the extremely short trio of interview exceprts seeming to point towards the film's social media presence for more context. Debargo Sanyal (0:40) discusses the joy of working with My Beautiful Laundrette's Warnecke, C.T. Thorne (0:45) discusses the director's approach to transgender issues, and Amber Goldfarb (0:31) discusses forming a bond with actor Mayers to make their mother-son relationship believable. The only other extras are the film's theatrical trailer (2:25) and other trailers.

Overall


Playing like a sort of Canadian Transamerica, Venus skirts mainstream comedy without diluting its more serious concerns.

---
DVD Compare is a participant in the Amazon Services LLC Associates Program and the Amazon Europe S.a.r.l. Associates Programme, an affiliate advertising program designed to provide a means for sites to earn advertising fees by advertising and linking to amazon.co.uk, amazon.com, amazon.ca, amazon.fr, and amazon.de.