Iris: The Movie AKA Airiseu: Deo mubi (Blu-ray) [Blu-ray]
Blu-ray B - United Kingdom - 88 Films
Review written by and copyright: Rick Curzon (2nd September 2018).
The Film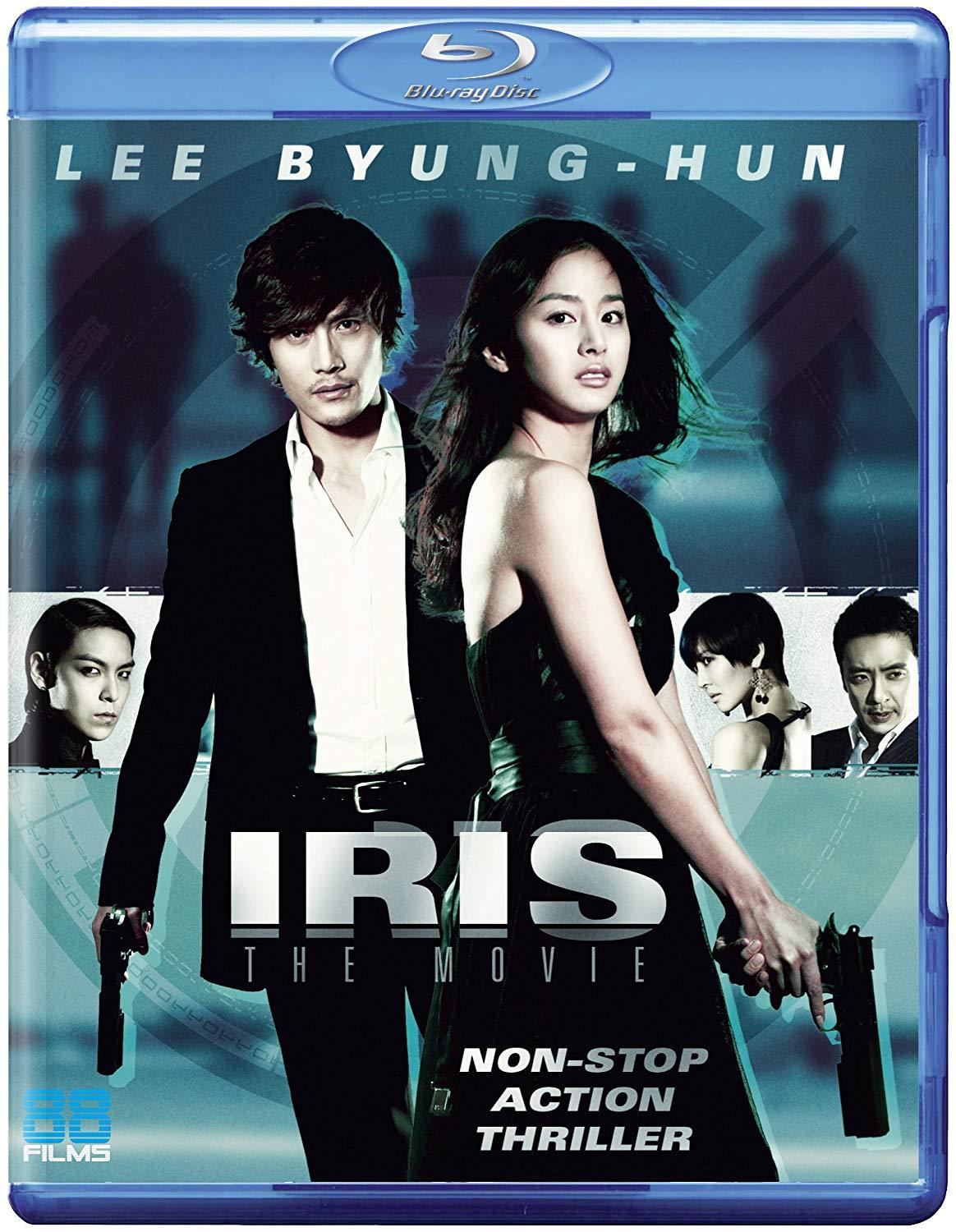 A whole continent was glued to the small screen when the hit South Korean television series IRIS made its prime time premiere! And now British viewers can experience the 2010 motion picture adaptation of this balls-to-the-wall action thriller in beautiful HD!! Featuring performances from Seoul superstars Lee Byung-hun (A BITTERSWEET LIFE), Jung Joon-ho (ANOTHER PUBLIC ENEMY) and T. O. P (the sex symbol rapper from Kpop chart toppers Big Bang), this rough edged tale of North vs. South military stand offs and a secret agency of bad ass license-to-kill fighters who have Kim Jong-un quaking is timely and terrific. As we all face nuclear annihilation in the Trump/ Pyongyang showdown at least enjoy the heart thumping fun of IRIS before the world comes to a crippling conclusion!

Video


This is what we call a fix-up film meaning itís constructed from episodes of a TV series. In this case Iris (2009), a 20-episode espionage series ... 20 one hour episodes. Thatís a lot of cutting. Additional new material was also shot specifically for this film. Itís an OK flick but it does feel bitty and the flashbacks feel glib, but theyíre cutdown from the longer episodes.

Iím guessing, but this feels like a digitally shot feature with a mostly rich colour palette, particularly in exteriors; it sports a matter of fact, naturalistic look. I prefer a natural but bright colour grade and am not keen on the desaturated look popular these days with horror-thrillers. Thereís no bleeding and the film has good colour values well displayed in this transfer.

We have good black levels, with no crush in daylight scenes; darker scenes have a muted low-contrast look with detail suffering occasionally although there is no major crush. The encoding is decent with darkness handled well. I couldnít detect any digital tinkering.

Contrast is decent and detail is present in close and medium shots and courser fabrics show texture. Skin has pleasing detail in closeups.

A fine transfer all round; fans should be happy and feel confident in picking this one up. I suspect owing to itís TV origins this is a 1080/50i release.

1080/50i / MPEG-4 AVC / 1.78:1 / 117:30 (4% speedup)

Audio


Korean DTS-HD Master Audio 5.1
Subtitles: English (optional)

A boisterous lossless 5.1 soundtrack most of the length with some good use of subtle separation in the more romantic scenes. The score has plenty of presence but doesnít get in the way of dialogue which is always crisp and easy to follow. Being a recent soundtrack there are no distortions and other issues that I could detect.

The DVD sound is a lossy version of the same, lacking in depth and fidelity when compared side by side. However, for a Dolby Digital track it gets the job done.

Extras


Nothing, no EPK, no trailers ... nowt except a slipcase.

Packaging


Standard 2-disc keepcase with a card slipcase.

Overall


A solid transfer of this fix-up film that condenses the 20 hour long Korean espionage tele-series; picture and sound are probably as good as can be so fans should be happy to have this for their home theatre. Sadly, there are no supplements.
| | | | | |
| --- | --- | --- | --- | --- |
| The Film: C | Video: A- | Audio: A | Extras: F | Overall: B |

---
DVD Compare is a participant in the Amazon Services LLC Associates Program and the Amazon Europe S.a.r.l. Associates Programme, an affiliate advertising program designed to provide a means for sites to earn advertising fees by advertising and linking to amazon.co.uk, amazon.com, amazon.ca, amazon.fr, and amazon.de.