The Film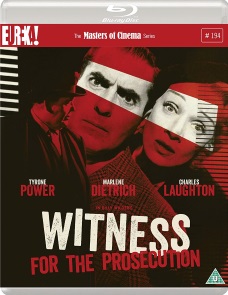 Oscar (Best Picture): Arthur Hornblow Jr. (nominated), Best Actor in a Leading Role: Charles Laughton (nominated), Best Actress in a Supporting Role: Elsa Lanchester (nominated), Best Director: Billy Wilder (nominated), Best Sound, Recording: Gordon Sawyer (nominated), and Best Film Editing: Daniel Mandell (nominated) - Academy Awards, 1958
Golden Globe (Best Supporting Actress): Elsa Lanchester (winner), Best Motion Picture - Drama (nominated), Best Actress - Drama: Marlene Dietrich (nominated), Best Actor - Drama: Charles Laughton (nominated), and Best Director: Billy Wilder (nominated) - Golden Globes, 1958
BAFTA Film Award (Best Foreign Actor): Charles Laughton (nominated) - BAFTA Awards, 1959

Just getting out of hospital after a heart attack that left him in coma for two months, barrister Sir Wilfrid Roberts (Mutiny on the Bounty's Charles Laughton) is under strict orders not to overexert himself. Under the watchful eye of henpecking nurse Miss Plimsoll (Murder by Death's Elsa Lanchester), he returns to his residence at the Inns of Court to find that longtime retainer Carter (THX 1138's Ian Wolfe) has lined up a roster of trying undemanding civil litigation cases. Just as he has resolved himself to Plimsoll's smothering care, he gets a surprise visit from solicitor Mayhew (The Body Snatcher's Henry Daniell) whose client Leonard Vole (Rawhide's Tyrone Power) stands accused of murder of wealthy widow Emily French (Strangers on a Train's Norma Varden) . A former American G.I., Vole has bounced from job to job, currently peddling a egg-beater of his own invention, when he met and befriended the older woman. His incredulity about the sort of assumptions that such a friendship would provoke seems naïve to Roberts and Mayhew, but the largely circumstantial evidence and the testimony of his wife seem encouraging as a defense; that is, until Roberts' recommended barrister stand-in Brogan-Moore (Dial M for Murder's John Williams) turns up with the news that Emily French had changed her will and named Vole the sole beneficiary of £80,000, and Chief Inspector Hearne (Love from a Stranger's Philip Tonge) turns up with a warrant for his arrest. The hits keep on coming when Vole's German wife Christine (Judgement at Nuremberg's Marlene Dietrich), no longer grateful for Vole getting her out of Germany through marriage, presents a more cynical picture of Vole's friendship with French and his general character, but seems perfectly willing to say what Vole and his defense team want her to say. Spurred by the challenge, Roberts decides to take the case himself against doctor's orders. As the days pass, Roberts pokes holes in the case brought by prosecutor Myers (The 7th Voyage of Sinbad's Torin Thatcher) – largely built upon the testimony of French's housekeeper and companion Janet MacKenzie (Bride of Frankenstein's Una O'Connor reprising her role from the Broadway production) who was once the widow's beneficiary – but the most damning testimony of all comes from the titular Witness for the Prosecution, and Roberts must delve deep to determine the motives behind that testimony and its veracity which would call into question all of his instincts about his client.

Based on Agatha Christie's hit 1953 stage play adaptation of her 1925 short story – as adapted by director Billy Wilder (The Private Life of Sherlock Holmes), Harry Kurnitz (Hatari), and Lawrence B. Marcus (The Stunt Man) – Witness for the Prosecution is the quintessential courtroom drama, spending roughly three quarters of its two hour running time cross-cutting between talking heads in a courtroom while remaining utterly compelling. The black-and-white, non-widescreen production and its faded star power might seem at first atypical of Wilder, belying the fact that it was shot in a $75,000 large scale reproduction of the Old Bailey with the usual behind the scenes issues and promotional ballyhoo (including agreements by the cast and crew, and later requests of the audience, not to spoil the ending). The understated quality, however, works in the film's favor with the emphasis on performance (and the "performance" of the characters in roles for effect) over spectacle in what would become branded the "courtroom drama," as a genre that was taken over by episodic television and movies of the week. Despite its stage success, Witness for the Prosecution has not been adapted as often as other Christie hits apart from a handful of early television adaptations – among them a 1982 version with Ralph Richardson, Deborah Kerr, Beau Bridges, and Diana Rigg that used as its adaptation source the screenplay for the Wilder version rather than the Christie original – but the BBC's horrid 2016 adaptation should not discourage viewers from checking out Wilder's version.

Video


Released theatrically by United Artists and on VHS by CBS/Fox in the United States and Warner in the UK, the 1.66:1 aspect ratio of the film meant that MGM recycled their laserdisc master for their letterboxed DVD in the and the (the latter as part of second volume of their Billy Wilder Collection sets). Kino Lorber released the film on Blu-ray in 2014 with only a short archival interview with Wilder, and a barebones edition followed in Australia from Umbrella Entertainment. Eureka's 1080p24 MPEG-4 AVC 1.66:1 widescreen transfer is a definite upgrade over the DVD editions but imperfect. A certain softness and graininess is apparent beyond the credits opticals for the first few minutes. Just as one has settled into the look, the image becomes sharper and fine detail makes itself apparent with the fine lines of Powers' suit more mesmerizing than his facial expressions during his first scenes. Blacks in shadows and wardrobe are deep and highlights never clip even at their most intense ("the monocle test"), and one gets the sense in the monochrome cinematography of Russell Harland (To Kill a Mockingbird) of the visuals having been scaled back in favor the sweaty intensity of performance.

Audio


The LPCM 2.0 mono track is clean and calls attention to the sparseness of scoring in favor of dialogue and some sound effects that have some surprising presence, with a few scenes like the bus station's background noises feeling like they have more depth than the courtroom crowd murmurs. Optional English SDH subtitles are included.

Extras


The extras start off with a new audio commentary by film historian Kat Ellinger of Diabolique Magazine and the Daughters of Darkness podcast in which she notes that the film marks the end of an era for Wilder in his switch from film noir to comedy, as well as being the last starring roles for Laughton (who died in 1962) and one of the last American films for Dietrich, and the last completed role for Power (who died suddenly the year after). She discusses Wilder's earlier Hollywood career as a screenwriter – and what he brought to both scripting and direction from working under Ernst Lubitsch – and that he still regarded himself as a writer after switching to directing after dissatisfaction with the treatment of his script for Hold Back the Dawn; whereupon Ellinger discusses Wilder's brand of adaptation that respected the source while sometimes radically reworking it (here, adding the nurse character and Roberts' heart condition among other bits). In touching upon the story of the film's origins in Dietrich bringing it to Wilder, she reveals that he was not the first director considered by producer Hornblow (despite their previous collaborations while Wilder was a screenwriter, as well as Wilder's directorial effort The Major and the Minor) who initially approached Joshua Logan (Picnic), and that Hornblow considered Ava Gardner (The Barefoot Contessa) and Rita Hayworth (The Lady from Shanghai) for the Dietrich role. In "Monocle and Cigars: Simon Callow on Charles Laughton in Billy Wilder's Witness for the Prosecution" (16:05), the author of Charles Laughton: A Difficult Actor contextualizes the film within a period in which the actor was reinvigorated, having directed Night of the Hunter, expanded his audience with the touring one man show Charles Laughton, Storyteller, and having come to terms with his homosexuality and met the love of his life (his marital feud with Lanchester had also cooled according to friends who had witnessed the worst of it through the years). In the interview with film scholar Neil Sinyard (24:33), Sinyard notes that the film tends to be sidelined in writing about Wilder's career as it came from a period of studio-hopping and "playing it safe" with adaptations after his long collaboration with screenwriter Charles Brackett (Sunset Boulevard) and his later major one with I.A.L. Diamond (Some Like It Hot). He also discusses Wilder's process of adaptation and notes some of the elements of the Christie play that must have appealed to Wilder, citing bits that may be callbacks while also suggesting that it paved the way for The Private Life of Sherlock Holmes. "Billy Wilder discussing Witness for the Prosecution with director Volker Schlöndorff" (13:37) is the third part of a three-part documentary, which finds Wilder in his office conversing with offscreen Schlöndorff in English, French, and German, covering some of the familiar aspects of the film's making with Dietrich bringing the property to him; however, most interesting is his contrasting Raymond Chandler as a highly descriptive writer and Christie as a skilled plotter with flat prose, and that there are two types of film: ones with a simple plot that allows for visual embellishment and ones with complex plots that need to be told simply and subtly to make them comprehensible. The disc also includes the film's theatrical trailer (3:05). Not provided for review are the reversible sleeve or the collector's booklet featuring new essays by film scholar Henry Miller and critic Philip Kemp, as well as reprint of a letter from Agatha Christie to Billy Wilder.

Overall