Frightmare AKA The Horror Star (Blu-ray) [Blu-ray]
Blu-ray ALL - United Kingdom - 88 Films
Review written by and copyright: Rick Curzon (11th September 2018).
The Film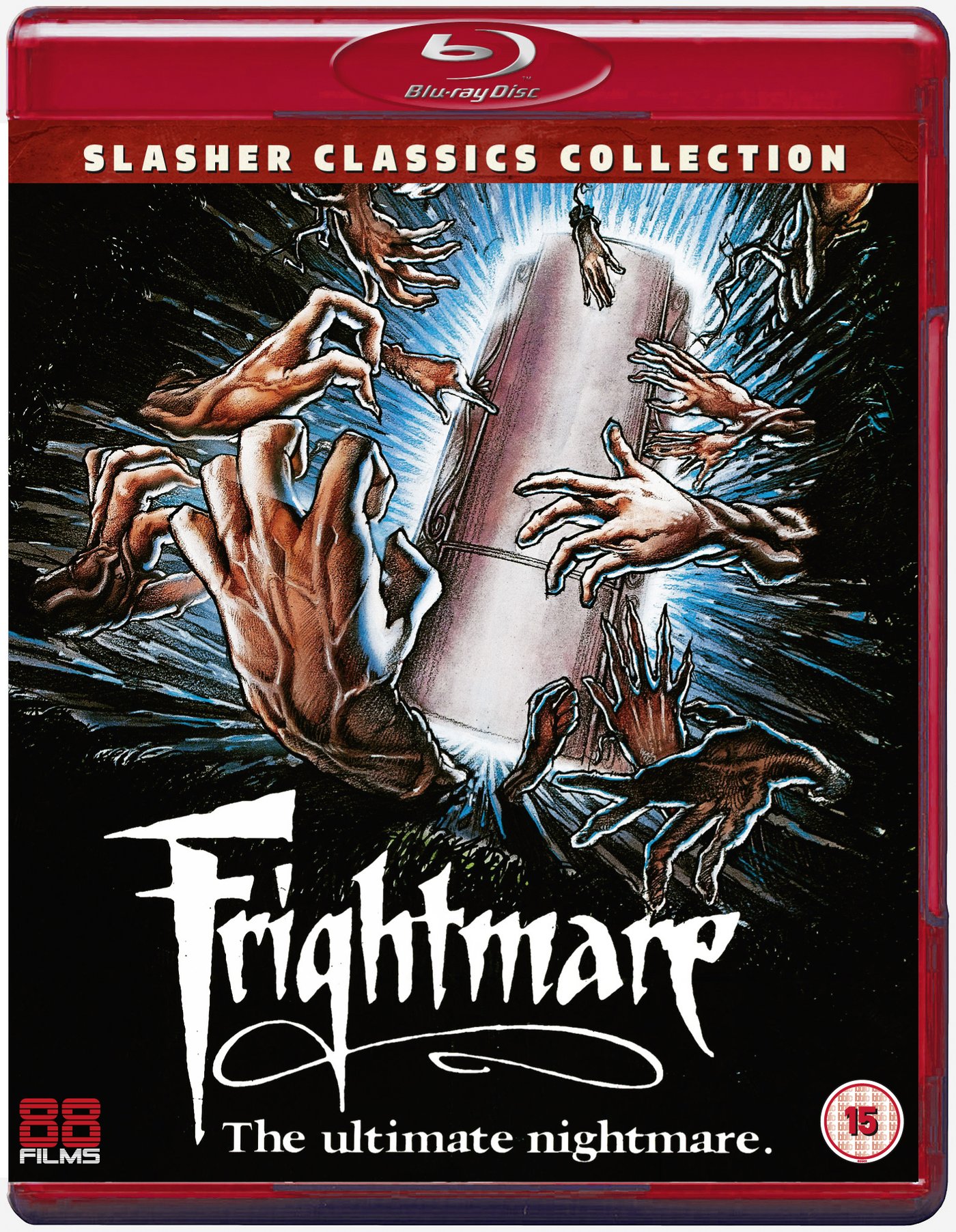 Also known as THE HORROR STAR, the 1983 [1981] cult creeper FRIGHTMARE offered audiences postmodern shocks long before Wes Craven gave us his game-changing SCREAM in 1996! An underrated and underseen gem, FRIGHTMARE tells of a celebration for a late, great horror star... only the actor in question might not be entirely dead and soon the participants at his supposed party are being picked off one by one! Highlighting a notable supporting performance Jeffrey Combs (RE-ANIMATOR) and assured direction from Norman Thaddeus Vane (who also worked on the X-rated cult favourite DRACULA SUCKS), this is one of the most stylish and sublime of all the eighties slice and dice horror-pack and 88 Films is thrilled to present FRIGHTMARE as part of its Slasher Classics collection!

Video


Past his prime star Conrad Radzoff (Ferdy Mayne) is reduced to doing a TV commercial, but he's had enough abuse from - and stages the death of - his rude, impatient director. He also contrives the death of an old colleague just before he himself dies of a heart attack.

For shits and giggles members of a local college's Horror Film Society steal his body from his mausoleum and pay the price because Conrad has come back from the dead!

This is a technically well made low budget oddity about ten years too late to cashin on the male hagsploitation cycle begat by Theatre of Blood (1973) and Madhouse (1974). The script is jumbled, nonsensical and the pace becomes very slow after a great opening. It picks up again for the final ten minutes and manages a couple of creepy moments along the way.

Mayne is having a blast in the kind of part Vincent Price made his own but the rest of the cast (including future genre stars Luca Bercovici and Jeffrey Combs) don't make much of an impression with some very stilted moments and some of the older ones chewing the scenery.

Watchable but very much a curate's egg.

This has a strong, rich colour palette that favours hotter colours with naturalistic Flesh tones. Much of the film is shot on exteriors and when well lit they look great with plenty of detail coming through. Interiors are also handled generally well with Black levels pleasingly deep and rich; crush is frequently present but is obviously a part of production conditions; this is a very low budget film, shot fast a dirty.

Contrast is par for the course for modern transfers avoiding blown out highlights; when this was put on VHS and Laserdisc back in the day the transfer would have been more contrasty to compensate for the lack of definition but here allows detail to show through nicely. This will never touch a new digitally shot production for textures but is still very pleasing and about as good as we can expect.

There little or no print damage, at least nothing stood out for me. Nor could I see any signs of digital tinkering like edge enhancement or DNR and The encoding and grain management are very good; 88 Films have done a bang up job, using the same master recently released by Vinegar Syndrome.

Fans will be bouncing with glee at this wonderful transfer of a fondly remembered B-movie.

1080/24p / MPEG-4 AVC / 1.78:1 / 86:46

Audio


English LPCM 2.0 Mono
Subtitles: English HoH

A solid mono track with no complaints. It has good base and clear presentation of the dialogue. Silence is well handled with no hiss distortions. The score by Jerry Moseley is enjoyably melodramatic and comes over very well never trampling on dialogue.

Extras


(1) Audio Interview with Norman Thaddeus-Vane

A vintage piece filled with trivia from the late director who has to have THE greatest name for a film director ever. He fills us all in on how he came to make the film etc.

(2) Audio Commentary by David De Coteau and David Del Valle
(3) Audio Commentary by The Hysteria Continues (Justin Kerswell, Joseph Henson, Nathan Johnson, and Erik Threlfall)
(4) Audio Commentary with Nathanial Thompson and Tim Greer

Spoilt for choice with three great commentary tracks; the historians track (De Coteau, Del Valle) is filled with plentiful info from a historical standpoint as well as some personal anecdotes. The Hysteria boys are on fine form and approach this from more of a nostalgia tinged point of view, as cinema goers and or being fans who rented the film on VHS. There's also plentiful infor on the film as well. The Thompson-Greer track is exclusive to this release and is more in line with the Hysteria Continues track, but Thompson is a dab hand at these tracks and is well known via his superb Mondo Digital website. All three tracks cover the same ground from slightly differing angles and are all well worth a listen. This film is copyrighted 1981 but didn't get a release till 1983 and we hear why.

"Bobo's Confession" interview with Scott Thompson (16:25)

An interview with one of the young leads who reflects on his experience making the film and where it sits with his career as a whole.

"Man with a Camera" interview with Joel King (21:21)

Interview with cinematographer King who did a superb job with little money and time, giving this little film a slick look.

Theatrical Trailer (1:28)

Cheesy early '80s trailer

Stills Gallery (2:04)

Nice collection of stills, posters and ephemera.

Reversible sleeve with choice of artworks and titles

It is what it is.

4-page liner notes leaflet "The Horror, the Horror: Mulling Over Frightmare" by Matty Budrewicz & Dave Wain

Another lovely essay which highlights the film's genesis and the authors personal responses to it.

Packaging


Blood-red Blu-ray Keep Case with a card sleeve.

Overall


A knockout release from 88 Films who are just getting better and better. The film itself isn't the best of it's kind but was a staple of VHS rental shops back in the day and as such has a firm place in the hearts of all those who encountered it back then. The excellent new master used for the US Vinegar Syndrome Blu-ray / DVD combo release is used for this and the encoding job done by 88 Films is up to the challenge; we have a low budget, grainy film with a slick look due to fine cinematography but no one is going to be upset with how good it looks here.

Another one knocked out of the part, well done. The price is right and the extras are fabulous with an excellent exclusive commentary track. Get it bought!
| | | | | |
| --- | --- | --- | --- | --- |
| The Film: C- | Video: A | Audio: A | Extras: A+ | Overall: A |

---
DVD Compare is a participant in the Amazon Services LLC Associates Program and the Amazon Europe S.a.r.l. Associates Programme, an affiliate advertising program designed to provide a means for sites to earn advertising fees by advertising and linking to amazon.co.uk, amazon.com, amazon.ca, amazon.fr, and amazon.de.