Born of Fire (Blu-ray) [Blu-ray]
Blu-ray ALL - United Kingdom - Powerhouse Films
Review written by and copyright: Rick Curzon (13th September 2018).
The Film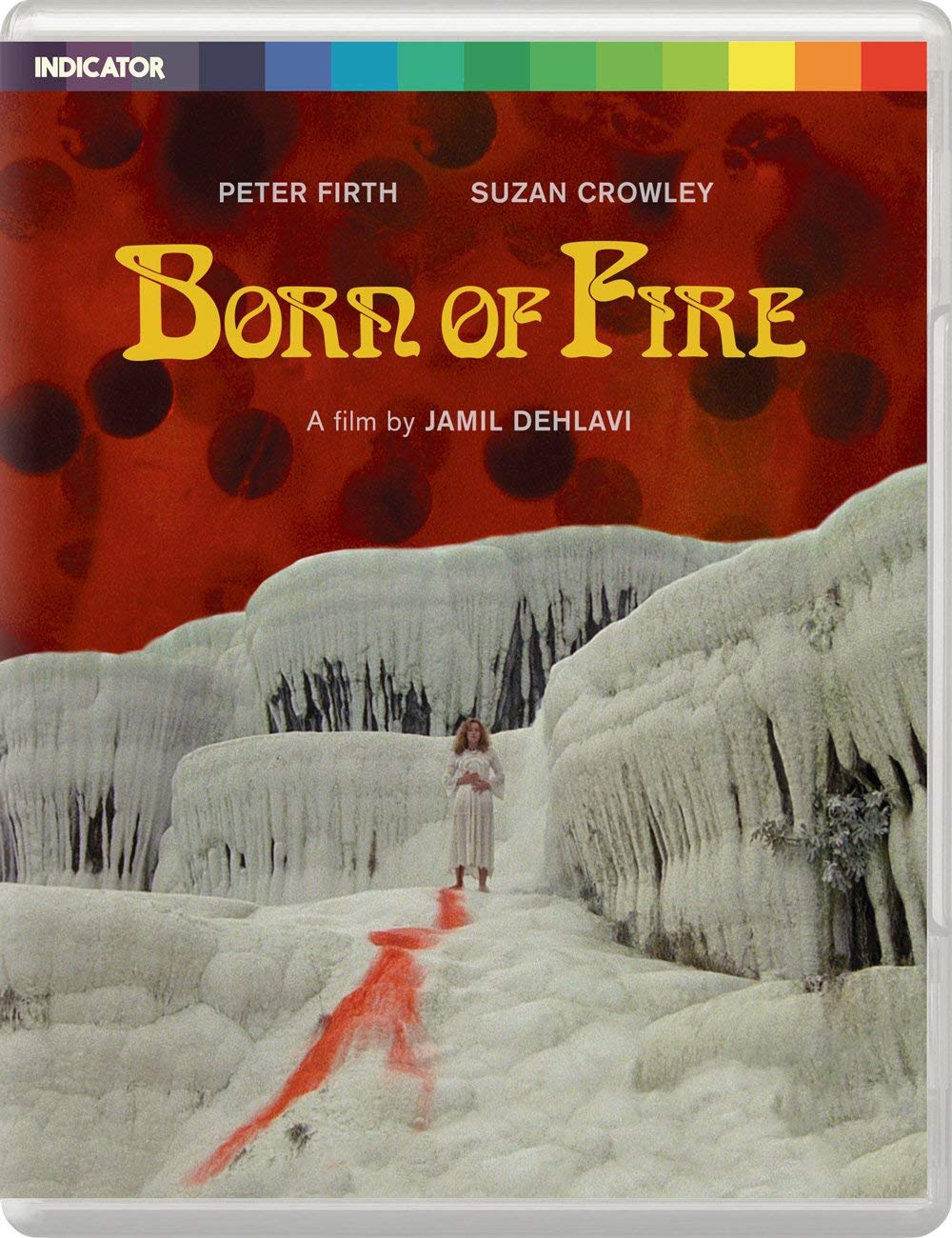 Following the mysterious death of his beloved father, classical musician Paul Bergson (Peter Firth, Equus, Tess, TV's Spooks) is haunted by visions and nightmares. With his lover (Suzan Crowley, The Devil Inside), he travels to remote Turkey on a quest to find The Master Musician, only to encounter a creature of unimaginable evil.

Steeped in mysticism and music, and mixing the avant-garde with supernatural fantasy, stunning visuals and a terrific score by Colin Towns, Born of Fire is a bold and poetic horror film from one of international cinema's great maverick talents.

Video


A flautist whose father stood up to and lost in an existential dual with the evil Master Musician in Turkey takes up the fight with his astronomer girlfriend; she believes that he wants to destroy the world!

I was never entirely sure exactly what the point of this was, but I didn't really care. It's such an interesting and beautiful film I found it fascinating from first frame to last. A mesmerizing, if baffling experience that gets a great HD transfer for the new UK Blu-ray from Powerhouse Films as part of their Indicator Series. I could see no signs of any digital tinkering so thankfully no DNR, edge enhancement, aliasing etc.

Colour values are rich but natural and this is very much a visual feast with flesh tones that are realistic and not too hot despite the warmer colour palettes being used. Black levels are deep and rich with absolutely no sign of crush; shadow detail is much in evidence. Contrast is perfectly balanced between night and day scenes and interiors and exteriors so no detail is lost due to blowouts. Textures in fabrics and faces are detailed with background detail also pleasing.

There is a healthy amount of fine grain throughout giving this a very film-like appearance; occasionally getting heavier in some slightly underexposed darker scenes. The encode is up to the usual high standards set by other Powerhouse releases.

1080/24p / MPEG-4 AVC / 1.85:1 / 83:35

Audio


English LPCM 1.0
Subtitles: English HoH

I was both surprised and not surprised to find this is a mono film. Not surprised becasue it's a low budget independent production so cost cutting, but surprised given that both the score by Colin Towns and the musical theme of the plot are crying out for stereo.

In any case, this is a superb' lossless mono track with good base and no distortions. Dialogue is always very clear and easy to hear. However, should you require it there are English Hard of Hearing subtitles.

Extras


"Qâf: The Sacred Mountain" 1985 short film (27:14)

Mesmerising short film culled from outtakes of the Turkish location shoot for Born of fire set to a splendid prog score with Tangerine Dream, Klaus Schultze and Popol Vuh.

"Playing with Fire: Jamil Dehlavi on Born of Fire" featurette (18:08)

Dehlavi is an interesting guy and he talks about his career, his other work and how Born of Fire came to be with the help of Film Four. The film production offshoot of Channel 4 TV here in the UK were responsible for backing many fascinating films but this one must take the cake as the most intellectually unusual that I've seen. We get comments on his approach to dealing with actors and his approaching to film making.

"The Silent One Speaks: Nabil Shaban on Born of Fire" featurette (34:39)

I've been a fan of Shaban since his appearance in the 1984 Doctor Who serial "Vengeance on Varos". An intelligent, articulate man; here he discusses his career and Born of Fire in detail.

"Born of Fire: Interview with Peter Firth" featurette (12:24)

This has been ported over from the old Mondo Macabro DVD (US R0) and is more career overview than too specific to Born of Fire.

"In Another World: Composer Colin Towns on Born of Fire" featurette (16:52)

Interview with the veteren composer about his career and specifically the scoring of Born of Fire.

US Trailer (1:28)

Good trailer focusing on the more conventional aspects of the story.

Born of Fire Location Photography (43 images)
Born of Fire Stills & Posters Gallery (17 images)

Extensive and satisfying collection of HD images.

36-page liner notes booklet by Dr Ali Nobil Ahmad, Raficq Abdulla, and Nabil Shaban, an overview of contemporary critical responses, and film credits

The usual superb collection of articles and vintage pieces. I say this every time, but Powerhouses' booklets really are the finest examples of this kind of extras; very much on a par with the booklets Arrow produces. Essential.

Overall


A wonderfully oblique and rarely revived fantasy has been given the deluxe treatment by Powerhouse Films. The old Mondo Macabro DVD was fine in it's day but this new rendering blows it away. Extras are extensive and are particularly interesting owing to the surreal nature of the film and really enhance appreciation. The transfer could only be bettered by a brand new 4K scan and a 4K UHD Blu-ray release.

Highly recommended and like most of the Indicator series releases a candidate for one of the discs of the year.
| | | | | |
| --- | --- | --- | --- | --- |
| The Film: A | Video: A+ | Audio: A+ | Extras: A+ | Overall: A+ |

---
DVD Compare is a participant in the Amazon Services LLC Associates Program and the Amazon Europe S.a.r.l. Associates Programme, an affiliate advertising program designed to provide a means for sites to earn advertising fees by advertising and linking to amazon.co.uk, amazon.com, amazon.ca, amazon.fr, and amazon.de.