Beast [Blu-ray]
Blu-ray A - America - Lions Gate Home Entertainment
Review written by and copyright: Eric Cotenas (15th September 2018).
The Film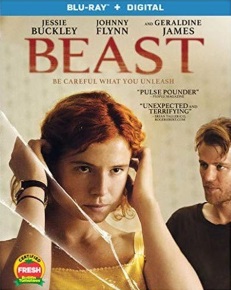 The youngest of three siblings, Moll (Jessie Buckley) is taken for granted by her brother Harrison (Death Comes to Pemberley's Oliver Maltman) to babysit his daughter Jade (Snow White and the Huntsman's Hattie Gotobed) when he works late, by her mother Hilary (Sherlock Holmes: Game of Shadows's Geraldine James) to take care of her father who is suffering from early onset dementia, and even overshadowed by her happily-married sister Polly (Shannon Tarbet) announcing at her birthday party that she is expecting twins. Fleeing the party, Moll meets a guy (Charley Palmer Rothwell) at the local nightclub, but his attempt to accost her on the beach at dawn is prevented by handsome poacher Pascal Renouf (Clouds of Sils Maria's Johnny Flynn). Although she knows nothing about him, Moll finds him even more attractive when her mother expresses her distaste for him, and she defiantly inflicts his company upon them as her guilt-tripping mother is too polite to make as scene even as Pascal thrills Moll with his outspokenness. When the body of a local teenage girl who went missing the night of Moll's birthday is discovered in a potato field, policeman friend and unrequited suitor Clifford (Anonymous' Trystan Gravelle) suspects Pascal of being responsible, telling Moll of past similar unsolved crimes on Jersey as well as Pascal's prison sentence at eighteen for an assault on a fourteen-year-old minor; however, Moll provides Pascal with an alibi for the night of the girl's disappearance. As Pascal opens up about his past, Moll reveals that she had been homeschooled by her mother after she was expelled for stabbing a schoolmate who was bullying her. She buys his explanation for his past crime but is deeply disturbed by his violence even as he comes to the rescue of a mentally-disabled immigrant farmworker who is another potential scapegoat of the local roughnecks for the unsolved murders. Moll is so besotted with Pascal that, when he is arrested and held over for thirty-six hours, she even takes additional probing questioning from mainland no-nonsense detective DCI Kelly (Mandy's Olwen Fouéré) after evidence calls her alibi for Pascal into question as an attack. As Moll finds herself ostracized by the villagers and forced to confront the question of whether she really believes Pascal is innocent or if she is blinded by her own resentment and anger.

When viewed with SDH subtitles turned on, "(Vocals fade into dissonance)" is an early caption and one that occurs in variations throughout the film; which oddly sums up the approach the film take towards telling what might have actually been a potentially interesting psychological thriller. The film is told from Moll's point-of-view in a sensory manner of the shallow-focus visuals of Benjamin Kracun (Hyena) and aural sequences where voices and other sounds give way to the film's dissonant and droning scoring of Jim Williams (Raw), with an emphasis both on the way she tunes out of mundane situations and the details she notices as she starts to build up a romanticized image of Pascal (including the ludicrous bit where him tracking dirt into her mother's house after doing odd jobs and lighting up a cigarette so stirs her). Unfortunately, this detached perspective of the protagonist abstracts Pascal as a series of contrasts and flattens every other character into how they incur her resentment while Moll's own character is such that the young talent Buckley does not so much create a cohesive characterization as hit the right notes for each scene handed to her. Even as Moll's character emerges layer upon layer, so much of what she does is contrived for drama, including visits to characters that are sure to result in drama (much of which aurally gives way to the scoring as anyone else but her screams or thrashes in her wake) or even seem "played" for dramatic effect, including a scene in which she buries herself in the shallow grave of the latest victim as if trying to empathize with her but finding herself unable to do so. At one point late in the film, it did seem to be moving towards something more intriguing as Moll seemed more desperate to see her own inner darkness reflected in Pascal, and even disillusioned in the face of incipient domesticity; but the film insists on taking the more predictable thriller path towards its unsatisfying denouement rather than something more ambiguous.

Video


Photographed with high-definition video, the film has a deliberately filtered (as in in-front-of-the-camera-lens) look that looks less cinematic but also not quite like a British television production, seeming appropriately dreamy with fine detail not a concern as the main character only seems as much aware of the broad strokes of her surroundings as she is its aural aspects.

Audio


The only audio track is an English DTS-HD Master Audio 5.1 track that is front-oriented during the many dialogue-dominated sequences until musical underscore takes over and opens up the soundstage in ways that only a few larger crowd scenes do in the film (many other scenes featuring extras are often depicted from Moll's perspective with sounds receding into underscore). Optional English SDH and Spanish subtitles are also included.

Extras


Extras are limited to "The Making of Beast" (7:29) in which actors Buckley and Flynn comment on their attraction to the script, feature debuting writer/director Michael Pearce waxes on about the importance of characters the audience cares about, producer Ivana MacKinnon (The Descent) talks up the casting of stars-in-the-making Buckley and Flynn, production designer Laura Ellis Cricks (Jet Trash) discusses the timelessness of the sets and locations, and cinematographer Kracun on the "twisted" fairy tale look of the film. "A Look at Beast" (5:46) is a behind the scenes photo gallery set to music. The disc also includes the film's theatrical trailer (2:28) and start-up trailers also accessible from the extras menu.

Overall




---
DVD Compare is a participant in the Amazon Services LLC Associates Program and the Amazon Europe S.a.r.l. Associates Programme, an affiliate advertising program designed to provide a means for sites to earn advertising fees by advertising and linking to amazon.co.uk, amazon.com, amazon.ca, amazon.fr, and amazon.de.