The Film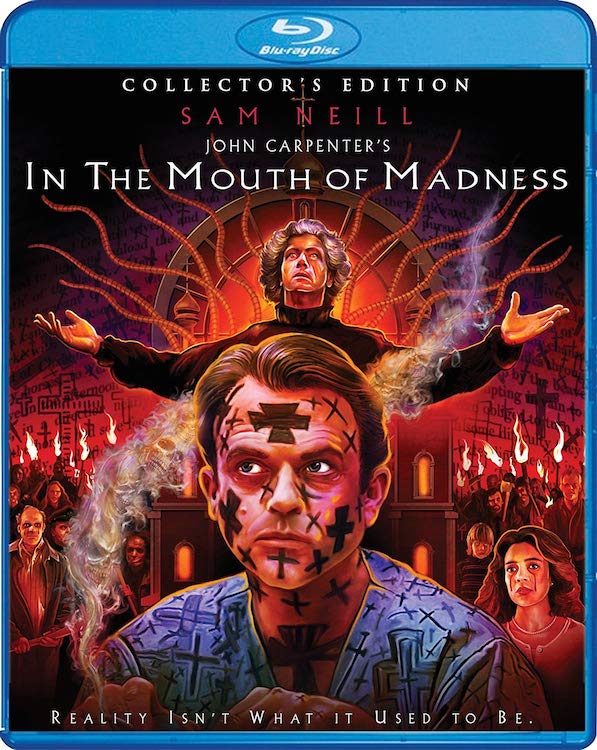 1995 was an interesting year for John Carpenter because, for many fans, this was the turning point in his career. Setting aside "Memoirs of an Invisible Man" (1992) – which is more like a side quest on his career path, since he was a director for hire – Carpenter had a near-perfect run of features beginning with "Assault on Precinct 13" (1976) and ending with "In the Mouth of Madness" (1994, but the U.S. release came in February 1995). Just two months later, his remake of "Village of the Damned" (1995) hit theaters and divided fan opinion like no film before it. For the record, I was an impossibly stoked 13-year-old in 1995 who saw both of these films in a theater – I loved them then; I love them now. My gripes with Carpenter came the following year with "Escape from L.A." (1996). Point being, most of his fans will agree there is little fat to cut over that 18-year period.

"In the Mouth of Madness" ("ITMOM") completed Carpenter's unofficial Apocalypse Trilogy, which began with "The Thing" (1982) and continued with "Prince of Darkness" (1987). Fittingly, "ITMOM" amalgamates the previous two features in many ways, presenting a story heavily inspired by the works of H.P. Lovecraft, with numerous twisted creatures, Old Ones from another dimension, bent religion, and psychological torment. These elements combined with Carpenter's storytelling hallmarks – claustrophobia, dread, isolation, ambiguity – are what makes "ITMOM" not only one of the best horror films of the 90's but one of the best in Carpenter's career.

A stark-raving John Trent (Sam Neill) is admitted to a mental hospital and quickly sedated. The next day, as an unexplained catastrophe occurs on the outside, Dr. Wren (David Warner) visits John to hear his story. Before his breakdown John was an insurance investigator who agreed to take on a huge claim filed by Arcane Publishing. Just as he accepts the offer, a man with bloodshot eyes and an axe smashes the window of the eatery, hops up on the table, and asks John, "Do you read Sutter Cane?", before being shot dead. It is later revealed that man was Cane's literary agent. A meeting with Arcane's publishing director, Jackson Harglow (Charlton Heston), reveals Cane disappeared not long after sending a few chapters of his latest manuscript to his agent, who subsequently went crazy. John is tasked with finding Cane and the completed manuscript. Cane is the biggest author in the world, infinitely more popular than Stephen King, and fans will go mad if his latest novel isn't released on time.

John is paired up with Cane's editor, Linda Styles (Julie Carmen), who admits this disappearance was initially a publicity stunt gone awry. After noticing red outlines on the covers of Cane's books, John begins dissecting each one and piecing them together, which reveals a hidden map of New Hampshire and the location of Hobb's End, a fictional town in Cane's universe. John and Linda drive toward the rumored location, crossing over both time and place via a country bridge, suddenly popping up in the heretofore faux location. John is initially excited, while Linda is cautious. This place should not exist. Even stranger, it exists exactly as Cane wrote it… right down to the actions of its inhabitants. As John and Linda settle into town and begin to investigate Cane's surroundings, it becomes alarmingly clear their autonomy has been robbed via Cane's supernatural literary powers… and whatever things are imbuing him with such otherworldly abilities want to be set free upon the world proper.

I can't praise this film enough. Carpenter's vision of Cane's madness is positively terrifying, and once the film begins to confuse its leads with time warps and metaphysical mental gymnastics the game feels even graver. John Trent is presented to viewers initially as a raving madman, but cutting back to a few weeks (?) prior he is acutely tuned in and completely competent; nothing at all like the man we first met. Carpenter does so well in selling Trent's descent into madness it's palpable; even as a viewer, sorting fact from fiction is impossible. No wonder he lost his mind. Casting is, as expected, strong across the board. Jürgen Prochnow is steely and commanding. Julie Carmen is cryptic and sensual. And of course, Charlton Heston, who brings with him gravitas and a touch of classic Hollywood.

Two more quick praises: KNB delivers a wretched roster of FX work, from make-up applications to miniatures, stop-motion, and full-scale monstrosities. This was the first time the company had worked with Carpenter, and the collaboration between the two yields incredible, inhuman terrors. This is also one of Carpenter's last great film scores. The main theme is a rockin' good time while the majority of the film is full of eerie cues and dreadful atmosphere.

Video


After previously being issued by WB, Scream Factory has gone back to the well and sourced a new 4K scan from the original camera negative. Variations between the two transfers is minimal – the WB release is no slouch – though Scream gets the slight edge for presenting a color timing that looks a bit more authentic to the theatrical release. Color temperature is slightly cooler, which allows for elements like book pages to look more white than warm. Saturation is rich across the board. Black levels are deep and abyssal. Fine detail is exquisite. This is certainly one of the better offerings from Scream Factory; no doubt due to the use of the original negative instead of the usual interpositive source.

Audio


The English DTS-HD Master Audio 5.1 surround sound track is equal to its WB counterpart. Carpenter's score is booming, delivering a roaring audible experience right from the start. Bass is supportive and rich, rumbling with clear intensity. Dialogue is prioritized in the mix and never lost among the shuffle of sound effects and score. Crank this one up to 11 and get immersed in Cane's world. Subtitles are available in English.

Extras


There are two audio commentary tracks – the first, a new recording featuring John Carpenter and producer Sandy King, moderated by Sean Clark; the second audio commentary is a legacy track with John Carpenter and cinematographer Gary Kibbe.

A new episode of "Horror's Hallowed Grounds" (1080p) offers a look back at the filming locations, with hilarious recreations from host Sean Clark.

"The Whisperer of the Dark" (1080p) featurette runs for 9 minutes and 46 seconds, this is an interview with actress Julie Carmen, who covers the standard bases regarding her involvement in the film.

"Greg Nicotero's Things in the Basement" (1080p) featurette runs for 16 minutes and 34 seconds, the FX guru breaks down all of the film's artistry, from facial appliances and miniatures to stop-motion and more.

"Home Movies from Hobb's End" (SD) featurette runs for 12 minutes and 7 seconds, see some old camcorder footage of Nicotero's creations being brought to life. This is shot fly-on-the-wall style, offering a raw glimpse behind-the-scenes.

"Vintage Featurette – The Making of In the Mouth of Madness" (SD) featurette runs for 5 minutes and 2 seconds, the music in this program is VERY LOUD but otherwise this standard EPK kinda made me nostalgic for this very type of insider look. Old EPKs and featurettes are fun to watch.

A theatrical trailer (SD) runs for 1 minute and 46 seconds.

15 (!) TV spots (SD) run for a total of 9 minutes and 34 seconds.

Packaging


The single BD-50 is housed in a standard Blu-ray keep case. The cover art is reversible, and a slip-cover is included featuring the new artwork.

Overall


"ITMOM" isn't just Carpenter's best film of the 90's, but it's among the best in an already-stellar career. This is a master at work, firing on all cylinders, with a decent budget, and he knocks it out of the park. Scream Factory's Blu-ray is equal to WB's disc in the a/v department but the excellent bonus features offered here make this one worth the upgrade.
| | | | | |
| --- | --- | --- | --- | --- |
| The Film: A | Video: A | Audio: A+ | Extras: A | Overall: A |