The Film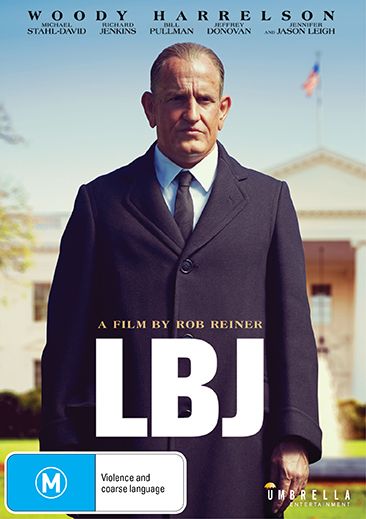 "LBJ" (2016)

Texas Senator and Democratic part leader Lyndon Johnson (played by Woody Harrelson) unsuccessfully ran for President in 1960, but was given an opportunity by popular young candidate John F. Kennedy (played by Jeffrey Donovan) to be his vice presidential running mate. Kennedy saw Johnson as a key to clinching the southern vote - a man strong and stubborn with conviction and with political power. A rejuvenated campaign successfully placed Kennedy in the White House with Johnson by his side, but power and politics as well as family would place Johnson in an uncomfortable position throughout the years, and with the assassination of Kennedy in 1963, Johnson's force upon role as President would take a greater meaning in uniting a torn country.

Lyndon B. Johnson's story is a lengthy and complex tale. Born on August 27, 1908 in Stonewall, Texas, he would first take an elected position as a Congressman in 1937, onto becoming a Senator in 1948, who although was a Democrat had strong southern conservative values. His foul mouthed tirades and bragging of his penis size were just as well known as the policies he supported - from civil rights and voting rights reforms. But controversially he is also known as the President who escalated the American involvement in the Vietnam War. A complex man makes a complex biographical film, and surprisingly two feature length films were made in 2016 about Lyndon Johnson - the HBO TV film "All the Way" starring Bryan Cranston as Johnson, and "LBJ" starring Woody Harrelson as Johnson and directed by Rob Reiner. While "All the Way" looked at Johnson's Presidency, "LBJ" looked at the lead up to his seat as the President.

Structurally the film is told through flashbacks. The main structure is from the fateful day of the JFK assassination, with the flashbacks spread throughout, with the earliest being the 1960 presidential run. The flashbacks are in linear order, from Johnson reluctantly running for President, his relationship with wife Lady Bird (played by Jennifer Jason Leigh) who stood firmly by his side, to his confrontational relationship with Bobby Kennedy (played by Michael Stahl-David). In addition the cast is made up of very well established fine actors, with Richard Jenkins as Senator Richard Russell and Bill Pullman as Senator Ralph Yarborough in supporting roles. Performances from the actors are quite good, and while Harrelson looks nothing like and sounds nothing like Johnson, the quite well done make-up effects transformed the actor into Johnson with the nose, the wig, and overall stature. Unfortunately voice wise, he still sounds like Harrelson and for some it might be hard to shake the image off.

Performances aside, the overall film is somewhat on the lacking side. It does focus a lot on dialogue and Johnson's change during the time served with Kennedy that shaped his presidency eventually, it does not have much depth in Johnson's personal turmoil and his political stance in his earlier days - although some things are hinted at or mentioned in a few flashback scenes. The fairly short 97 minute runtime makes it hard to cram the emotional depth and changes throughout the years and this might have worked better as a mini series rather than a standalone feature film. Director Rob Reiner has stated that as a youth he was very against Johnson's politics especially with his stance on the war. For him to take on a script about Johnson might have been a very unusual challenge, but he stated that as he grew older, studied more about the man's life that he saw a much deeper and divided man rather than the image seen while he was in office. Harrelson was also reluctant to play the role due to his own political ideals, but with Reiner's insistance, he signed on immediately to work with the director. Reiner has made some great political thrillers and dramas over the years, but"LBJ" doesn't quite fit into the same league due to its lack of emotional depth. It has its moments, but overall it feels like a fairly standard biopic film.

The film made its premiere on September 9, 2016 at the Toronto International Film Festival. The $20 million production secured theatrical distribution in the United States from Electric Entertainment, and released just over a year later on November 3, 2017. With a limited release, the film only made $2.5 million theatrically.

Note this is a region 0 NTSC DVD

Video


Umbrella Entertainment presents the film in the 1.78:1 aspect ratio with anamorphic enhancement in the NTSC format. The transfer is slightly windowboxed with thin black bars on all four sides. Being a recent film shot and edited digitally, the film looks very good, with warm skin tones and an overall brown color palate. Colors are well balanced with no off putting digital enhancements or errors.

The film's runtime is 97:01


Audio


English Dolby Digital 5.1
The original 5.1 soundtrack is offered, though it is a very subtle track with little work from the surround speakers. It is mostly a talky film with dialogue coming from the center speaker, with sparse moments of music or effects used for the surroundings. The dialogue track is a little low, but other than that there are no major issues being well balanced and easy to hear.

There are optional English HoH subtitles offered for the film, in a yellow font.

Extras


No extras are provided on the disc.

The trailer, courtesy of Umbrella Entertainment has been embedded below:


Packaging


The package states the DVD is region 4 only, but is actually region 0.

Overall


"LBJ" was fairly neglected in its theatrical run even with its strong performances by the ensemble cast, though it is slightly lacking in emotional depth. The Umbrella Entertainment DVD gives a good presentation, but unfortunately with no extras.
| | | | | |
| --- | --- | --- | --- | --- |
| The Film: C+ | Video: A | Audio: B | Extras: F- | Overall: C+ |