The Film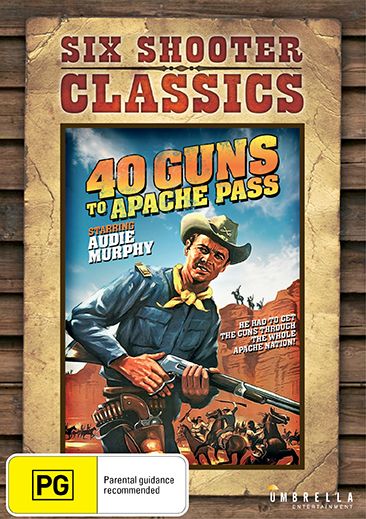 "40 Guns to Apache Pass" (1967)

It is 1869 in the Arizona Territory. Captain Bruce Coburn (played by Audie Murphy) and his Army soldiers are rounding up as many white settlers to a safer area as possible, as the Apaches led by Cochise Michael Keep) vows to kill any white settlers in order to reclaim the land. Coburn is ready to protect everyone at all costs, and that also means pushing his soldiers to the limits, which results in confrontations with Corporal Bodine (played by Kenneth Tobey) including an all out brawl between the men. He also vows to his love Ellen (played by Laraine Stephens) that he would protect her younger brothers Doug (played by Michael Burns) and Mike (played by Michael Blodgett) on the front lines. But when Ellen's father is gunned down, Mike is captured, and Doug goes AWOL, Coburn's reputation and his heart take the toll...

"40 Guns to Apache Pass" may have been released in 1967, but it sure doesn't feel like it. It is closer to the productions of John Wayne or Randolph Scott from the 1940s and 1950s rather than a late 60s work, at a time when the European produced westerns pushed for violence rather than the family friendly nature of the American western genre. "40 Guns to Apache Pass" was directed by William Witney, known for hundreds of television works in the western genre such as "Zorro" and "Bonanza", and the production feels like an extended television show. There is a little more theatrical blood and violence than seen on television, though not to the level of the European western genre. The plot is fairly simple and straightforward, with clear images of good vs. evil, some twists and turns, emotional distress, plus a good amount of fights with gun battles, fist punches, and horseback riding. All the basic ingredients for a standard western story. Unfortunately that is what holds the film back from the ranks - it doesn't do anything particularly special to raise it to the pantheon of great westerns. It was made when B-westerns were fading out from cinema and the genre was dying out in America.

Main star Audie Murphy was not only a decorated captain in the film, but was also a real life military hero receiving 33 awards including the Medal of Honor for his services in World War II. His life turned to Hollywood as he appeared in acclaimed westerns such as "The Cimarron Kid" (1952) and even playing himself in "To Hell and Back" (1955), based on his biography of his war experiences. "40 Guns to Apache Pass" would be his final lead role, only to be followed by a co-starring role playing Jesse James in "A Time for Dying" (1969), directed by western legend Budd Boetticher, also his last feature film due to retirement. Murphy was killed in a plane crash on May 28th 1971, at the age of 45.

Filmed entirely on location, the fairly low budget $400,000 production was first released in cinemas on May 1, 1967. It was not exactly a blockbuster for distributor Columbia Pictures, and unfortunately forgotten over time. It never received a DVD release in America, though DVD releases have been available in Japan, Spain and France. Umbrella Entertainment's DVD release presents the first time the film has been released in an English speaking country.

Note this is a region 0 NTSC DVD

Video


Umbrella Entertainment presents the film in the 1.78:1 aspect ratio with anamorphic enhancement in the NTSC format. The film was originally screened at 1.85:1, so this transfer seems to be slightly opened up on the top and bottom, close to the original widescreen framing. The transfer looks fairly good with minimal instances of damage, though there are a few specs here and there on close inspection. Colors look close to a television production of the era, looking slightly faded. Skies are closer to grey than they are blue, and skin tones are slightly pale, but on the brighter side the transfer is consistent, there are no issues of digital enhancement or major damage to the picture.


Audio


English Dolby Digital 2.0 mono
The original mono track is very good, with a clean sound free of pops and cracks, music sounding well balanced, and dialogue always intelligible. With some of the location recording, there can be some hiss with the dialogue track but nothing particularly distracting.

There are no subtitles offered for the film.

Extras


Unfortunately there are no extras on the disc.

Sony Pictures uploaded a "trailer" on YouTube but this is in fact a clip rather than a trailer, though the transfer seems to be on par with this Umbrella DVD.


The original trailer is here, in low quality:


Packaging


This is part of the "Six Shooter Classics" range from Umbrella Entertainment.
The package states region 4 but it is actually a region 0 DVD.

Overall


"40 Guns to Apache Pass" is a good old fashioned western from a bygone era made at a time when the genre was fading away. It is a very enjoyable piece of work but not exactly a lost masterwork. Umbrella Entertainment gives the film a good transfer, but sadly without extras.
| | | | | |
| --- | --- | --- | --- | --- |
| The Film: B- | Video: B | Audio: A- | Extras: F- | Overall: B- |