The Film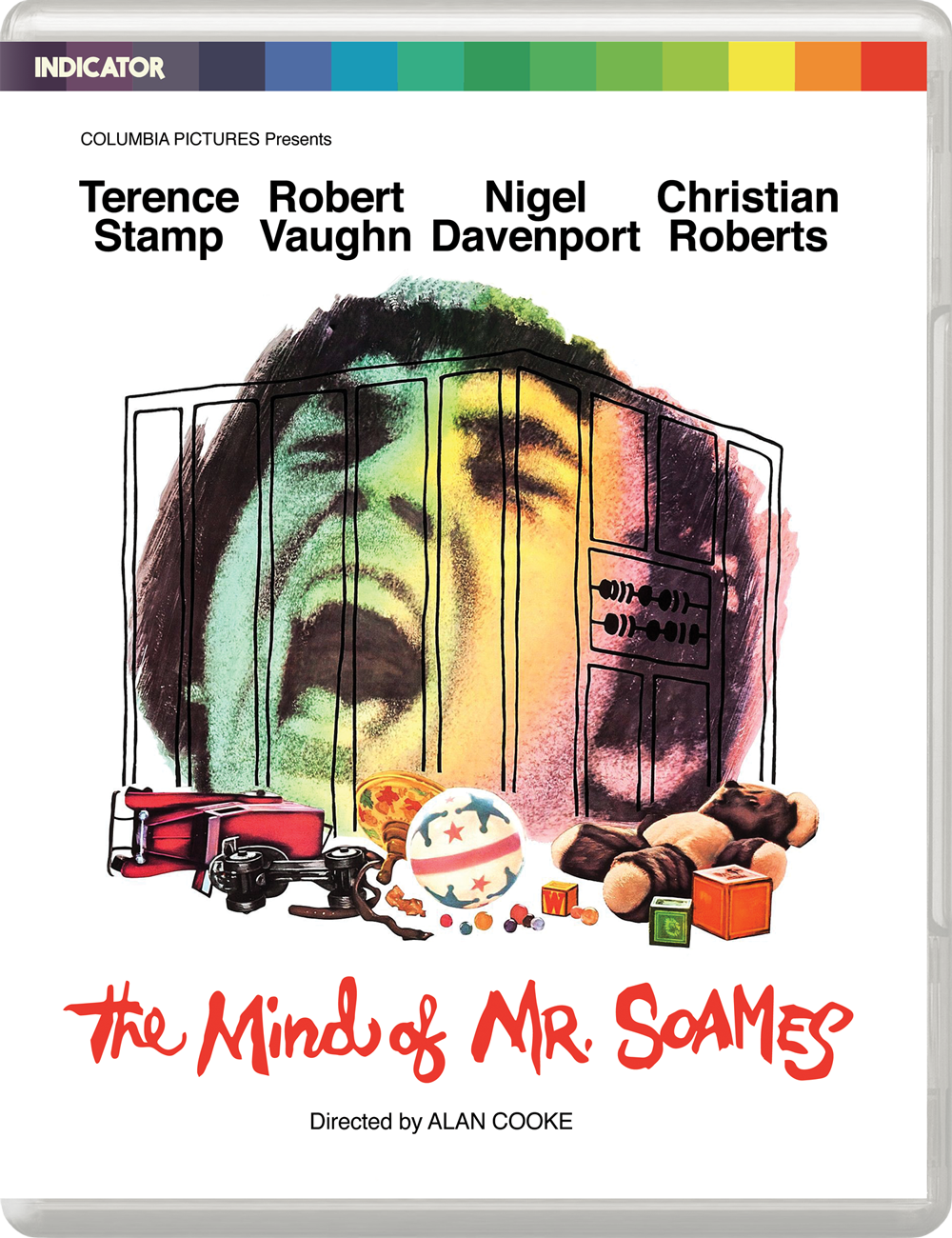 Based on a best-selling novel by Charles Eric Maine, Amicus Productions' The Mind of Mr. Soames is a contemporary reworking of the Frankenstein story. Terence Stamp (The Collector, Far from the Madding Crowd) is a young man left comatose from birth, who is awakened live on TV into a world he can't comprehend, and exploited as a living curiosity.

Remarkably prescient in its depiction of reality television and media turpitude, the film also boasts a superb supporting cast, including Robert Vaughn, Nigel Davenport, Christian Roberts, Donal Donnelly and Vickery Turner, and features luminous cinematography by the great Billy Williams (Women in Love, The Wind and the Lion, Gandhi).

Video


A thirty year old man who has been in a coma since birth (Terence Stamp) is being rehabilitated and educated by two scientists (Robert Vaughn, Nigel Davenport) but they have two conflicting approaches and this starts to cause problems. This is a compelling, thoroughly intelligent film; very well acted by everyone with Stamp understandably taking the centre stage creating a thoroughly believable, empathic performance as the title character. He alone raises the level of this deeply flawed film albeit with able help support from Alan Cooke's excellent direction.

Sadly, and I can't comment on the 1961 novel on which this is based and how accurate to that this film is. The script is unconvincing; it relies on occasional lazy writing, for instance the scene on the train with Pamela Moiseiwitsch and the sequence with Judy Parfitt are good examples of rushed, il-thought through sequences designed to make points but handled in a clunky way. I think to completely work, this concept would be better served by a multipart TV serial.

One of the rarest of Amicus productions and one of the most intelligent; I suspect Milton Subotsky had hopes of making an Oscar-worthy film. Sadly, the script doesn't cut it but partially that's down to out dated qualities. Still, this is a worthy, fascinating film that always maintains interest and has superb performances from all concerned and is very well shot (by Billy Williams) and directed (Allan Cooke).

The image is typical of a UK-lensed production done on a relatively low budget. Locations are colourful, grainy and with a certain gritty edge; studio work is slick with much finer grain. Grain is ever present and is at it's coarsest in darker interiors but is also noticeable in some exterior shots usually involving blue skies. Black levels are rich and deep with no signs of crush.

Contrast is good and doesn't allow for blown out whites or eclipsing detail. There are no signs of digital artefacts and I could see no signs of print damage beyond the odd density change usually during fades or process shots The encoding is superb; up to the usual high standards established by Powerhouse's other Indicator releases.

This is about as good as we can hope for short of a 4K UMD disc and a brand new 2018 transfer. We have a generous bitrate and a BD50 disc so plenty of room for the transfer to breath.


1080/24p / MPEG-4 AVC / 1.85:1 / 96:27

Audio


English LPCM 1.0
Subtitles: English HoH

The audio is a fine lossless rendering of a limited mono source. There are no issues that I could detect with dialogue coming through nice and clear and no distortions at the higher end. This being a dialogue heavy film the subtitles are very useful and welcome.

Extras


Audio commentary with Kevin Lyons and Jonathan Rigby

Chatty, breezy, knowledgable commentary track from two old pros. I'm less familiar with Lyons but am aware of his website The Encyclopaedia of Fantasy Film and Television and have seen his name elsewhere. Rigby's been appearing on extras and commentaries for nigh on twenty years and his books on Gothic Cinema are must reading. I know for a fact Rigby was doing lots of research for this track several months ago and was attempting to identify the actress with the child on the plane with vaughn but wasn't able to. However, this track covers just about every facet of this rarely seen Amicus film that could wish for.

"The Mind of Mr Stamp: An Interview with Terence Stamp" featurette (18:51)

Obvious recorded at the same time as his interview on The Collector (1965) disc this is another wide ranging discussion covering this film and touching other facets of his career and relationships with others. Nothing is said about Soames specifically.

"Memories of Mr. Soames" featurette (4:57)

Christian Roberts on the film and his role as the slimy, go-getting TV producer. He covers how he got the role and what it was like working on the set. His career is also touched on.

Theatrical trailer (2:40)

Cheesy trailer emphasising the concept, the cast and showing lots of dramatic highlights.

The Mind of Mr. Soames Image gallery: Original Promotional Material (76 images)

Decent little image gallery with plenty of intrigung images. When Stamp glowers he looks hard enough to roller skate on!

36-page liner notes booklet by Laura Mayne, contemporary interviews with Terrance Stamp, Nigel Davenport and Robert Vaughn, profiles of cinematographer Billy Williams and writer David McIlwain, contemporary critical responses, and film credits

The usual high class Indicator booklet which is always worth the price of the disc by itself. Laura Mayne's piece covers the adaptation from the book to screenplay, the similarities with Flowers for Algernon (filmed as Charlie), the influence of Frankenstein and delves into the careers of Allan Cooke. The vintage interviews are valuable for not only content reasons but also for the fact both Davenport and Vaughn are no longer with us.

Overall


One of the rarest of Amicus productions and being a fan of the company I was thrilled to be able to see this relic of it's era that just doesn't seem to turn up in the public eye very often. In any case this is a first rate transfer that maintains the look of the film well; image and sound are as good as can be and faithful to the theatrical appearance with no attempts to scrub away grain. Speaking as an Amicus buff this HAS to be one of THE discs of the year.
| | | | | |
| --- | --- | --- | --- | --- |
| The Film: B- | Video: A+ | Audio: A+ | Extras: A | Overall: A |