The Film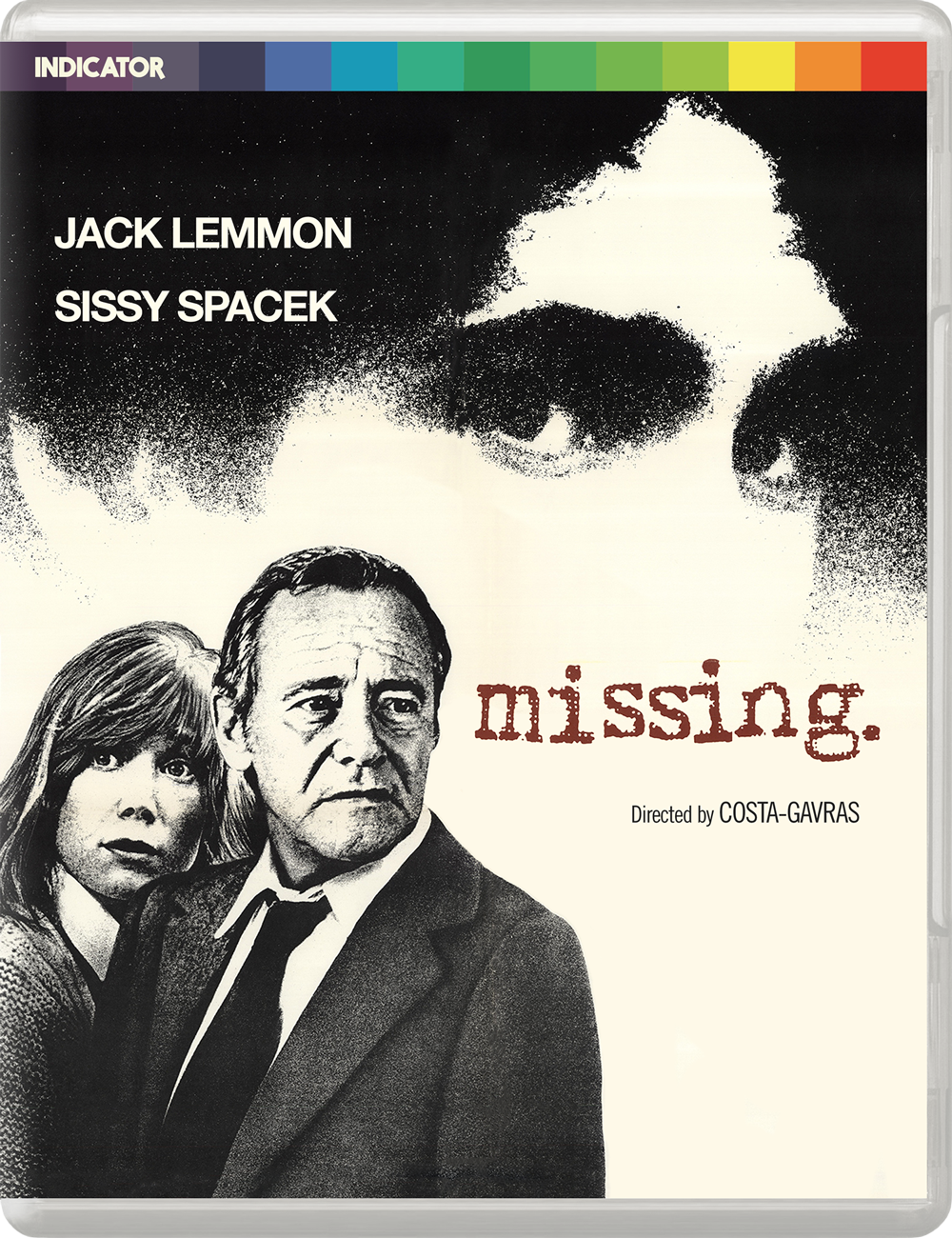 This tense real-life political drama about the 1973 kidnap and murder in Chile of young American journalist Charles Horman, directed by provocateur Costa-Gavras (Z, State of Siege, Betrayal), follows the efforts of the journalist's wife (Sissy Spacek - Carrie, The Coal Miner's Daughter) and father (Jack Lemmon - Some Like It Hot, The China Syndrome) to uncover the crime and bring those responsible to justice. Causing controversy upon its release (prompting the US government to condemn the film), this powerful indictment of US foreign policy went on to win an Academy Award® for Best Adapted Screenplay, as well as nominations for Best Actor, Best Actress and Best Picture.

Video


I believe this to be one of the finest American films of the '80s that I've seen and significant in that such a film that was so critical of American foreign policy got made by a major studio (Universal). Sadly, it seems to have dropped off the radar over the last couple of decades; I don't recall coming across it on TV and its certainly not been shown on the BBC.

A fascinating piece that functions as a conspiracy thriller, a drama, a mystery and above all as a character analysis of Lemmon's Ed Horman; a typical American of his age who always thought his son and daughter in law were airy-fairy liberals but comes to know and respect them even if it was too late in the case of his son.

This film just couldn't be bettered.

Being a gritty, true life drama (albeit a fictionalisation) this has a very naturalistic look with the emphasis on blues, greys and browns. It's a grim story and as such the colour values do reflect it's daylight nightmare. The image does have a soft, hazy quality which was typical of mainstream Hollywood films of the era which means that there is an extremely healthy grain field.

Grain is constant, ever present and very welcome; the look reminded me somewhat of Michelangelo Antonioni's The Passenger (1975) which is also on Blu-ray from Powerhouse Films and I reviewed earlier this year. A very film like image through and through, thick and heavy in it's filmic density.

Black levels are deep and rich with only the occasional bit of crush in darker scenes; those scenes being a film shot in night conditions using fast film stock. That is to say the mild crush occasionally seen is down to the conditions of filming. Contrast is subtle giving the film a stable look that emphasises the grain and doesn't cause any whiteouts or blown out highlights. It's not a contrasty looking film by design.

Detail is ever present but obviously much stronger in the daylight and interior sequences. Shadow detail is also very good and textures in fore, middle and background are excellent. This is not a razor-sharp looking film and viewers will need to bear that in mind.

As is usual, the encode by David McKenzie and Fidelity in Motion is Motion is always worth a name check. Great encodes on Blu-ray are something to be appreciated as they subtly (and sometimes not so subtly) improve the viewing experience. Most won't notice but It's an aspect I've become much more aware of in the last few years and an important part of a technical review.

Superb image.

1080/24p / MPEG-4 AVC / 1.85:1 / 122:31

Audio


English LPCM 1.0
Subtitles: English HoH

A solid, complex mono track that gets the job done very well. This could only really be bettered by a full-blown 5.1 upgrade. However, this is not likely to happen and that's fine because this has good base, no distortion and decent high end.

A very dialogue-heavy film with a moderately complex story and narrative; the Hared of hearing subtitles are must to ensure that this film can be appreciated by the widest possible audience. A shame in way that audio descriptive tracks aren't as common, but that's not something to hold against a cash-strapped boutique label that is doing such a fantastic national service in making these Indicator films available at a great price.

Extras


"The Guardian Interview with Costa-Gavros: Conducted by Derek Malcolm at the National Film Theatre, London on 16 March 1984" plays as an alternate audio track over the film (84:57)

"The Guardian Interview with Jack Lemmon: Conducted by Jonathan Miller at the National Film Theatre, London on 7 September 1986" plays as an alternate audio track over the film (115:51)

Two more in the excellent series of vintage audio recordings from the archive of the National Film Theatre, London. Costa-Gavros is an intellectual guy and Derek Malcolm is an old pro so the conversation is highly informative covering Costa-Gavros' working methods, motivations and obviously his films are discussed in some detail with a focus on missing as it was his most recent and was very controversial.

The Jack Lemmon interview is essentially the part two to the one from 1973 found on The China Syndrome (1978) disc and in a sense picks up from where that one left off. Lemmon is an affable, intense, dedicated performer with meticulous preparation for roles and this comes through in spades in both of these fascinating discussions. Jonathan Miller is of course a national treasure and can do no wrong; Lemmon is in great hands here.

Costa-Gavros: Cannes Film Festival Interview (3:10)
Costa-Gavros: Journal Antenne 2 Interview (3:30)
"Many Americas: Costa-Gavros on Missing" featurette (30:59)

A collection of interviews in which the maestro discusses is work. Vintage 16mm film and videotape.

"Freedom of Information: Joyce Horman on Missing" featurette (27:22)

The wife of Ed Horman on the real events, the accuracy of the film, the film itself and what she thinks of it. Also discussed are both Charles and Edmund Horman, the controversy before, during and after the production of the film. Probably the most interesting extra on this disc.

"Politically Personal: Filmmaker Keith Gordon on Missing" featurette (24:14)

Actor and film maker Gordon (Christine, Dressed to Kill, A Midnight Clear) discusses the importance of Missing (1981) as he sees it politically to him and to Americans. Another superb contextual piece.

Theatrical Trailer (2:56)
Missing Image Gallery: Original Promotional Material (24 images)

40-page liner notes booklet by Michael Pattison, an interview with Costa-Gavras, an interview with journalist Thomas Hauser, an overview of responses to the film, and extensive film credits

Another superb booklet that forms a contextual envelope for the film. Every word and page in this one is precious and essential in gaining a greater love for and understanding of this sadly largely forgotten film which seemed seminal at the time; at least to my 15 year old perspective.

Overall


One of the all-time great American political films in my humble opinion; not that I'm hugely versed in the genre it has to be said. But, this one is significant because it brought a wider audience to the tragedy that occurred in Chile in 1973 in which a left-wing democracy was overthrown by fascists supported by a right-wing democracy. The book had caused a stir in 1978 but the film really threw the cat among the pigeons and as a result was withdrawn from circulation for a while.

Powerhouse Films had done cineastes a great service in bringing this back to the UK public and in a stunning new edition with first rate picture and sound and extras to die for. The extras are hard enough to roller skate on they are so good, and with a top notch encode we have one of the most important discs of the year in my view.
| | | | | |
| --- | --- | --- | --- | --- |
| The Film: A+ | Video: A+ | Audio: A+ | Extras: A+ | Overall: A+ |