Ministry of Fear (Blu-ray) [Blu-ray]
Blu-ray B - United Kingdom - Powerhouse Films
Review written by and copyright: Rick Curzon (19th September 2018).
The Film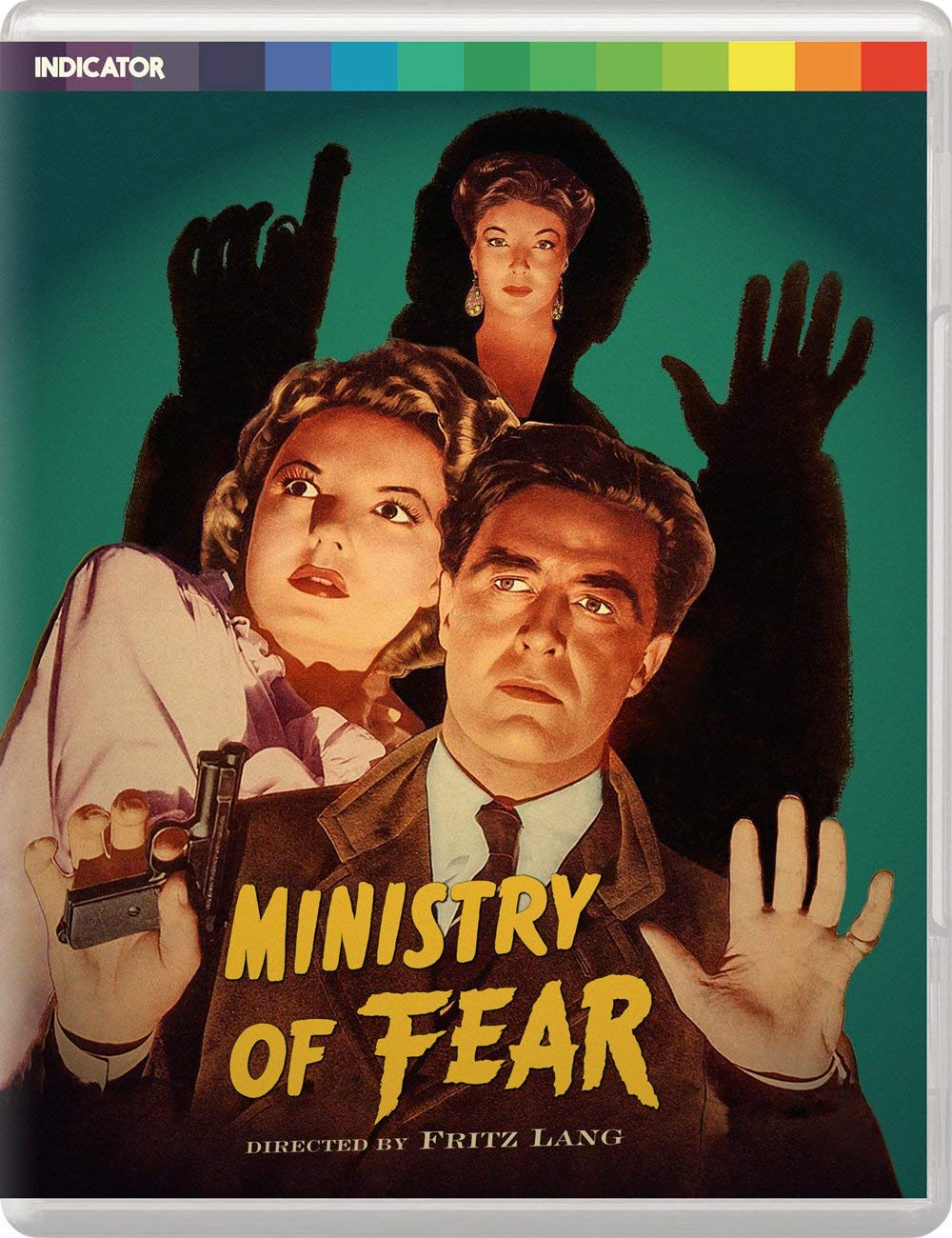 Set during Blitz-torn wartime England, Ray Milland (Dial M for Murder, The Lost Weekend) stars as a man just released from a sanatorium who stumbles into an elaborate and murderous Nazi plot. Reminiscent of Lang's early expressionist films (The Spiders, Dr Mabuse the Gambler, M) and full of bravura set pieces and hallucinatory visuals, Ministry of Fear is one of Lang's finest films – a mature and beautifully crafted thriller, a vivid adaptation of Graham Greene's celebrated novel.

Video


Brisk wartime thriller from Fritz Lang with Ray Miland as a smooth, urbane likeable lead; sadly, I didn't find anyone else particularly memorable.

Ministry of Fear follows the reliable 39 Steps template of a wronged Hannay-like hero on the run who is also trying to solve the mystery and catch the bad guys. Come to think of it, this was a trope also beloved of Giallo film making later on; they say there are only seven basic stories in the world. Still, it at least didn't have a Joan Bennett-style Cockney waif to spoil the proceedings like in Man Hunt (1941).

Lang's film looks very good on this fine Blu-ray using a decent, five year old HD master from Universal that was done for the 2013 US Criterion Blu-ray. The image is pristine monochrome with no signs of gamma issues or colour bias creeping in that I could see. The print is in excellent condition with only the odd speckle here and there.

Black levels are generally very good although occasionally I felt that they were more very dark gray than black. Ticking my brightness down a notch or two or using the local dimming function on my LED TV improved things noticeably. There were no signs of accidental black crush and for the most part shadow detail is excellent.

Detail overall comes off very well with crystal clear skin and fabric textures coming though the grain in a very pleasing fashion. Grain is understandably ever present and is mostly fine, although on darker scenes and exteriors with skies it does get a shade courser.

Encoding is up to the usual high standards laid down by David MacKenzie with holes or clumps.

A very film like presentation that should please fans and reportedly superior to the Criterion.

1080/24p / MPEG-4 AVC / 1.33:1 / 87:55

Audio


The mono sound has limited range but this is to be expected. Very occasionally it can be shrill on loud, sharp sounds but this isn't anything unusual for a film of this vintage. Dialogue is always loud and clear and the melodramatic score comes over very well, never interfering with the dialogue.

Subtitles in English for the hearing impaired are present and welcome.

Extras


"The BFI Interview with Fritz Lang: Conducted by Stanley Reed at the National Film Theatre, London on 8 January 1962" plays as an alternate audio track over the film (79:34)

Quite possibly the oldest NFT audio recording I've heard on these Powerhouse discs; it sounds great in LPCM mono. Lang doesn't seem overly fond of this film, but he has plenty of interest to say and comes over as a pleasant fellow despite his sometimes hard reputation.

Selected Scenes Commentary with Neil Sineyard (35:14)

A collected set of specific scenes with invaluable commentary by historian and writer Sineyard. Plenty of great info on the cast, crew and film here.

"Between Two Worlds: Tony Rayns in Ministry of Fear" featurette (20:55)

Rayns is always an interesting and personable guy; I vividly remember him introducing the UK TV premiere of A Chinese Ghost Story (1987) back in the late '80s. He talks at length about Land and his predilection for romancing his life in interviews amongst many other golden nuggets of info.

"Creative Allies: Adrian Wootton on Ministry of Fear" featurette (24:53)

Wooten delves into the film and it's source novel and mostly waxes lyrical about author Graham Greene's screen adaptations.

Theatrical Trailer (2:08)

A 1940s style trailer; need I say more.

Ministry of Fear Image Gallery: Orignal Promotional Material (25 images)

40-page liner notes booklet by Samm Deighan, Graham Greene on Lang and Ministry of Fear, recollections by Fritz Lang, an overview of contemporary critical responses, and film credits

Another priceless 40-page contextual analysis and collection of vintage pieces. Worth the price of the disc by itself. I can see that at some point in the future these Indicator Series booklets could be published in book form; they're that good.

Overall


Another very fine disc from Powerhouse films as part of their Indicator Series and a nice companion piece to Lang's earlier Man Hunt (1941) which was also a UK-set wartime espionage tale. The image is generally excellent with a minor issue with some of the black levels, but it's easily rectified. In every other way this is a killer presentation of a well-liked film. The extras are top notch as usual and it's reputedly to be a superior presentation of the film than the much lauded Criterion USA version with superior extras to boot.
| | | | | |
| --- | --- | --- | --- | --- |
| The Film: B | Video: A- | Audio: A+ | Extras: A+ | Overall: A |

---
DVD Compare is a participant in the Amazon Services LLC Associates Program and the Amazon Europe S.a.r.l. Associates Programme, an affiliate advertising program designed to provide a means for sites to earn advertising fees by advertising and linking to amazon.co.uk, amazon.com, amazon.ca, amazon.fr, and amazon.de.