The Film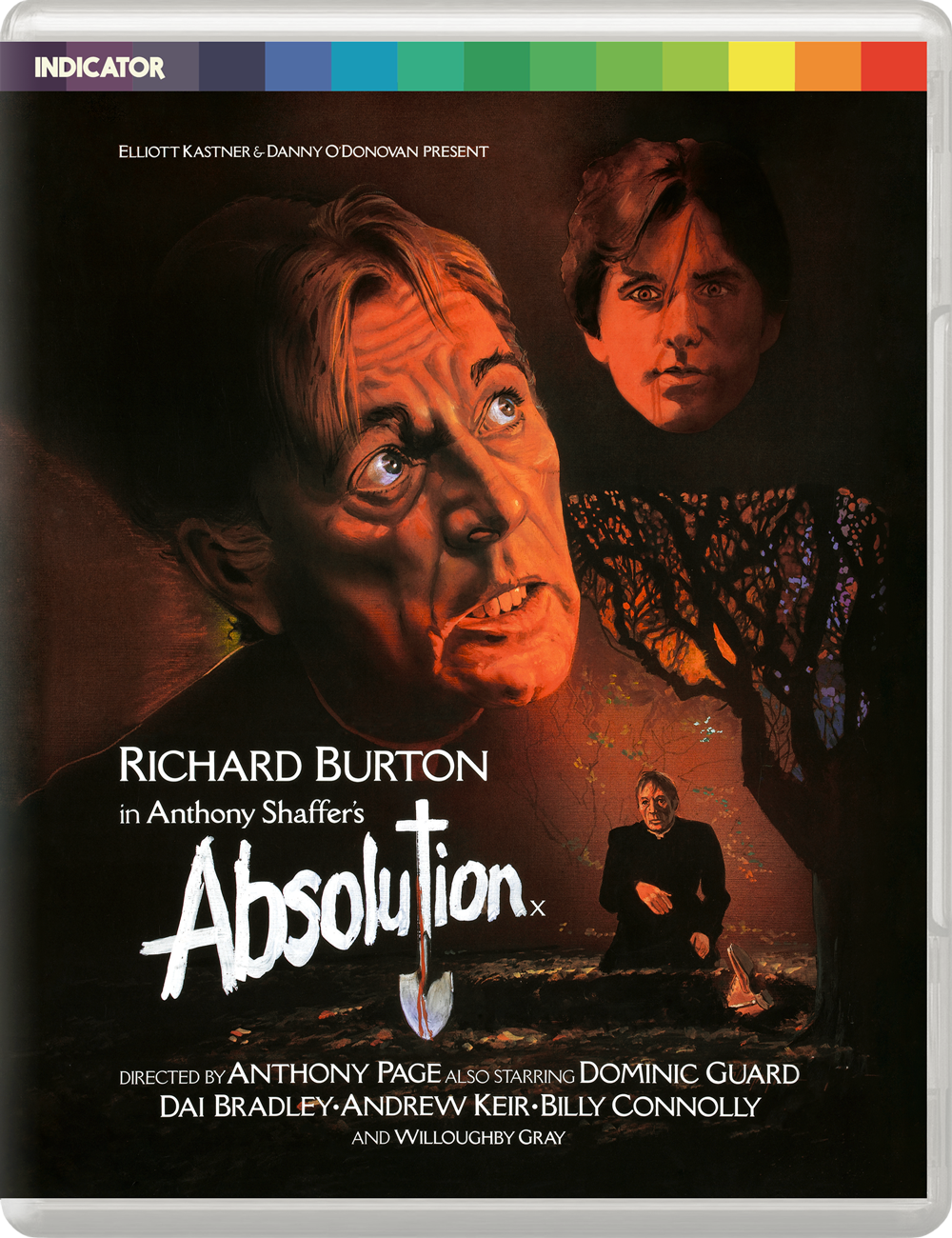 At a Catholic boys' school, domineering disciplinarian Father Goddard (Richard Burton, Look Back in Anger, The Spy Who Came In from the Cold) rules over his pupils with an iron hand. When one of his teenage charges confesses to murder, the dogmatic but deeply repressed Goddard finds his faith challenged and his life spiralling dangerously out of control.

Also starring Billy Connolly (in his first feature-film role), Dominic Guard (The Go-Between, The Picnic at Hanging Rock) Kes star Dai Bradley, and the inimitable Brian Glover (Kes, Jabberwocky, Alien 3), and written by the great Anthony Shaffer (The Wicker Man, Sleuth), Absolution is one of British cinema's most underrated chillers, not least for a towering central performance by Burton.

Video


Autumnal looking film set at a Catholic boys school, which focuses on the relationship between two lads Ben (Dominic Guard) and Arthur (Dai Bradley) and their strict form master Father Goddard (Richard Burton). Into this explosive mix comes a traveler, Blakey (Billy Connolly) and his girlfriend Louella (Sharon Duce) who camp on the school grounds. Pranks are played and blood is shed.
A twisty, nasty mystery from Anthony Schaffer; similar in some respects to his other mind games thrillers Sleuth (1972) and The Wicker Man (1973) and like the latter this segues from blackly comic to horror in it's final act; albeit without the hint of any supernatural involvement. It's all about institutional cruelty and faith.

I found it interesting but not entirely engaging, partially because there's no one to really sympathise with ... certainly by the end. It has a great backdrop, an old manor house type private school and the woods surrounding, but just wasn't terribly engaging. Plenty of recognisable faces in support.

I chose to watch the longer theatrical cut; the shorter director's cut is seamlessly branched and having given the other version a looksie it's exactly the same so my comments below apply.

This transfer has a filmic quality with plenty of natural film grain throughout which varies from fine to course dependent on lighting conditions; a carryover from the filming circumstances and not du to any corner cutting in the transfer.

Black levels are luxuriant and bear only the slightest amount of crush; once again during lower lighting setups. This is reportedly the major plus this disc has over the US Kino Lorber release along with superior encoding.

Encoding is as usual very robust handling the grain and fine detail well with no signs of an digital manipulation. The image has a stark, fresh quality typical of cinematographer John Coquillion's work that is refreshing with little inherent softness; colours favour the warm end of the spectrum and have a natural, matter of fact patina. Browns and greens come over very well and reds are strong when they show up (blood!). Visually this remined me of Coquillion's lensing on Matthew Hopkins: Witchfinder General (1968).

I could see no obvious signs of print damage, which would indicate some additional cleanup has been done to the master based on comments in reviews of the Kino disc where minor speckling was evident.

Contrast is nicely layered and allows plenty of fine detail to shine through on all focal plains; the forestry backdrops of the exteriors fare particularly well in that respect. Interiors favour a more subtle contrast to emphasise the institutional gloom.

All in, a top notch transfer; buffs can breath easy!

1080/24p / MPEG-4 AVC / 1.85:1 / 95:26, 85:35

Audio


English LPCM 1.0
Subtitles: English HoH

A very robust, lossless mono track that is reportedly dar superior to any previous iterations on home video formats, and is even a notch up on the same track on the Kino disc. It has a good high end with decent handling of the base and Stanley Myers folksy score doesn't ever intrude of the dialogues clarity.

A very dialogue-heavy piece with excellent English hard of hearing subtitles for those who need them.

Extras


Audio commentary with Kevin Lyons on the original theatrical version

Excellent and informative commentary from the man behind The Encylopedia of Fantastic Film and Television

"The Devil to Pay: Anthony Page on Absolution" featurette (12:10)

Director Page (The Lady Vanishes '79, I Never Promised You a Rose Garden) discusses the production and the various woes that led to it's limited distribution (it took a decade before playing the USA). Working with Shaffer and Burton, which were not always easy and the cast and crew are also covered.

"Them and Us: Dominic Guard on Absolution" featurette (13:07)

The star's recollections of working on the film with cast and crew. His career both prior to and after are covered as well.

"Cutting the Cloth: Costume Designer Anne Gainsford on Absolution" featurette (9:06)

Entertaining an informative piece from the point of view of Gainsford who focusses on her brief and how she ensured technical accuracy.

Theatrical trailer (3:06)

Typical trailer of the period plays up the horror elements.

Absolution Stills and Posters Gallery (61 images)

Decent little HD still gallery focussing on advertising and production stills.

Absolution Promotional and Press Materials (40 images)

Followup gallery also in HD covers press kits and lobby cards etc.

40-page liner notes booklet by Neil Sinyard, Anthony Page, Anthony Shaffer and cast and crew profiles, an overview of contemporary critical responses, and film credits

Another peerless collection of contextual material that most likely this film would not have been granted by any other video label.

Overall


Another winner from Powerhouse Films as part of their Indicator series. A film I've been aware of for decades but for whatever reason never got around to viewing. It's fans will be very happy that such a long forgotten film has been given the deluxe treatment in a region free special edition, so hopefully fans across the world will indulge. The extras package is second to none. This edition wipes the floor with the US barebones Kino disc with bags of added value and above all a superior encoding of the same fine master.

Yet another disc that could be on many best of the year lists.
| | | | | |
| --- | --- | --- | --- | --- |
| The Film: B- | Video: A+ | Audio: A+ | Extras: A+ | Overall: A+ |