The Film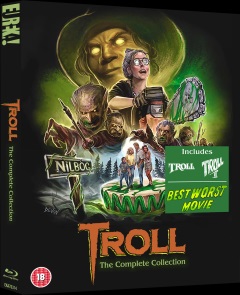 Troll: When Harry Potter (Q: The Winged Serpent's Michael Moriarty) and wife Anne (The Stepfather's Shelley Hack) move into a San Francisco apartment building, their children start behaving strangely. Daughter Wendy (Tightrope's Jenny Beck) starts behaving hyperactively – having been replaced by Torok the Troll – and son Harry Jr. (The Neverending Story's Noah Hathaway) believes that she has been replaced by an alien, making them the most eccentric residents among a strange lot: among them, swinger Peter Dickinson (Hairspray's Sonny Bono), rightwing vet Barry Tabor (WKRP in Cincinnati's Gary Sandy), waitress Jeanette (Seinfeld's Julia Louis-Dreyfus) and her boyfriend Bill (The Guardian's Brad Hall, Louis-Dreyfus' husband), and imperious Eunice St. Clair (Lost in Space's June Lockhart). In between transforming the residents of the other apartments into more malevolent inhabitants of the fairie world, Wendy befriends dwarf English professor Malcolm Mallory (Willow's Phil Fondacaro) who she assumes to be a "brother elf" while Harry Jr. learns about magic from Eunice, an ancient witch who has appointed herself guardian of the gateway between the human and fairie dimensions who trains Harry Jr. to help her prevent Torok from bridging the worlds and to rescue his sister who is destined to become Princess of the Fairies.

Troll 2: Even after his death six months earlier, Grandpa Seth (Robert Ormsby) has hung around to entertain grandson Joshua Waits (Michael Paul Stephenson) with bedtime stories. Joshua is the only one who sees Grandpa Seth, and he has promised not to mention it to his parents Michael (George Hardy) and Diana (Margo Prey) or his sister Holly (Connie Young) after a recent hospital stay. Grandpa Seth's latest story about the "goblins" who transform humans into plants in order to eat them, however, proves unnerving to Joshua when his parents agree to a house exchange with another family of four in the farming community of Nilbog. Quickly coming to the conclusion that the denizens of Nilbog are indeed Goblins (look at that sign in the mirror), Joshua tries to warn his family but is punished when he saves them from tainted food ("You can't piss on hospitality," bellows his father). Holly provides more distractions for her parents when they discover that her "good for nothing" beau Elliot (Jason Wright) has followed them in a camper van with his buddies Drew (Jason Steadman), Arnold (Darren Ewing), and Brent (David McConnell). While Joshua's behavior frustrates the attempts of Druid Troll Queen Creedence Leonor Gielgud (Deborah Reed) and her flock to munch on his family, Elliot and his friends prove much easier prey, and it may be much too late before Joshua's family realize just how right he is about Nilbog's brand of hospitality.

The only thing the two Troll have in common is Italy. Troll was one of the first films Empire Pictures' (and later Full Moon Entertainment honcho) Charles Band lensed at the former Dino De Laurentiis studios in Rome which he had purchase with the influx of money from his distribution deal with Vestron Video (which included a requirement of theatrical release) with American actors and effects personnel while Troll 2 was an Italian production from Joe D'Amato's Filmirage company lensed in Utah with American actors and Italian crew. While the first film is fondly-remembered by eighties horror fans for its effects, scoring, and eclectic cast, the second film has slowly developed a cult following since its VHS release as the "best worst movie" that has spawned not only a retrospective documentary on the phenomenon but also evidently more accurately titled sequel titled Goblin 2. Yet another iteration of producer Band's obsession with miniature monsters following the hugely successful Ghoulies (and looking forward to Full Moon's flagship franchise Puppet Master), Troll knows its target audience thoroughly from its PG-13 allusions to swinging, occasional profanity, and gooey transformations to the not-too-broad adult performances, Lockhart's daughter Anne (Dark Tower) excepted. The brainchild of director/creature designer John Carl Buechler (Friday the 13th Part VII: The New Blood) and screenwriter Ed Naha (Dolls), the film is an effects showcase (latex, animatronic, matte paintings, miniatures, and stop motion) but is otherwise engaging thanks to deft handling of the juvenile leads and a sensitive characterization for Fondacaro. Technical and artistic credits from the the photography of Romano Albani (Phenomena)and lush scoring of Richard Band (The House on Sorority Row) to the production design of Giovanni Natalucci (From Beyond); the same cannot be said for Troll 2. The colorful but workmanlike photography of the usually good Giancarlo Ferrando (Torso) can only do so much with the immobile "goblin" masks of Maurizio Trani (Zombie Holocaust), burlap sack costumes provided by former Black Emanuelle starlet Laura Gemser, and KORG keyboard scoring of Carlo Maria Cordio (Beyond the Door III) – whose original scores are sometimes difficult to distinguish from the library albums of synth cues sourced for other Filmirage and Italian horror films of the period – but the chief offenders (or heroes) are the incredibly "earnest" cast who can only partially blame Monster Dog director Claudio Fragasso's insistence on utter fidelity to what he regarded as a parable of script by wife Rossella Drudi (Violence in a Women's Prison) and their idea of American teen-speak (only actress Reed approaches her role on the level of overt camp) which has nevertheless resulted in dialogue that is highly-quotable not only in terms of content but in delivery (Ewing's "Oh my god!"). Although the film was also rated PG-13, it is a different and inconsistent in tone with body-bursting transformations, seduction with phallic corncobs (resulting in an orgasmic explosion of popcorn), severed limbs, and quite the downbeat ending. Whether one favors one film or the other, they are inextricably bound together; but, is Eureka's Troll: The Complete Collection really complete when, as sequel bares no actual relation to the original, it does not also contain either of the films known in other territories as Troll 3: Filmirage's Contamination .7 about killer vines (released to tape in the U.K. as Creepers by RCA/Columbia and Columbia Tri-Star in the United States as Crawlers before DVD and Blu-ray issues from Scream Factory), or the third Ator film Quest for the Might Sword released under that title in the US and UK by RCA/Coumbia but known elsewhere as Hobgoblins?

Video


Troll was released theatrically by Trans World Entertainment and distributed on home video and laserdisc by Vestron Video in the United States – and theatrically in the U.K. by Entertainment Film Distributors and video by Entertainment in Video – while Troll 2 was picked up by Trans World-offshoot Epic and went direct to video through Columbia Tri-star in the United States and Prism in the U.K. Troll ended up in the Epic library along with other Trans World, Vision, Empire Pictures, De Laurentiis Entertainment Group, Hemdale, and Trihoof titles, along with the assets of other defunct companies from which Epic built their library before going bankrupt themselves; whereupon the library defaulted by lender Crιdit Lyonnais and purchased by Polygram who subsequently sold them to MGM along with the Orion library. Both films were released on a double-sided DVD by MGM (and a similar edition in the U.K.), but the inexplicable cult popularity of the second film in light of the Best Worst Movie documentary lead MGM to issue the sequel on Blu-ray while the superior first film remained DVD-only until Scream Factory's double feature Blu-ray issued in a limited edition with a DVD copy of Best Worst Movie and then a standard edition without. Eureka's 1080p24 MPEG-4 AVC 1.85:1 widescreen encode of the first film is a revelation compared to the tape and DVD editions. It reveals a layer of grain easily overlooked amidst a vivid color palette while also revealing both the artifice of the studio sets – along with such accents as the likeness of Buechler in one of Eunice's background paintings and a poster for the earlier Empire production The Dungeonmaster on the wall of Harry Jr.'s room – and the extraordinary production value of the Italian Empire films compared to the American ones. The second film's 1080p24 MPEG-4 AVC 1.85:1 widescreen encode looks surprisingly good with vibrant chlorophyll greens and detail that puts to shame the Italian licensor-sourced encodes of other American-lensed Filmirage productions on Blu-ray.

Audio


Troll is offered up in an LPCM 2.0 rendering of its original Dolby Stereo soundtrack, and this is one of the Empire Pictures productions that is most adventurous with the surround format as one of the effects artists notes in the included documentary that the sound designers became very excited about the possibilities of mixing when they saw all of the animated electric effects racing around the screen. The score is also given prominent placement in the mix, being generally much more enveloping an experience than the particular cover of "Summertime Blues" that sounds heavier on bass and otherwise anemic. Optional English SDH subtitles transcribe some of Band's "Cantos Profanae" and contain minimal paraphrasing. Troll 2 features an English LPCM 2.0 mono track with relatively clear sync-sound dialogue and effects of variable impact, with Cordio's synth score the most consistent element. Optional English SDH subtitles transcribe the highly-quotable dialogue.

Extras


Troll: Extras for the first film are limited to the "Troll Empire documentary (50:05) ported over from the Scream Factory disc; nevertheless, the featurette is exhaustive in its discussion with Band recalling the insane decision to buy his own studio, the importance of father Albert Band (Zoltan: Hound of Dracula) as on-set producer, writer Naha and director Buechler on moving from Roger Corman's New World to Empire with Buechler signing on to a two-picture agreement doing effects on Ghoulies (which was initially conceived as a 3D, Sensurround, Scratch and Sniff experience) and directing Troll and discussing the shoot in Italy, Band on the scoring, and Buechler leading the discussion of the effects (Torok the Troll was initially going to be an animatronic but he decided to reconceive the design as a suit fitted specifically for Fondacaro when Band initially wanted to impose Billy Barty on the production), and the last quarter devoted to discussion of the various stages of effects with a number of the effects, miniatures, stop motion, and optical crews. The theatrical trailer (2:45) is also included.


Troll 2: Extras for the film are spread over the set's two disc with the film accompanied by an audio commentary by actors George Hardy and Deborah Reed. It takes a while to realize that the two have been recorded separately with Hardy first seeming to dominate the talk with Reed's comments inserted in the lulls. Hardy points out the Utah locations, the glaring continuity errors, the creature designs and appliances, and acting under direction of Fragasso and the Italian crew (with a throwaway reference to costume designer Gemser's acting career) while Reed – whose son appears as the exchange family's son – discusses her campy approach to the character and recalls the set-pieces in which she figured (particulary humorous are her recollections of the corncob scene). Audio from a Creative Screenwriting Q&A with Jeff Goldsmith, Michael Stephenson, and George Hardy is provided as an alternate audio track with more of a focus on stories that are to be heard in Stephenson's documentary. Hardy recalls working on his post-doctorate in Utah and considering going back to Alabama when he was told about the film and went on a whim while Stephenson discusses his experiences as a child actor – he would also appear in Fragasso's Louisiana-lensed Beyond Darkness, as well as his experiences when he moved to Los Angeles to continue his career. The disc also includes the film's theatrical trailer (2:18).

The second disc includes the major extra in Stephenson's documentary Best Worst Movie (93:23) – a Blu-ray exclusive to the UK release whereas other releases have included it as a DVD – which frames the retrospective look at the film largely around Hardy, family dentist and upstanding Alexander City, Alexander citizen who is so nice that even his ex-wife has nothing bad to say about him, from his early brushes with recognition for his role in the film from locals to his rise to cult stardom making appearances at screenings of the film around the country and overseas. This leads to a broader exploration of the Troll 2 phenomena with coverage of various interactive viewing parties, sold-out bookings of the film, and Stephenson's decision to make the documentary, reuniting Hardy, Fragasso (who is still of the opinion that he made a good movie) and much of the cast to discuss the effect of the film on their subsequent careers and private lives – including an awkward visit to reclusive Prey – revisiting locations, and recollecting the shoot. None of them are under any illusion that that their performances were bad (even Hardy's mother reveals that she walked out halfway through the first time she saw it when asked about his acting), and some spent years "running from" the film while others have found the audience embracing the film for all its quirks a positive experience (like Don Packard who had a mental breakdown around the time and was actually allowed to leave his hospital for days at a time when he appeared in the film). A lengthy selection of deleted scenes prove just as interesting, with more footage featuring Hardy's touring, some more discussion with goblin actors Patrick Gibbs and Paul Gibbs, a reunion with Hardy and Reed in the dentist chair, as well as an interview with truck driver/bodybuilder/poet Mike Hamill who played Nilbog's Jimmy Swaggart-esque preacher Bells. In a separate interview with "Goblin Queen" Deborah Reed (13:01), she shows off some of the vintage clothing she wore in the film that has been in her family for generations, and also discusses her modeling career as well as her work as a mural painter. The disc also includes a "Monsterous" Music Video (4:11) and a trailer (2:17) for the documentary. Not included for review were the limited edition O-card slipcase featuring artwork by Devon Whitehead or the limited edition collector's booklet featuring rare archival material.

Overall


It may be debatable if Troll: The Complete Collection is indeed complete, but Eureka have provided a package that gives competing territory editions a run for their money.