The Show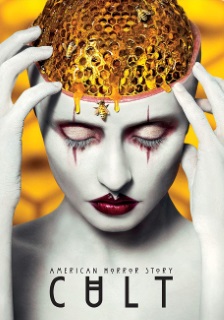 Election Day 2016: The election of Donald Trump as the forty-fifth President of the United States serves as a trigger for three people whose lives are soon to become intertwined. Restaurant owner Ally Mayfair-Richards (American Gothic's Sarah Paulson) worries about legal challenges to her marriage to partner Ivy (Scott Pilgrim vs the World's Alison Pill) and emboldened intolerance of the MAGAs. Winter Anderson (Star Wars: Episode VIII - The Last Jedi's Billie Lourd), who postponed her studies at Vassar to spend a year campaigning for Hilary Rodham-Clinton, is disillusioned ("What's wrong with CNN for not giving us a trigger warning before giving us the results?"). Her blue-haired brother Kai (X-Men: Days of Future Past's Evan Peters), on the other hand, envisions a new social order based on the use of fear to induce the masses to hand over unlimited power over their lives. Just as in the aftermath of 9/11, Ally finds all of her old phobias coming back with a vengeance: including coulrophobia (fear of clowns) and a revulsion to the sight of blood (along with openings that can secrete it). Her psychiatrist Dr. Rudy Vincent (United 93's Cheyenne Jackson) strongly recommends that she disconnect from social media and also prescribes a mild sedative. Ally, however, is certain that the violent attacks on her by evil clowns are not hallucinations even when the most public instance is unsubstantiated by surveillance video evidence. Ivy is placed in a difficult position running the business by herself and worrying that Ally spending time at home may be having an adverse effect on their precocious son Oz (The Wrong Mother's Cooper Dodson), so she coaxes Ally back to work ostensibly in the interest of repairing their own strained relationship and hires Winter as their son's new live-in nanny (her Clinton campaigning and temporarily postponed Women's Studies degree clinching the interview); however, only Oz seems to really be aware just how too-good-to-be-true his new nanny is as she fosters his morbid interests – including the story of jawless psychotic Twisty the Clown (Carnivŕle's John Carroll Lynch) – with visits to the Dark Web. Shortly after humiliating Kai by dismissing him as a "4chan guy […] empowered to join the rest of us in civil society now that papa bear Trump is telling you it's okay" at a City Council meeting, council member Tom Chang (Rambo's Tim Kang) and his wife (Bosch's Nanrisa Lee) are found dead in their home. Ally feels that her fears are validated when Oz tells the police that culprits were a group of home-invading killer clowns, but Winter turning up the killer clown comic he has been reading leads Ivy to believe that the combination of his vivid imagination and Ally's hysterics have provoked night terrors in their son once Detective Jack Samuels (San Andreas's Colton Haynes) writes off the Changs' deaths as a murder-suicide. As Ally's "hallucinations" escalate, Ivy finds herself confiding in Winter her doubts about the stability of her relationship with her wife as well as her concerns about their son's well-being. Meanwhile, Kai is stoking racial tensions locally by aggressively provoking a group of Mexican laborers and posting a context-free video of him being beaten up as part of his plans to run for Chang's now-vacant City Council seat with much bigger plans as he preys on those who feel let down and marginalized with the intent of building a following to perpetrate an abominable act to instill fear. Ally is unnerved by the new couple on the block and she her distrust towards new couple on the block Harrison (Sleeping with Other People's Billy Eichner) and Meadow (Can't Hardly Wait's Leslie Grossman) who have moved into the Changs' home, and the growing work of a suspected serial killer pursued by Samuels and reporter Beverly Hope (True Blood's Adina Porter) may indeed be the work of a group of clowns who may or may not be the first of Kai's followers which already include a rightwing militia.

The aggressively edgy FX anthology horror series created by Ryan Murphy (Popular) and Brad Falchuk (9-1-1) has had its ups and downs throughout seven seasons, and season seven is definitely the series on a downswing after the moderately entertaining American Horror Story: Roanoke. With all of the subtlety of a sledgehammer, Cult seeks to satirize current events, but the parallels are not only so blatant but sometimes utterly pale in comparison to the twists and turns of the reality TV trash that is Trump's America; however, the true problem with Murphy's exploitation of these everyday horrors – which throws in a mass shooting for good measure – is the plotting. The trite extremist dichotomy of Ally and Kai is unbalanced by the writing. The revelation of Ally's veiled racism and hypocrisy – even the presence of civic-minded Asian neighbors the Changs seeming like an extension of her leftwing lifestyle – would be interesting if she were the actual villain, but it is hard enough to feel sympathy or empathy for a protagonist who cast a symbolic protest vote for Jill Stein with the expectation that Clinton would win without her being a highly-strung, mega-triggered basket case in an obvious gaslighting scenario. Kai is the more unpredictable and odiously offensive, but his powers of persuasion strain credibility and the turns of his own story feel as episodic and padded as his ensuing paranoia gives way to hallucinations involving Charles Manson, Andy Warhol, David Koresh, Jim Jones, and Jesus (all played by Peters) while the story also manages to tie in the Zodiac Killer in a manner that would make conspiracy theorists proud. Like seasons two (Asylum) and four (Freak Show), American Horror Story: Cult is one to either "get through" or skip entirely. The cast also includes recurring Frances Conroy (Six Feet Under), Mare Winningham (Philomena), and Emma Roberts (We're the Millers) along with appearances by Zack Ward (A Christmas Story), Lena Dunham (Girls), Chaz Bono, Rick Springfield (High Tide), and Dermot Mulroney (Young Guns).

Video


Fox splits season seven's eleven episodes over three dual-layer discs, and their compression on the anamorphic 1.78:1 widescreen encodes is of a high standard with deep blacks and low-lit scenes free of distracting noise.

Audio


Soundtracks include a reasonably forceful and adventurous English Dolby Digital 5.1 mix while French and Spanish dubs are presented in Dolby Digital 2.0. English SDH subs are available along with French and Spanish.

Extras


Just as Fox has abandoned Blu-ray for this series, they have also given this package the most paltry of the series' extras, consisting solely of a series of FX Promo Spots (1:44).

Overall


As with seasons two and four, American Horror Story: Cult is one to either "get through" or skip entirely.