Harlequin AKA Dark Forces (Blu-ray) [Blu-ray]
Blu-ray ALL - United Kingdom - 88 Films
Review written by and copyright: Rick Curzon (10th October 2018).
The Film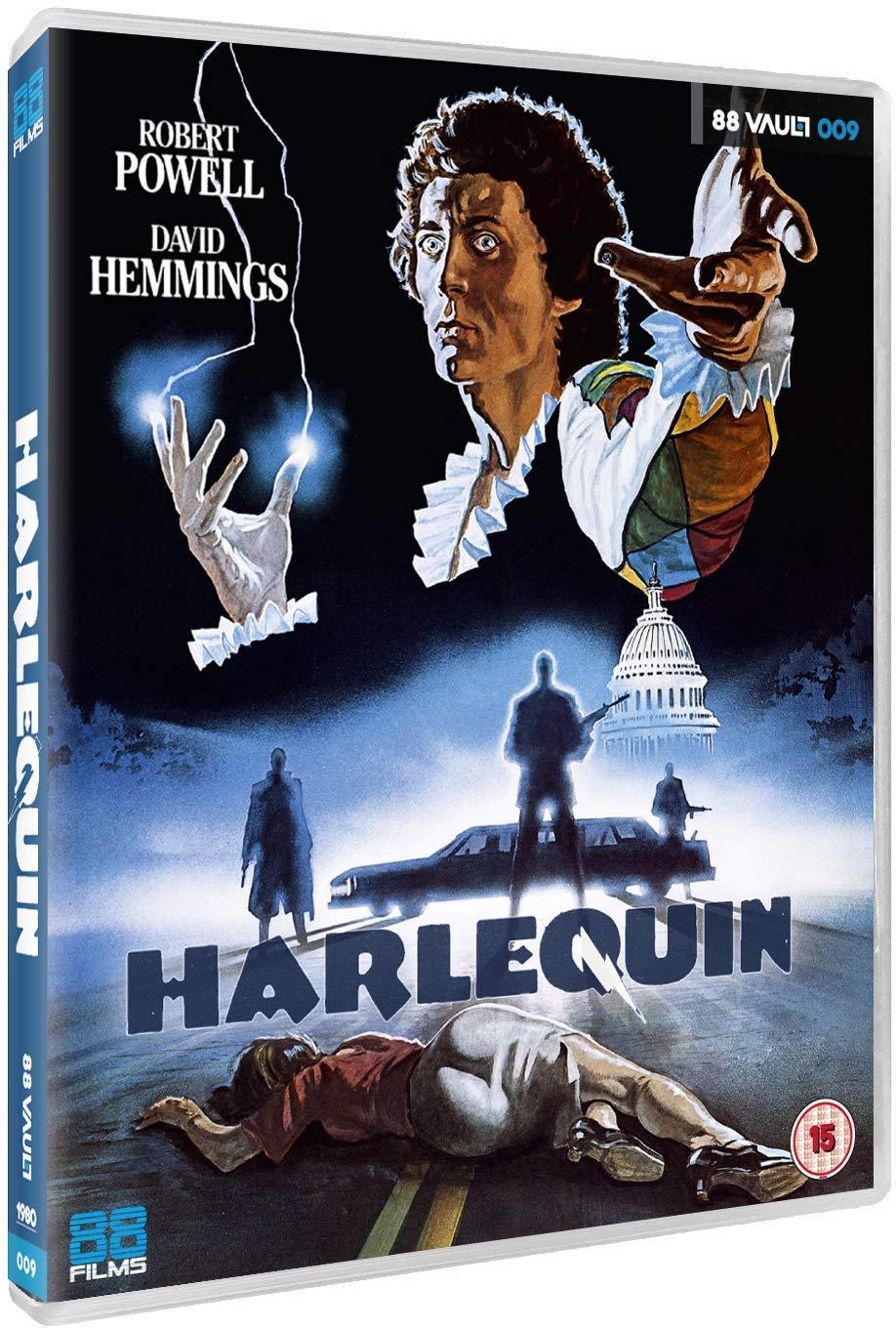 For fans of Ozploitation it is the likes of MAD MAX (1980) or even the trash-tastic TURKEY SHOOT (1982) that may first pop into many a horror hound's mind - however, the cycle offered so much more and never is this clearer than with the surrealist shocks of HARLEQUIN (1980) a true genre standout that was also released under the more ominous moniker of DARK FORCES.

In this oddball mix of sci-fi, horror and political espionage (yes, you read that right) a mysterious healer appears in the abode of a leading American senator who finds that his terminally ill son is quickly cured of his leukaemia. The appreciative politician opts to keep this puzzling presence around... although all is not as it seems.

With a cast that includes such acclaimed thespians as Robert Powell (TOMMY) and David Hemmings (DEEP RED), the thrills come thick and fast in this genuine curiousity that, once seen, is hard to forget - exactly what one might expect from a script penned by the legendary Ozploitation hand Everett De Roche (LONG WEEKEND, PATRICK, ROAD GAMES, FORTRESS)!

Video


Simon Wincer's Film reworks the Rasputin story as a political thriller with fantasy elements set in Australia. David Hemmings is the senator whose wife (Carmen Duncan) starts an affair with a strange man played by Robert Powell when he pops up and cures their creepy son's (Mark Spain) cancer.

Harelquin overtly embraces the supernatural which works against it's effective slightly because you're aware from the off that magic is involved; more ambiguity might have served the narrative better. It's an enjoyable view but just doesn't ever really catch fire and has a predictable conclusion. Broderick Crawford is great as an all powerful spin doctor and all of the other performances are well up to par. Brian May's score is rather melodramatic and mundane and undermines several dramatic moments.

We have a lovely film-like appearance throughout with a varying grain field; I suspect that this might possibly have been taken from a print source. The colour palette is natural with no use of gels or any other more artificial lighting techniques. Colours are rich when they need to be with the odd moment of striking reds and other bright colours occasionally appearing but on the whole the look favours blues and greens.

Black levels are rich and are supported by the encode with occasional moments of crush but these strike me as down to conditions of shooting rather than the master. Contrast is subtle allowing textures and details to shine. I saw no signs of crush or conversely blown out highlights.

Being a dialogue heavy actor's piece we have plenty of time to scrutinise facial details and fabric textures. Detail is ever present despite the natural softness inherent in the film stock used. Being shot in anamorphic Panavision there is an inherent softness and the usual curvature in straight lines towards the left and right edges.

Apart from the odd speckle here and there I noticed to egregious print damage, nor did I notice any digital manipulation. Is suspect that this mirrors the US disc from Scorpion.

1080/24p / MPEG-4 AVC / 2.35:1 / 95:39

Audio


English DTS-HD Master Audio 2.0 Mono
Subtitles: English HoH

A robust soundtrack with reasonable depth and range, especially considering that this is a mono track from 1980. Brian May's melodramatic score is never intrusive on what matters: dialogue, and thus everything is clear and easy to follow.

Subtitles are very welcome, especially on a verbose film like this.

Extras


Audio commentary with Simon Wincer and Anthony I. Ginnane

Solid commentary track with the director and producer who go into plenty of detail about the production. There are few dead spots; well worth a listen. Ported over from the US disc.

"Destruction from Down Under: An Oxploitation Retrospective" featurette (15:33)

Kim Newman discussing his experiences and views on the whole Oxploitation boom of the '70s and '80s. He puts Harlequin into context with other films of it's ilk, mentioning the other Hemmings-Powell collaboration The Survivor (1980).

Archive interview with David Hemmings and Robert Powell (5:41)

Very dated piece that's more interesting for highlighting the differences in the sexual politics circa 1980 in that we have a female interviewer who comments on how school girlish she is in the presence of Hemmings and Powell.

Not Quite Hollywood (2008) Interviews (49:59)

Another clutch of extensive outtakes from Mark Hartley's 2008 documentary Not Quite Hollywood: The Wild, Untold Story of Oxploitation. Here we have: Director Simon Wincer, Producer Antony I Ginnane, Screenwriter Everett de Roche and actor Gus Mercurio.

Trailer (1:38)

Cheesy promo piece from the time with ominous voiceover and key scenes shown; you know the score.

8-page liner notes booklet "Death and Destruction Down Under" by Callum Waddell

Decent essay on the film, it's reception, it's history.

Reversible sleeve

You get a choice of artworks, both vintage and both wonderfully ... odd.

Card slipcase

This reproduces one of the artworks.

Overall


A film I've always wanted to see and have four whatever reason never tracked down before this release. It's interesting if not entirely successful in my estimation, but worth seeing. The transfer is extremely pleasing with a decent encode handling the print source well. Extras are fabulous and extensive porting over vintage material from the US DVD and BD as well as augmenting an already decent package with more brilliant Not Quite Hollywood outtakes relevant to this film.

Easily the definitive release of this film and one we're unlikely to see bettered shy of a new 4K restoration and a UHD BD release. Great price, great disc, great package.
| | | | | |
| --- | --- | --- | --- | --- |
| The Film: C+ | Video: A | Audio: A | Extras: A+ | Overall: A- |

---
DVD Compare is a participant in the Amazon Services LLC Associates Program and the Amazon Europe S.a.r.l. Associates Programme, an affiliate advertising program designed to provide a means for sites to earn advertising fees by advertising and linking to amazon.co.uk, amazon.com, amazon.ca, amazon.fr, and amazon.de.