The Film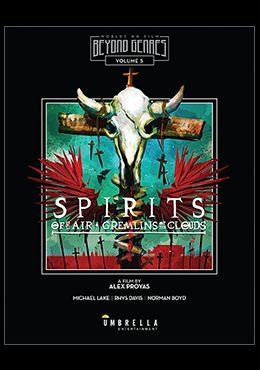 "Spirits of the Air, Gremlins of the Clouds" (1989)

Taking place in a post-apocalyptic world, a lone wanderer named Smith (played by Norman Boyd) crosses a vast desert with only signs of a forgotten civilization remaining. But with no food or water he is growing weaker causing him to collapse, he is luckily found by a brother and sister living in isolation. The brother Felix (played by Michael Lake) is a wheelchair bound eccentric inventor of sorts and the sister Betty (played by Rhys Davies) is a music playing, cosplaying, paranoid figure, as eccentric as her brother but in a different spectrum. Smith says he is on a quest to travel north across the mountains far off in the distance, but Felix says the only way out of the desert in a feasible manner is south, where Smith came from, as the mountains are not climbable. But and idea lights up in Felix's head - what if they could build a flying machine like in the old books to help Smith with his travels?

In 1986 music video and TV commercial director Alex Proyas along with a small cast and crew went to New South Wales to make a feature length film, which would be the first for almost everyone involved. Using their creative skills honed through short productions, Proyas' script came to life with a tiny cast of three characters and a total crew of less than twenty people, though it could be argued that the environment was a character as well. The use of the barren desert space was incredibly creative, as well as how the interiors and exteriors of Felix and Betty's home were intricately designed. Visually the film is a marvel, and something that seems way ahead of its time. The colors of the golden hues of the desert with the teal brightness of the sky is closer to a modern production such as the world of "Mad Max: Fury Road". The use of the desert and its unrelenting ambiance seems akin to "Dust Devil". Betty's freakish nature in character as well as her wardrobe and makeup is like a parody of Björk. Yet "Spirits of the Air, Gremlins of the Clouds" was filmed in 1986 - years before those movies, and years before Björk debuted with The Sugarcubes. It's highly unlikely the film influenced those works since it has been in obscurity for so many years, but it's a film that somehow transcended time yet made a mark inadvertently.

The story was started as a short subject which turned into a feature length with sequences extended. It still feels like a short film with the intimately small cast of three and its use of a singular location. But the complexities come from the characters and the crossroads that they are at. Felix is in many ways extremely anxious to use his skills to help the lone traveler. Betty is skeptical about the traveler and wishes him away rather than having her brother waste his time away. Their life together was simple before Smith came along. They ate grown potatoes and lived off canned beans. She took care of their father's grave. He used his inventive skills for basic survival and having things work around the home. But with Smith in the picture, she is scared of change to the dynamic. In addition she is a Bible reader like her father was, and it can be seen with the multiple crosses in her room as well as outside, plus the sequences of Bible quoting by her. Felix on the other hand does not see the world that way and his "holy text" is the only non-religious book in the house, which was the scientific book shaping his outlook on the world. Smith gives Felix the spark he desires most in the world - science and creation. The character of Smith on the other hand, is a man of complete mystery. What is he after? Where is he going? What is he running away from?

"Spirits of the Air, Gremlins in the Sky" is an interesting character piece but one that exchanges normalcy for eccentricity and in that way feels far from reality than something plausible. The character of Betty is one of the strangest. Why does she changer her hair, makeup, and clothes with almost every single scene, and for what purpose? With a music video that may be understandable, but for a person living in isolation, it certainly serves no practical purpose, but it certainly looks visually enticing. Her mannerisms and bizarre behavior is like that of Renfield in "Dracula", almost possessed - an irony considering her religious conviction. Considering how she and Felix had lived so long together without their father by their side, one must wonder if they had slowly drifted apart into the characters or if they were always like this since they were young. Also, the idea that Felix could somehow build a flying machine from scraps and materials found within their home is a little far fetched, though it is fascinating to see what the mind and body can do when put to the test. The characters and situations in the film are like one of a music video - there is not much in terms of narrative reality but one of stylized reality and in that case the film works visually as well as aurally. The ambient score by Peter Miller is absolutely beautiful, with the use of synthesized rhythms with no percussion elements for a flowing sound design.

The film was shot over a few weeks in the desert for principal photography and nearly a year later for special effects work and post production. The independent film was completed and screened in 1989 in Australia theatrically, though it was not a heavily promoted or hugely successful film. It did receive nominations at the AFI awards in 1990 for Best Achievement in Production Design and Best Achievement in Costume Design, though walking away without a win. It was also nominated for an ARIA Music Award for best original soundtrack, though it lost as well. Internationally the film was screened at the first Yubari International Fantastic Film Festival, Seattle International Film Festival, Brussels Science Fiction Film Festival, Sitges International Fantasy and Horror Film Festival, and Houston International Film and Video Festival in 1990. At Yubari the reception was exceptionally strong, with the film receiving the top Special Prize that year and securing a theatrical and video distribution deal in Japan by Toho-Towa. Eventually the film never had a healthy theatrical or video release around the world. It never received a theatrical release outside of festival circuit in most countries, and it was ignored by home video for many years everywhere. Proyas went back to continue directing music videos and television commercials again, and then having his breakthrough in Hollywood with "The Crow" in 1994 and "Dark City" in 1998, interest for his first feature eluded most film fans, unaware of the existence of "Spirits of the Air, Gremlins of the Clouds". It had video releases in Australia and Japan, but never received a DVD release. Umbrella Entertainment with the supervision of Proyas has resurrected the forgotten film for restoration, just a year prior to its 30th anniversary with a 2K restoration, which first screened at the 2018 Melbourne International Film Festival and now for the film's first ever Blu-ray edition.

"Spirits of the Air, Gremlins of the Clouds" is not a major lost masterpiece, but it is a fascinatingly great piece with wonderful visuals and an interesting missing link between Proyas's career in music videos and his career in Hollywood features. It's been underseen and rare for film fans to see, and now it's finally available for the masses in the best possible form.

Note this is a region ALL Blu-ray

Video


Umbrella Entertainment presents the film in the 1.33:1 aspect ratio, in 1080p in the AVC MPEG-4 codec. The original 16mm negative was scanned at 2K for the 30th anniversary restoration. The restored version has been extensively color corrected to the hues that were intended through uses of filters, lighting, and use of magic hour shooting and the image is bold as is it is otherworldly. The color palate is golden brown and teal which seems like the recent movie trend rather than one from the late 1980s, which questions whether this is accurate to when it was first screened or if it was a tweaked version of the original. It appears the restored version was approved by the filmmakers so if that is the case, we may call it "accurate". The image itself is extremely sharp and finely detailed, with great detail in closeups, the background designs, as well as the costume designs, and the restoration has eliminated cuts, scratches, and other damage to the film leaving a very clean image. There is a good amount of film grain left to the image makingit seem film like, though in certain outdoor static shots, the sky does seem to be like a still image rather than a filmed one, though the filmmakers do state in the commentaries that the skies are not at all matte paintings or opticals but shots of the actual sky that they captured back in 1986.

The film's runtime is 96:33.

Audio


English DTS-HD Master Audio 5.1
English DTS-HD Master Audio 2.0 stereo
There are two audio tracks available, both lossless, in 5.1 and 2.0 stereo. The film was originally mixed in Dolby Stereo and the 2.0 track replicates that experience. Bot the 5.1 and 2.0 tracks were remastered from original elements that were long thought lost but rediscovered for the restoration, and the new 5.1 soundscape was remixed from the original elements by Peter Miller who created the music for the film and mixed the sound back on its initial release. The 5.1 track sounds excellent, not overbearing with the surrounds used for the ambient score while the center speaker is used for dialogue for the most part. It is well balanced and the character dialogue sounds fairly good, though at times the location recording was a little flat in certain scenes.

There are optional English HoH subtitles for the main feature in a white font.

Extras


Audio commentary with director Alex Proyas
In this new audio commentary recorded for the restored Blu-ray edition, Proyas looks back at the production with a large amount of pride and a great amount of information through the runtime. He talks about the specific choices of colors, jumping from television commercials and music video work to a feature, the casting process, deleted sequences, the initial reception and much more.
in English Dolby Digital 2.0 with no subtitles

Audio commentary with composer Peter Miller and editor Craig Wood
While only credited here as composer and editor, Miller and Wood both say that they had multiple tasks on the project, as everyone assisted each other on the minimal production. They also talk about the special effects, the DIY aesthetic, the post production process, and even about Wood's injury on set in which he had to be taken to hospital. They also give a few spoilers on how some of the effects work was done including the ingenious (and... delicious) way they made the shot of the bats flying across the moon.
in English Dolby Digital 2.0 with no subtitles

Interview with cast member Rhys Davis (7:50)
In this 2018 interview, actress Rhys Davies recalls the production of the film, being her second after a small role in "Dead End Drive In". In addition she talks about her youth living in France and England, and also about her life after the film working in graphic art.
in 1080p AVC MPEG-4, in 1.78:1, in English Dolby Digital 2.0 with no subtitles

Interview with cast member Michael Lake (36:51)
In this 2018 interview, actor Michael Lake talks in length about his youth and getting into theater arts, work in a comedy group, his role and the production of the film, the soundtrack, and much more. It's a fairly lengthy interview, and Lake is very fascinating to listen to.
in 1080p AVC MPEG-4, in 1.78:1, in English Dolby Digital 2.0 with no subtitles

"Spirits: Making a Post-Apocalyptic Western" featurette (23:20)
This featurette is made up of home video footage taken from the film shoot in 1986 in rural New South Wales on set by various cast and crew, as well as footage taken nearly a year later of production on the special effects. There are some text explanations to guide the viewer, though note the audio can be a little difficult to hear due to echo.
in 1080p (upscaled) AVC MPEG-4, in 1.33:1, in English Dolby Digital 2.0 with no subtitles

"Spirits Song" music video (4:09)
In this music video by Proyas featuring the music of Peter Miller with vocals by Karina Hayes, it has some sequences from the film intercut with black and white footage of Hayes and the three main stars from the film. Ethereal vocals, ambient sounds, mixed with a western twang, it's close to the music of Cocteau Twins or Dead Can Dance and quite a gorgeous piece. There is some interesting information about the music video, noted on this blog entry by Marina Simms, editor of Karen Magazine who worked on the clip. She details what happened to Hayes (who never made a full career in recording), about some of the big names attached to the clip, and more.
in 1080p (upscaled) AVC MPEG-4, in 1.33:1, in English Dolby Digital 2.0 with no subtitles

Image Gallery (8:31)
Theatrical posters, VHS artwork, soundtrack album, behind the scenes stills, conceptual sketches, promotional stills, and more are offered in this slideshow gallery. There is no music accompaniment.
in 1080p AVC MPEG-4, in 1.78:1

2018 Trailer (2:17)
A very effective rerelease trailer for the restored version. It has been embedded below.
in 1080p AVC MPEG-4, in 1.33:1, in English Dolby Digital 2.0 with no subtitles


In addition, there are two easter eggs hidden on the disc:

Unrestored Opening Credit Sequence (4:35)
Here is the opening sequence prior to restoration, with rounded corners visible showing the full frame of the 16mm film. There is image instability with the frame slightly wobbling, specs and scratches visible, and washed out colors.
To access the easter egg - On the special features tab, highlight "Commentary with director Alex Proyas", press left to highlight an eye, then press enter.
in 1080p AVC MPEG-4, in 1.33:1, in English Dolby Digital 5.1 with no subtitles

"In Your Eye" MTV short by Alex Proyas (1:13)
This is an MTV short film starring Michael Lake and directed by Proyas. The quality of the short is very poor, coming from a low quality master and the sound being unbalanced.
To access the easter egg - On the special features tab, highlight "Interview with cast member Michael Lake", press left to hghlight an eye, then press enter.
in 1080p (upscaled) AVC MPEG-4, in 1.33:1, in English Dolby Digital 2.0 with no subtitles


The film never had an active life on home video, having nothing since the VHS days until this Blu-ray came along. This is a great selection of extras for the production with the only missing major participant being actor Norman Boyd, who has this as his only credit on IMDB and nothing else. Where is he now and what has he been doing?




Packaging


The disc is packaged in a keep case housed with a slip case. The fifth in the "Beyond Genres" line, the case is labeled "Volume 5". The Australian rating logo on the cover is actually a sticker on the plastic and can be removed.

Overall


"Spirits of the Air, Gremlins of the Clouds" has been a curiosity for many years being an almost mythic piece, and finally it has gotten a very worthy Blu-ray release from Umbrella Entertainment. Visually arresting and absolutely eccentric and ahead of its time, Alex Proyas' feature debut can finally be seen in fully restored glory for all film fans. The Umbrella Entertainment Blu-ray gives the restored film a great amount of extras, making this very recommended.
| | | | | |
| --- | --- | --- | --- | --- |
| The Film: B | Video: A- | Audio: A- | Extras: A- | Overall: B+ |