The Film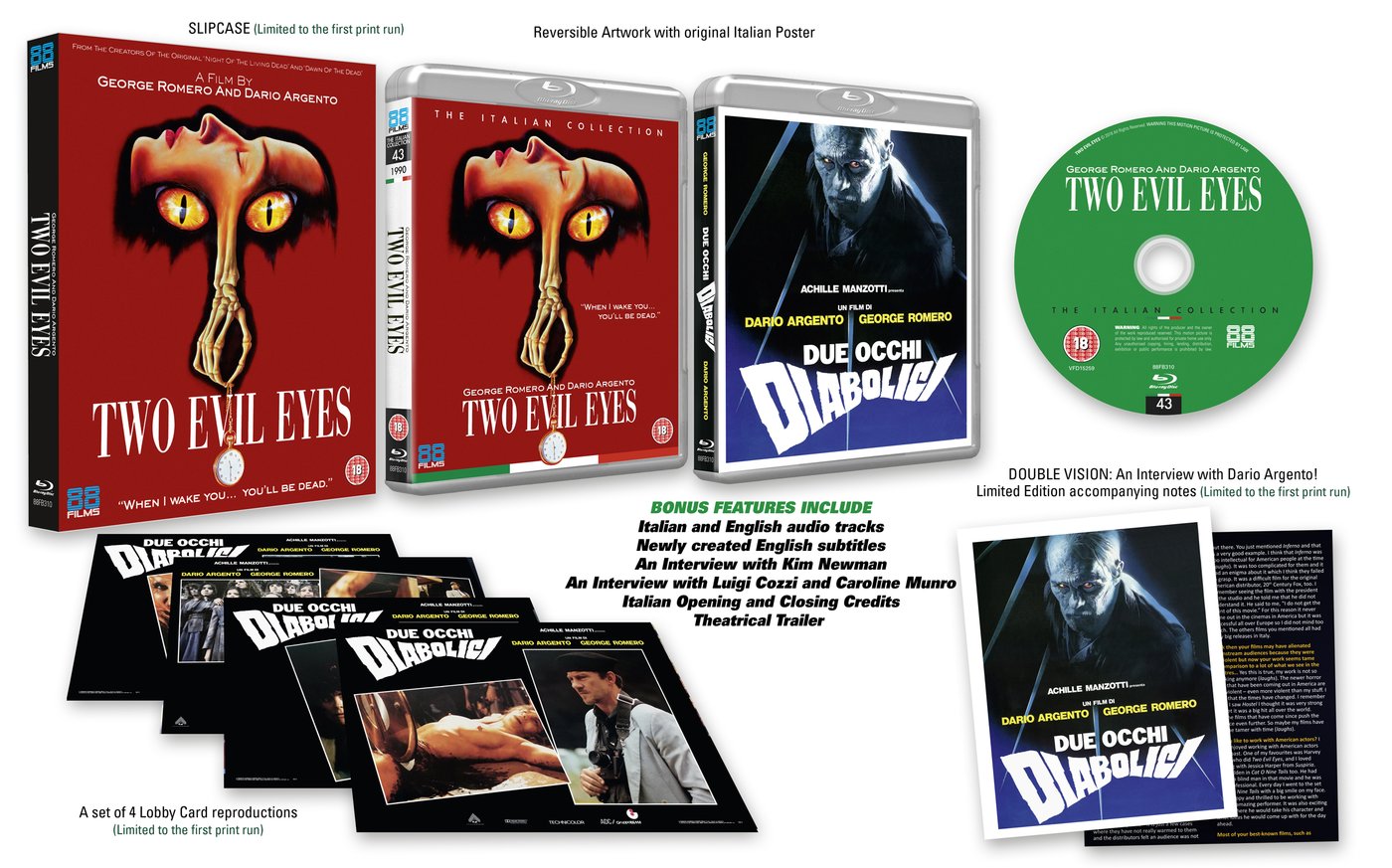 It was the team-up of the century in 1990 when the Italian auteur of excess Dario Argento made this double-feature compendium creeper with DAWN OF THE DEAD helmer George Romero! The result brings together the very best of the United States independent sector with the kingpin of things giallo - giving us the much-loved splatter shocker TWO EVIL EYES!

The latest in 88 Films Italian line, Romero's outstanding opening salvo offers us an adaptation of Edgar Allan Poe's "The Facts in the Case of M. Valdemar", highlighting the sublime Scream Queen Adrienne Barbeau (THE FOG/ SWAMP THING) as a scheming widow seeking to exploit the estate of her terminally ill husband. Little does she know, however, that her husband is already ahead of the curve... and planning a little ghoulish vengeance of his own!

For Dario Argento's Poe adaptation "The Black Cat", Harvey Keitel (RESERVOIR DOGS/ TAXI DRIVER) essays an eccentric photographer obsessed with death and dismay... although eventually his livelihood encourages him to embark on the ultimate crime. However, there is a super-sick sting in the tale that will leave the hapless camera-man literally hollowed-out from head to toe! We dare you to endure the gruesome and gruelling special effects of Tom Savini (DAY OF THE DEAD) and the provocative, spine-tingling soundtrack of Pino Donaggio (BODY DOUBLE) in this awe-inspiring frightener that is finally available to UK horror buffs in hair-raising HD...!!!

Video


Entertaining, if raggedly produced 2-part portmanteau horror film - taken from Edgar Allen Poe tales - from George Romero (The Facts in the Case of Mr. Valdemar) and Dario Argento (The Black Cat). This seems to have been shot in the US with some post-production work in Italy. Romero's simple, straightforward tale of a money grubbing wife (Adrienne Barbeau) and her Doctor lover (Ramy Zada) trying to prolong the life of her terminally ill husband (Bingo O'Malley) so she can inherit, comes off best. A slick, confident if overlong production with good performances and a nice creepy atmosphere; the ending makes the segment.

Argento's segment is flamboyant, fluidly filmed with splendid performances from Harvey Keitel and Madeline Potter as photojournalist Rod Usher and his violinist girlfriend respectively. Martin Balsam and Kim Hunter turn up as nosy neighbors and Jon Amos is good as Usher's police detective friend. At times raggedly edited and the cinematography is murky and grainy, which gives it a cheaper, rougher look. There is a bizarre, medieval dream sequence that seems to be an outtake from the Argento produced The Church (1988) that is quite arresting.

A film of two halves: by design, literally and stylistically. Romero's half favours a more brightly lit studio lensed look with naturalistic colour schemes and an overall colder, bluer aesthetic. Argento is more at home in the warmer end of the spectrum, with a darker ambiance. Browns and reds come to the fore here although again a more natural saturation is favoured; nothing like his work on Deep Red (1975) or even more Suspiria (1977) with it's rice Eastmanaolor via Technicolor film stocks.

There are no signs of colour bleed in either segment and the images are stable and satisfying in overall countenance. This being a late '80s film (released in 1990) we still have some of that favoured hazy look made popular by the music video industry but it's starting be dialled down and so doesn't overwhelm.

Detail is pleasingly sharp, especially in Romero's more flatly lit segment; textures in skin and fabrics are especially noteworthy. Argento's is darker but no less detailed even if darkness and occasional mild crush is more apparent. Black levels are deep and rich, especially in The Black Cat in a way that reminded me of Hammer gothics of yore.

Contrast is pleasing but lowkey, allowing highlights to shine and keeping the image detailed and stable. No blown out highlights and gamma seems well balanced. This was a film that suffered from being mainly seen in spacious, open matte presentations on VHS and murky transfers; especially Black Cat. The Facts in the Case of M. Valdemar suffered less, but both really gain a whole more cinematic dimension by being seen matted to widescreen; here slightly opened up to 1.78:1 from the original 1.85:1.

Encoding is more robust than the old Blue Underground which was fine in it's day but also suffered slightly from some digital tinkering. I didn't detect any here, but if there is it's not damaging. Print damage is noticeable by it's absence; we seem to have a beautifully restored transfer from the OCN or hear as dammit.

A topnotch transfer from 88 Films. It's not going to challenge a big budget film from 1990 in image quality but that's down to the budget and production expediency.

1080/24p / MPEG-4 AVC / 1.78:1 / 119:55

Audio


English DTS-HD Master Audio 7.1
Italian LPCM 2.0 Stereo
Subtitles: English HoH

The English track (7.1) sounds a bit too tinny with an odd echo at times (especially in Argento's segment), but this is the same with the Blue Underground disc (in all of the three English tracks there). They get the job done, with the Italian LPCM 2.0 track having more body and oomph ... but that's no good when the film is shot with production sound English.

The 7.1 track is more than acceptable however and has plenty of surround activity. It's not bad, but just could've been better with greater depth to the base and the original English LPCM 2.0 Stereo track should've been included.

Subtitles are essential.

Extras


"Double Vision: A Critical Appreciation of Two Evil Eyes" featurette (13:14)

A nice piece with Newman discussing his first experience of the film at a theatrical screening for critics in LA and how he likes the film, which is by no means a uninimous response from critics then and now. Both directors are discussed and the film placed in context of the time and their careers.

"Two Evil Eyes: Interview with Luigi Cozzi & Caroline Munro" featurette (34:52)

This has both Cozzi and Munro discussing their careers. Cozzi starts off discussing his adoption of new technologies for his latest low budget productions and then discusses his approach to film making in general. We also get a look at his (and Argento's) shop Profondo Rosso in Rome and then a short segment about working on Two Evil Eyes. Two Evil Eyes is discussed in some depth; about how the project started, how John Carpenter was originally to be involved but pulled out, how Cozzi was Argento's AD and helped supervise SPFX with Savini, how Keitel was initially difficult but settled down to work well with Argento on an uneventful Pittsburgh shoot. Working on this interrupted his own film "Up from the Depths / Supsiria de Profundis" for Menachem Golan which was finally released as The Black Cat (1989) despite having nothing to do with Poe.

Munro discusses working in Italian cinema in general and discusses working on Cozzi's Starcrash (1978) and The Black Cat.

Italian Opening and Closing Credits (5:20)

What it says on the tin, however of interest is that it would seem that Argento provides a short piece of opening narration

Trailer (1:28)

Cheesy, sensation orientated, gore drenched trailer.

Reversible sleeve with choice of artwork

Both vintage artworks are available for the punter to display.

Card slipcase

Limited card slip available when ordered directly from 88 Films

4-page liner notes leaflet "Double Vision" by Calum Waddell

Another excellent essay on a fondly remembered genre entry from Waddell.

Four hard card mini reproduction lobby cards

Nice quality reproductions of the lobby cards on thick card; double sided so eight lobby cards represented.

Overall


The transfer is a good step up on the old Blue Underground if only superficially but the sound is quite reedy, lacking in base. The Italian stereo track is actually more robust. However, this would appear to be the same on the old Blue Underground disc so a fault of whoever did the 7.1 upmix back then. It's a shame we don't get the original Dolby Stereo 2.0 track which would most likely be very similar to the very good Italian one. Extras are limited but decent enough but do provide some enjoyable context to the film.

88 Films have put together a decent edition of this film, although it's a shame they didn't (or couldn't) port over the US Blue Underground extras.
| | | | | |
| --- | --- | --- | --- | --- |
| The Film: B- | Video: A | Audio: B- | Extras: B+ | Overall: A |