The Film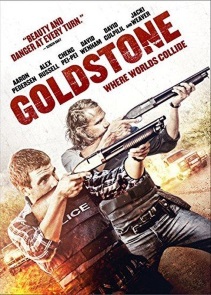 The aftermath of Mystery Road finds aboriginal detective Jay Swan (Jack Irish's Aaron Pedersen) in a bad place. When introduced in Goldstone he is pulled over outside the mining town of Winton by its sole representative of the law Josh Waters (Chronicle's Alex Russell). Swan sleeps off his hangover in jail only to discover the his cell door unlocked and that Josh has had his car towed to the local motel after discovering that Swan is a cop. Swan is not forthcoming about his purpose in Winton to Josh, and saccharine town mayor Maureen (Animal Kingdom's Jacki Weaver) would very much like to know as well, along with aboriginal town council leader Tommy (The Chant of Jimmie Blacksmith's Tommy Lewis), as they are about to enter into an agreement with Furnace Creek gold mine company leader Johnny (300's David Wenham) to expand onto aboriginal lands supposedly to the economic benefit of the entire town. After Swan gets himself taken by the mine's security forces after trespassing to observe a private plan full of Asian girls to staff the local brothel that services the miners, his motor home motel room is shot up by a group of bikers he assumes are associated with those with which he did battle in his previous big case. After Josh finds Swan alternate and out of the way lodgings, Swan reveals that he was tipped off by a resident of the town about the disappearance of an Asian girl he believes have been the victim of human trafficking. While Josh overlooks the town's prostitution and sees any improprieties as the purview of federal investigators, Swan is more actively warned off by Maureen and Tommy. The only friendly face in town is aboriginal elder Jimmy (Walkabout's David Gulpilil) who recognizes Swan as the child of a local family who was taken and his siblings dispersed as was the practice of the time. Jimmy is unable to lead Swan to any living relatives but does put him in touch with the local spiritual traditions etched into the rock of lands that may soon fall victim to the mine's expansion. When Jimmy is found dead of a supposed suicide after walking out on the town council meeting on the expansion, Josh starts to bristle at Maureen's expectation that he will just fall in line and not make waves. He start to investigate the brothel run by Mrs. Lao (Lilting's Pei-Pei Cheng) and forms a friendship with prostitute May (Top of the Lake's Michelle Lim Davidson) who, like the others, is being blackmailed with exposure of their shame to their families. As Swan starts to close in on the investigation, having been left the missing girl's passport by an anonymous source, more attempts on his life are made, and Josh learns just how deep the corruption runs in Winton.

Director Ivan Sen's sequel to Mystery Road,Goldstone – which may or may not precede the 2018 spin-off miniseries Mystery Road since Swan confides here to hooker Pinky (Southbound's Kate Beahan) that his daughter has passed away although she is alive in the miniseries (although in that show, he also initially lies about having kid at all) – has good, low-key lead performances by Pedersen and Russell but overall feels shallower and less compelling than either entry bookending it. The cultural concerns versus industrial and economic expansion conflict is very basic, as are the relationships between the parties involved – Wenham's arrogant but waffling executive, Lewis' blithely corrupt local, and Weaver almost parodying some of her villainous turns as an apple pie-bearing slimy politician – as the film rushes to turn the outback into the wild west for a shootout finale. The cinematography of barren, almost lunar desert landscapes is as gorgeous as the settings are gritty – the rooms in the motel Swan checks are actually separate motor homes without wheels – and drone photography is used not only to explore the landscape but also for coverage of the climactic shootout overhead as Swan and Josh maneuver a maze of portable buildings amidst mine workers trying to merely avoid rather than escape involvement during the gunfire. The corporate conspiracy just sort of falls apart with only the hint of a threat from Swan and Josh, as one character seems to recover their social conscience, another writes it off as not worth the risk for comparatively small gains, and another just seems to become exhausted trying to dispose of a paper trail. Fans of the film and miniseries may want to check out Goldstone but others may want to skip from the first to the spinoff.

Video


Shot with the Red Epic camera, Goldstone looks spectacular on Lightyear's 1080p24 MPEG-4 AVC 2.40:1 widescreen BD50 encode with rugged skin textures, landscape features, and sunburnt color timing in both expansive wide shots and macro detail.

Audio


The disc comes with both lossless DTS-HD Master Audio 5.1 and Dolby Digital 5.1 tracks. Both are front oriented during intimate dialogue scenes with surrounds used early on for sparse atmosphere while the tracks become more active as the film moves on to action. The lossless track has the most depth and presence, with the bass really felt in the dynamiting of a mass of rock in the mine's quarry. Unfortunately, no captions or subtitle options are available, but the dialogue is intelligible for those who are accustomed to Australian accents.

Extras


Extras are rather insubstantial, consisting of EPK-type short interviews with talking heads of Sen, Pedersen, Russell, Weaver, and Wenham popping in throughout each of the featurettes in spite of the focus suggested by their titles: the character profile "Detective Jay Swan" (2:02), and interviews with actor Alex Russell (1:34), actress Jacki Weaver (1:27), and writer/director/cinematographer/editor/composer Ivan Sen (1:45), as well as "The Corruption of Goldstone" (1:57), and "Indigenous Peoples of Australia" (2:01). The disc also includes two trailers for the film (1:25 + 1:58).

Overall


Fans of Mystery Road and miniseries spinoff may want to check out Goldstone, but others may want to skip from the first to the spinoff.