The Film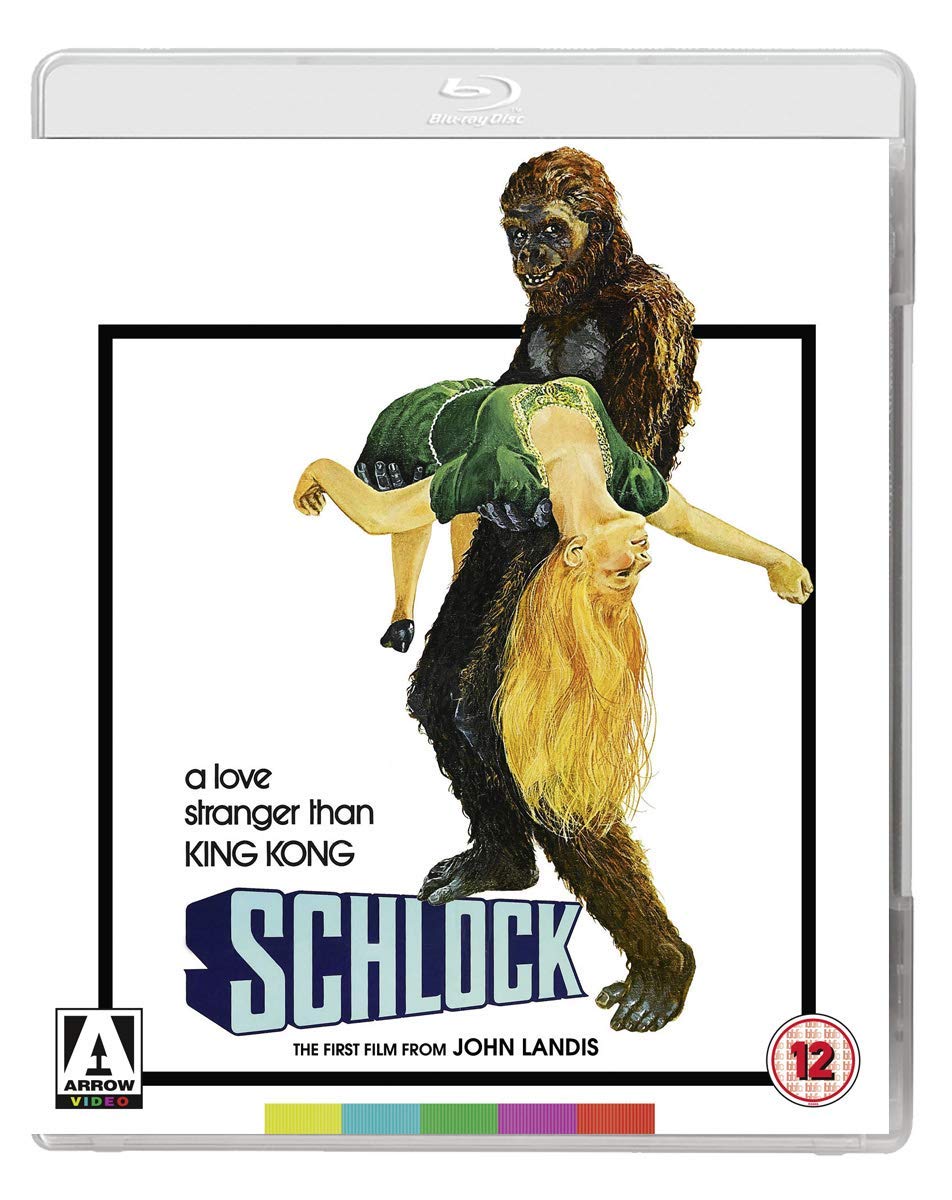 Schlock (John Landis, 1973)

Following a massacre at the Kablonsky Peace Park, apparently committed by the feared Banana Killer, Detective Sergeant Wino (Saul Kahan) concentrates his efforts on identifying and apprehending the suspect.

Whilst out walking, a group of young people – Billy (Gene Fox), Betty (Susan Weiser), Barbara (Amy Schireson) and Bobby (Jonathan Flint) – discover a network of subterranean caves. These caves contain both bones and bananas. They are pursued by an ape, which attacks Billy and Bobby. They report this find to Wino, bringing with them as evidence banana skins and a dessicated human head.

Wino vows to investigate, bringing with him Professor Shlibovitz (E G Harty), a scientist. Shlibovitz believes that the Banana Killer is in fact the Schlockthropus – the 'missing link', frozen in hibernation since the Ice Age.

The Schlockthropus flees from his cave-like home, rampaging through the city. He finds himself in the garden of a young woman, Mindy (Eliza Roberts); Mindy's eyes are bandaged and, unable to see Schlockthropus, she mistakes him for a stray dog; Mindy gives him the name 'Willy'. Later, when Mindy's bandages are removed, she goes to her garden and calls out for Willy, but she is horrified when the Schlockthropus comes to her.


The police are called but bungle the capture of the Schlockthropus, who escapes and wanders into a cinema where he watches a monster movie, 'See You Next Wednesday'. After a number of comical escapades, the Schlockthropus gate crashes the high school dance which Mindy has visited with her boyfriend.

The horror-comedy is a difficult genre hybrid to get right, the combination of humour and scares frequently negating one or the other (or usually both). However, within the realm of the horror-comedy John Landis' An American Werewolf in London (1981) is almost universally praised. Landis' training in comedy began with his debut feature Schlock, shot in 1971 but released in 1973, and continued through the 1970s in the omnibus picture Kentucky Fried Movie (1977) and his films National Lampoon's Animal House (1978) and The Blues Brothers (1980). These pictures managed to marry often crude humour, including 'lowbrow' slapstick, with pointed satire. Notoriously, Landis approached Roger Corman with the script for Schlock, and Corman suggested that Landis add some female nudity to the picture; Landis resisted this, stating that such an approach was at odds with a picture in which the majority of female characters are high school girls. Landis initially believed Corman to be joking, but Corman proceeded to give Landis 'all these scenarios, all of which were insane', advising Landis that 'You're taking this principled stand that really makes no sense when you consider the product' (Landis, quoted in Nashawaty, 2013: np).


Though much less refined than the pictures Landis made in the late 1970s and beyond, Landis' trademark approach is recognisable in Schlock. Featuring a rampaging ape-like creature, identified in the narrative as the 'missing link', which falls in love with a woman and, at the film's denouement, is shown carrying his new love before coming into conflict with the National Guard, the story of Schlock has overt parallels with Schoedsack and Cooper's 1933 film version of King Kong. At the end of the picture, a uniformed policeman even quotes the final line of King Kong: ''Twas Beauty killed the Beast'; but in response to this, Detective Sergeant Wino simply asks the policeman, 'What's wrong with you?' Landis weaves into this narrative numerous allusions to 1950s monster movies, Kubrick's 2001: A Space Odyssey (1968), and James Whale's Frankenstein (1931). In one scene, the Schlockthropus is shown playing with a bone before throwing it into the air, in mimicry of the gesture that opens 2001: A Space Odyssey, as on the soundtrack Strauss' 'Also Sprach Zarathustra' plays. Later, the Schlockthropus approaches a young girl who is sitting by the edge of a lake, feeding ducks; this scene self-consciously references the moment in James Whale's Frankenstein in which the creature befriends a little girl, Maria, but accidentally drowns her when he throws her into a lake, expecting her to float like a petal. This 'meta' quality of Landis' work would become his stock-in-trade throughout his filmmaking career.


From its opening sequence onwards, Schlock foregrounds its metafictional nature. The film opens with a montage of clips from various genres – war movies, historical epics. This montage is followed by an extreme close-up of the Schlockthropus' eyes as a gravelly male voice intones, 'First, Birth of a Nation. Then Gone with the Wind, 2001: A Space Odyssey, See You Next Wednesday. And now… Schlock!' His words are reinforced through accompanying onscreen text. As the film opens on the massacre that has taken place in Kablonsky Peace Park, and which has claimed the lives of 239 people (we are later told) who were in attendance at the Canyon Valley's Metaphysical Bowling Society's Annual Picnic(!), Landis introduces a narrative device that is employed throughout the film: he intercuts the story with a direct-to-camera address by television journalist Joe Putzman (Eric Allison). Putzman's ingratiating manner skewers the paradigms of television news broadcasts and the manner in which they trivialise terrible events: at one point, Putzman declares that 'several cadavers were so badly torn apart that it would be quite impossible to ascertain exactly how many individuals those pieces belong to', before turning this into a contest in which the 'first viewer to send in a correct estimate on exactly how many individuals those baggies contain […] will win a free Kentucky chicken dinner with all the trimmings'. Putzman looks towards Wino to reassure his viewers, but against expectations Wino responds simply by asserting that 'I would say this thing is going to get a hell of a lot worse before it gets any better. Hundreds more may die, in fact thousands'.

Landis himself essays the role of the Schlockthropus. Despite a full-body suit and mask, designed by Rick Baker (with whom Landis would collaborate on An American Werewolf in London, amongst other pictures), Landis manages to give the creature a strong sense of personality through small gestures: double takes, a furrowing of the brow in close-ups, a rolling of the eyes. The Schlockthropus wanders through the narrative almost like an innocent abroad: he is responsible for a ludicrous amount of mayhem but seems genuinely well-intentioned. At one point, he steals a cake and sits down to share it with two children and a dog. When Mindy first encounters him, her eyes bandaged, she believes him to be a dog that has strayed into her family's garden. She strokes him, praising his quiet manner: 'Go on, silly dog. What a funny dog you are', she asserts. Elsewhere, the Schlockthropus is mistaken for a hippie when, wandering through a crowd of spectators who seem oblivious to the presence of this ape-like creature amongst them, a woman demands of him, 'Why don't you get a haircut? Why don't you get a job?'


Like Landis' other films, Schlock contains references to 'See You Next Wednesday', the fictional movie that in American Werewolf in London becomes the pornographic film being shown in a London cinema; in Trading Places (1983) is glimpsed as a poster for a film starring Laurence Olivier, David Niven and Merle Oberon; and appears on posters or via verbal references in almost all of Landis' work as a director, from The Blues Brothers and Landis' video for Michael Jackson's 'Thriller' to Coming to America (1988) and Innocent Blood (1992). Though it's tempting to see 'See You Next Wednesday' as a variation on the phrase 'See You Next Tuesday', it's usually suggested that Landis was inspired in his use of this phrase by a line of dialogue in 2001: A Space Odyssey.

As in many of his later films, Landis fills his cast with cameos by the likes of Famous Monsters of Filmland's Forrest J Ackerman. One of the most interesting cameos in the picture is by John Chambers, the Hollywood makeup artist who worked on the 'Planet of the Apes' films and television series during the 1960s and 1970s whilst moonlighting for the CIA, creating disguise kits for use by their agents. According to Hollywood legend, though he denied it, Chambers was also rumoured to have created the suit used in the infamous Patterson-Gimlin footage of Bigfoot shot in 1967, whose authenticity is still a subject of debate. (Rick Baker was a student of Chambers and later went on to work on the comic Bigfoot picture Harry and the Hendersons, 1987.) In light of this, it's tempting to see Schlock as a wry commentary on the Patterson-Gimlin footage and its connection to Hollywood.


Video


Photographed on 35mm colour stock, Schlock is here presented in a new 4k restoration from the original negative. The 1080p presentation uses the AVC codec and takes up just over 22Gb of space on the Blu-ray disc.

The film is uncut, with a running time of 79:04 mins, and the film is in its intended aspect ratio of 1.85:1. The presentation is quite handsome, a strong level of detail present throughout the picture and evident in close-ups particularly. Contrast levels are good, though the tonal curves from the shoulder, and also into the toe, can be quite sharp. (The latter is particularly evident in the film's few low-light sequences, such as when the four young people enter the Schlockthropus' cave.) Midtones are rich and defined. Colours are muted, the palette soft and naturalistic. Finally, the film has a good encode to disc, and the presentation retains the structure of 35mm film. It's a pleasing, film-like presentation of a picture whose photography isn't the best.




Some full-sized screengrabs are included at the bottom of this review. Please click to enlarge them.


Audio


Audio is presented via a LPCM 1.0 track. This is rich and deep, with good range. Optional English subtitles for the Hard of Hearing are included. These are easy to read and accurate in transcribing the dialogue.

Extras



The disc includes:
- An audio commentary with John Landis and Rick Baker. Landis and Baker talk warmly about Schlock, discussing how the project came together and how Landis and Baker came to collaborate. They talk about the other personnel involved in the making of the film and reflect on the position of the film in their respective careers.

- 'Schlock Defrosted' (17:51). In a new interview, critic Kim Newman reflects on Schlock's status as the directorial debut of John Landis. Newman situates Schlock within the interest in classic monsters that gave rise to Famous Monsters of Filmland and pictures like Jack Woods' Equinox (1970) – and ending with Sam Raimi's The Evil Dead (1981). Newman describes these as 'monster movies that were […] made with love'.

- 'Birth of a Schlock' (41:27). John Landis fields questions about Schlock in a Q&A session recorded in 2017. Landis points to a viewing of The Seventh Voyage of Sinbad (Nathan H Juran, 1958) when he was eight years old as the experience that spurred him on to becoming a filmmaker. He discusses how he became a filmmaker, and he reflects on the origins of Schlock, discussing how the film helped to shape the direction of his future filmmaking career.

- 'I Shot Schlock' (7:34). In an archival interview, Bob Collins, who photographed Schlock, speaks about his involvement in the picture. He talks about how he came to work on Schlock and reflects on his approach to shooting the picture.

- Promotional Material: 1972 Theatrical Trailer (1:34); 1979 Theatrical Trailer (1:38); 1982 "Banana Monster" Theatrical Trailer (1:31); Radio Spots (2:19).


Overall



Schlock is episodic, the narrative taking frequent diversions into what are essentially extended sketches: one of the best of these involves the Schlockthropus visiting a cinema and watching Irvin Yeaworth's Dinosaurus! (1960). It's a piecemeal picture and the whole is less than the sum of its parts, but Landis' sense of comic timing shines through, anticipating his later films. As noted above, it's tempting to see the picture as a wry comment on Hollywood's relationship with the Patterson-Gimlin footage – and no doubt it was inspired by Chambers' (reputed) involvement in making the Bigfoot costume for that footage.

Arrow's Blu-ray presentation of Schlock is solid. The picture's photography is functional if not spectacular: the lighting is for the most part very flat and television-like. Nevertheless, Arrow's presentation is very organic and film-like, and no doubt true to source. The main feature is accompanied by some interesting contextual material too.

References:
Nashawaty, Chris, 2013: Crab Monsters, Teenage Cavemen, and Candy Stripe Nurses: Roger Corman, King of the B Movie. Abrams


Please click to enlarge: