The Film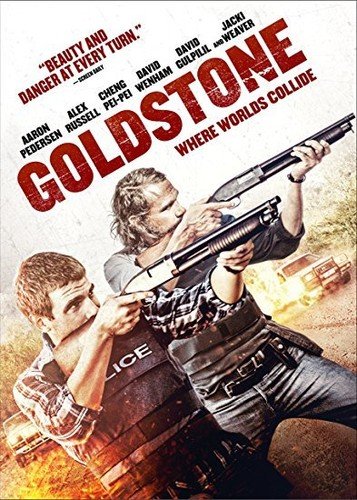 Ivan Sen is almost a force of nature as he seemingly can do it all; the director, who is also the screenwriter, cinematographer, editor, and composer, for this mash up that contains elements of several genres, including the western and film noir. A tale about the indigenous outback of a small, corrupt Australian town called Goldstone. The credits roll over a series of black and white photographs of a frontier mining town and even though the film is set in modern times, the past is ever present throughout this haunting film. Set in a small rural setting in Queensland, it feels like time has stopped completely, and in the opening scene we are shown why: the local authority Josh (Alex Russell) is puzzled when he pulls over an intoxicated driver, Detective Jay Swan (Aaron Pedersen) who is working on an unsolved missing person's case. How the aboriginal lawman could even be a detective is part of the overall mystery that Director Sen sets up; this is a story of corruption in a small town where nothing is what it first appears to be. Racial discrimination, political corruption, a human trafficking operation; these are all elements at play behind the scenes and Swan is going to find out who is behind the graft and exploitation in the outback town.

The desert settings that Sen utilizes in staging the film's locales is a harsh sun burnt place where life is cheap and easy to exploit. The town has a lucrative mining contract on the table and the baked good producing glad-handing mayor (Jacki Weaver) doesn't want to see that endangered, but things are starting to erode and slowly fall apart. When Detective Swan comes to town looking to investigate a missing Chinese sex worker, things start to come to a head and eventually push comes to shove with explosive results.

Goldstone is a sequel to 2013's "Mystery Road", also directed by Sen, and in which first introduced audiences to the character of Jay Swan. The aboriginal detective returns to the screen again but he is still not a whole person; there are unanswered questions regarding his past; he is troubled by something but exactly what that is, is never revealed. Perhaps that is as Sen intended it to be; a nagging, lingering question as to just exactly who is this stranger in town? In the middle of the film, in a wordless but breathtaking journey via canoe, Swan and older town occupant Johnny, played by David Gulpilil, row into a huge canyon between rock outcroppings and the two observe some ancient drawings on a cliffside. It is as if Gulpilil is saying to Swan, this is your heritage, these are your relatives, and this land is yours. Throughout the film there are narrative threads regarding Asian people sold into slavery in one form or another: Tommy tells Swan that the citizens of the town and the people that installed the early railway systems both worshipped the same god: "the money god." Johnny mentions to Swan that he knew his father and that his father had two brothers, but that they were taken away. There is a sense of knowing one's own history is of utmost importance and that seems to be a central void in Swan's life. A prostitute in a van asks Swan if he is married and he replies "not anymore." The mayor mentions an incident that happened in Swan's home town where he killed five people, but Swan replies that he was simply doing his job. The past and its accrued charges weigh heavily on all of the occupants of the film and even after Johnny is murdered in a faked suicide, the dead don't stay buried as he appears twice in the film, a haunting reminder of the wrong that has been done.

Locale, like in all important westerns, is of primary concern and Sen's camera is often located somewhat away from the action, giving the characters all the importance of ants as they are seen with the background looming behind them. I liked this move because ultimately it is the land that is at stake with its promises of easy money and corruptible wealth. I confess that I don't know a lot about Australia and it indigenous people (other than what I have seen in films), but the image of Johnny sitting isolated and alone with his obvious pride and his careful dress stands out to me for a number of reasons. He represents the spirit of the early tribes, the people that had resided there before the "white man" barged in and immediately began changing things. The camera loves Gulpilil's face, it's creased and worn visage, the many lines on his face that show each and every difficult time endured, but nevertheless there is a strong sense of resiliency and that death is a momentary distraction, a mere detour in the long journey of this soul.

I really need to seek out this film's predecessor so that I feel that I have a full understanding of Swan's character and who he really is. Sen obviously didn't want to have to explain everything regarding the detective's past and it is mentioned in passing in a few scenes, but I believe that the film's distributor missed a major marketing opportunity and did not reissue the film's prequel with this Blu-Ray.

Video


Presented in 2.35:1 widescreen mastered in 1080p HD 24/fps using AVC MPEG-4 compression. Sen's cinematography is first class and seeing how he makes use of the Australian landscape with its huge skylines and mountainous terrain is striking. Every scene in the film is set up to be the best that it can be; the lighting is excellent, the editing hits all the right spots, and the overall product is truly a visual delight.

Audio


Two audio tracks are included in English DTS-HD Master Audio 5.1 surround and English Dolby Digital 5.1 surround. Sen is responsible for the soundtrack as well and he is an astute student of mood, using the film's music to underscore the action scenes but more importantly he lets silence tell the story in. Optional subtitles are included in English SDH for the hearing impaired.

Extras


The Blu-Ray includes six behind-the-scenes featurettes. Each features the character speaking about their role and how they developed them.

- Detective Jay Swan (2:07) Aaron Pedersen talks about his role in Goldstone and what he hoped to achieve.

- Alex Russell as Josh Waters (1:34) The baby faced actor speaks about how he attempted to portray his naïve character and how his value system was flawed.

- Jacki Weaver as The Mayor (1:27) The actress speaks about the corruption of her character.

- Ivan Sen (Writer/Director/Editor/Composer/DOP; (1:45) various cast members praise Sen's talents.

- "The Indigenous People of Australia" (2:01) various cast members speak about the various themes developed in the film.

Theatrical trailer One (1:25) is included as is theatrical trailer Two (1:56).

Bonus trailers are included for:

- "Tanna" (2:21)
- "We Go On" (2:04)

Packaging


Packaged in a standare Blu-Ray case.

Overall


An interesting blend of genres with some excellent performance from Pedersen and the other cast members makes this a better than average selection in this reviewer's eyes.
| | | | | |
| --- | --- | --- | --- | --- |
| The Film: A | Video: A | Audio: A | Extras: A | Overall: A |