The Film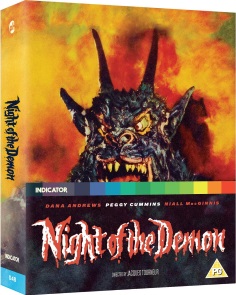 Based on M R James' classic tale of terror, 'Casting the Runes', and adapted for the screen by regular Hitchcock collaborator Charles Bennett, Jacques Tourneur's (Cat People, I Walked with a Zombie, Out of the Past) Night of the Demon is considered to be one of the seminal horror films of Twentieth-Century cinema.

Released on Blu-ray for the very first time in the UK, the film is presented here in four different versions, and is accompanied by an incredible array of new and archival special features.

Also includes a Limited Edition exclusive double-sided poster and 80-page book.

Video


One of the all-time great horror films from any era. I had the pleasure of screening it a few years ago as the inaugural film at a school film club; it was Halloween season and the 24 pupils who attended really enjoyed it and some of the shocks had them bobbing up and down. I first encountered this gem when the BBC broadcast it in the mid-late '80s, probably as part of their excellent and much missed Moviedrome strand.

This transfer, or transfers because two different masters have been used here: Sony's already excellent, but older off-the-shelf master (1.66:1) - use for all prior DVD and BD releases - and the 2013 2K BFI master (1.75:1). In a nutshell the newer scan has the edge in all areas as you'd expect, but most folks who are not picture savvy won't be able to tell much difference. In the main, the grain is handled with greater stability and detail. Fine detail gets a major uptick and contrast and black levels are healthier.

Overall, Image quality is as good as can be and given a topnotch encode from David Mackenzie and Fidelity in Motion. We have a supportive high bitrate and a BD50 so the film can really breath; especially in motion and particularly on disc one where the newer master has been used and there are minimal extras.

Being a monochrome film we haven't any colour to assess but the gamma has been expertly controlled so no bias have crept in, at least none that I could detect. Obviously your ability to sense bias will be determined as to how your TV is setup. If you have the budget and inclination, getting a professional in to calibrate your system is the way to go; that could cost £300+. For everyone else who may be cash strapped, a setup disc will suffice.

Black levels are deep and rich with no signs of crush, so shadow detail is also very healthy. Textures and facial details come through very well. Being shot in standard and not in an anamorphic process ensures no unintended visual distortions or softness. Contrast is also layered and supportive of detail; there are no blown out highlights. The 4K master is obviously better in this regard. I could detect no signs of geometric distortion.

1080/24p / MPEG-4 AVC /
1. Full-Length Version: 1.75:1 (96:03) / 1.66:1 (95:45)
2. US Reissue Version: 1.75:1 (95:39) / 1.66:1 (95:22)
3. UK Theatrical Cut: 1.66:1 (82:05)
4. US Theatrical Cut: 1.66:1 (81:43)

Audio


English DTS-HD Master Audio 1.0
Subtitles: English HoH

A healthy, lossless representation of a mono track of the era. It shan't be winning any awards and has limited range, however the technical bods at Sony and Powerhouse Films have presented it here on it's best behaviour. Any flaws are inherent to the technology of the era so there is a slight reediness and mild distortion on musical crescendos but nothing to get upset about.

A 5.1 boost would've been very difficult to achieve and both expensive and time consuming to little gain. I suspect an ace sound technician could've achieved it; someone of the calibre of Mark Ayres who's created some superb 5.1 boosts from mono sound stems on the BBC's Doctor Who range (DVDs and latterly BDs) would be the go to person for such a job.

There are no problems with dialogue; it comes through loud and clear and hard of hearing subtitles are present and welcome.

Extras


Audio commentary by Tony Earnshaw (on the full-length 1.66:1 version only)

Earnshaw is the man who wrote the book on this film - Beating the Devil (2007) - and he knows it inside and out. He first encountered in UK TV very possibly from the same screening I did. This is a new 2018 commentary and not a legacy extra from the aborted release from 2007 and is packed with detail. Topics discussed are the locations used, the stars and their careers, bit part actors are pointed out and discussed, behind the scenes tensions, the demons and whether it was wise to show it or not.

Isolated Music and Effects Track on Curse of the Demon only

The music and sound effects for the film on a separate LPCM audio track; soundtrack buffs will be happy.

"Speak of the Devil: The Making of Night of the Demon" 2007 featurette (20:04)

Excellent vintage piece initially prepared for the sadly aborted DVD release of the film by the now defunct DD Home Entertainment in 2007. Interview subjects are historians and writers Tony Earnshaw and Jonathan Rigby, actress Peggy Cummins and production designer Ken Adam. The production is covered in some detail with plenty about the controversial choice of showing the demon at the end of the film. There's plenty of talk about star Dana Andrews, the practice of hiring American stars for UK productions, Andrews drinking, that he was a friend and the choice of the director Jacques Touneur, Tourneur's background working for RKO and Val Lewton. All of the subjects are interesting and provide good anecdotes.

"Cloven in Two" featurette (22:40)

Excellent comparison between all of the variant edits of the film. We get a narration from John Robertson (overall producer of the BD set) and see screen shots and scenes illustrating the cuts, both minute and large. After all, the longest version of the film runs 95:45 and the shortest 81:43 with the latter being the one that built this films reputation. The longer edit wasn't shown at the time.

I found interesting that it would seem that both major variants were prepared side by side, but using different takes as well as deleting whole bits and pieces of scenes. I'd always assumed that the 96 minute version was cut down - after being locked - to 82 minutes. Previously held views that this release has exploded are that the 96 minute version was the original UK release; it wasn't. The 82 minute edit appears in two differing variants, included here; ditto the 96 minute cut.

The only real difference betwixt the UK and the USA is in the title card: Night of ... for the UK and Curse of ... for the US.

Appreciations (collectively 167:24):

- "Horrors Unseen: Chris Fujiwara on Jacques Tournier" (27:06)

The director's career is covered in detail.

- "The Devil's in the Detail: Christopher Frayling on Night of the Demon" (35:58)
- "Sinister Signs: Kim Newman on Night of the Demon" (20:32)
- "Under the Spell: Ramsey Campbell on Night of the Demon" (18:21)
- "The Devil Gets His Due: Scott MacQueen on Night of the Demon" (22:51)

Four journalists / writers / academics give their opinions on and nostalgic memories off the film. They all recount their first viewing and how it was perceived at that time. Other topics covered: Hitchcock and Val Lewton connections, MR James, Christmas and the Chit-Chat club and various other production issues, cast and crew etc.

- "The Truth of Alchemy: Roger Clarke on Casting the Runes" (21:45)

A piece on M. R. James and the original story.

- "The Devil in Music: David Huckvale on Clifton Parker" (10:53)

The inimitable and irrepressible dapper man of film music! I could listen to Huckvale discuss North Sea current movements; this is a typically detailed piece about Parker's fine score with plenty of information on the composer, his career and style. We also get some live renditions and analysis ... if you've seen Huckvale wax lyrical before, you know what to expect.

- "A Note of Fear: Scott MacQueen on the Score" (9:58)

More discussion on the score.

Archival Material (collectively 152:18):

- "Hal E. Chester at the 7th Festival of Fantastic Films Manchester 1996: Introduced and Interviewed by Gil Lane-Young" featurette (51:04)

The full, onstage screen talk given by American producer Chester who was the man most responsible for ensuring we see the demon in the final edit. There's also lots of talk about star Andrews and his approach to the role and issues during the making of the film.

1972 Interview with Dana Andrews with Scott MacQueen (9:28)

Vintage interview conducted in the '70s. Andrews has fond memories of working on the film and comes over as affable, but on point.

"Casting the Runes by M. R. James: Read by Michael Hordern" (52:54)
"Escape: Casting the Runes" 19 November 1947 radio adaptation (29:35)

The first is a talking book version read by Hordern who was no stranger to M. R. James having appeared in Jonathon Miller's acclaimed 1968 short film for the BBC of Whistle and I'll Come to You. The second is a vintage BBC radio dramatisation starring. Given the ages of both recordings it's no surprise that the more recent talking book comes over with greater range, but both are very fine quality. I didn't listen to both all the way through, but did sample at various points.

Curse of the Demon: Super 8 Version (6:58)

Early home video digest of the film; 1.37:1, grainy quality and soft. Typical of Super 8mm.

US Theatrical Trailer (2:19)

Ominous voiceover in an American accent, lots of highlights and emotional crescendos.

Night of the Demon Image Gallery: Promotional and Production Material (64 images)

Decent HD gallery of images; behind the scenes, production stills and posters.

Double-Sided Poster

Choice of artworks old and new; I'm getting mine framed!

80-page liner notes book by Kat Ellinger, M R James on ghost stories, a history of the film's production, a profile of witchcraft consultant Margaret Murray, the film's history with the BBFC, a look at the different versions of the film, contemporary critical responses, a look at Charles Bennett's original scripted ending, and film credits

Awesome, simply awesome. This book is a wonderful companion piece to Earnshaw's classic work and together they have all that you will ever need to know about this film.

Overall


What is there to say about this film and this release? This is a trenchant release and one of the finest it has been my pleasure to review.

The film is a classic of horror cinema; a world-class entertainment and is easily one of the best ever made. Powerhouse Films have delivered the definitive home video version in a beautifully curated release that for the first time presents the film in no less than four distinct versions and the longer edit is presented with a choice of two aspect ratios: UK standard 1.75:1 and European standard 1.66:1.

Image quality is as good as can be using Sony's superb existing masters for the 1.66:1 versions and the BFI 2013 2K restoration for the 1.75:1 versions. The sound is what it is; a standard mono track from the late 1950s. It's strong and clear with no worrying issues.

The extras are extensive, in depth without peer. We have Tony Earnshaw on board who is easily the foremost authority on this classic film that I am aware of having written a superb tome on the film. Jonathan Rigby is THE go to guy for all things gothic and his presence is keenly felt. We have a whopping 319:42 in extras not counting the still gallery, commentary and 80-page book!

This is THE release of the year for this writer, hands down ... and I don't care what else is coming out betwixt now and December 31st!

The price is right and the package beyond brilliant; any self respecting film buff worth their salt will own a copy ... but there are only 10,000 available and some places have sold out already.
| | | | | |
| --- | --- | --- | --- | --- |
| The Film: A+ | Video: A+ | Audio: A+ | Extras: A+ | Overall: A+ |